« EMT 08/14/16 [krakatoa]
|
Main
|
Evolutionary Change Isn't Going To Cut It Any More [CBD] »
August 14, 2016
Sunday Morning Book Thread 08-14-2016: Leaping Forward [OregonMuse]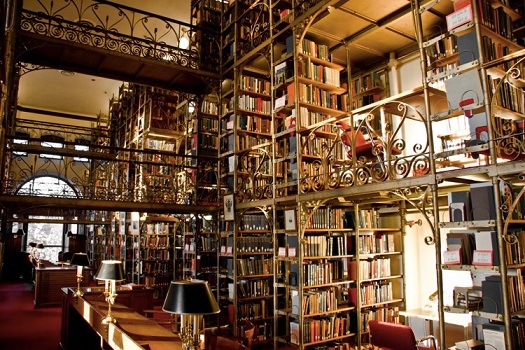 AD White Reading Room at Uris Library, Cornell University
Click on the pic for a larger version; it should open in a new tab.
No doubt this room was where noted deep thinker Keith Olbermann spent many hours in his formative years, honing those razor-sharp mental faculties that have been such a wonder and a blessing to the national conversation. His mental prowess is such that it has only recently been exceeded by Don Lemon.
Where was i? Oh, yeah...
Good morning to all of you morons and moronettes and bartenders everywhere and all the ships at sea. Welcome to AoSHQ's stately, prestigious, internationally acclaimed and high-class Sunday Morning Book Thread, where men are men, all the 'ettes are gorgeous, safe spaces are underneath your house and are used as protection against actual dangers, like tornados, and snowflakes soon dissolve. And unlike other AoSHQ comment threads, the Sunday Morning Book Thread is so hoity-toity, pants are required. Even if it's these.
158 One of these days I'm going to go into my library with the cherry wood paneled ceiling and custom bookcases, light a fire in the fireplace, sit in one of the wingback chairs, adjust the over-the-shoulder reading light and read a book....

At least that was the plan when I built the house 24 years ago.

Yeah, one of these days.

Posted by: jwest at June 07, 2016 01:50 PM (Zs4uk)
He forgot the brandy snifter and cigar, but other than that, good show.

Nood Chinese Communism
We all know that Mao killed millions in his attempt to remake China in his own image. And now, historians are slowly being granted access to
...hitherto unseen party archives, including: secret reports from the Public Security Bureau; detailed minutes of top party meetings; unexpunged versions of leadership speeches; surveys of working conditions in the countryside; investigations into cases of mass murder; confessions of leaders responsible for the deaths of millions of people; inquiries compiled by special teams sent in to discover the extent of the catastrophe in the last stages of the Great Leap Forward; general reports on peasant resistance during the collectivisation campaign; secret police opinion surveys; letters of complaint written by ordinary people; and much more.

And, what a surprise, it turns out that Mao's Great Leap Forward was
[ ] much better
[ X ] much worse
than previously realized:
What comes out of this massive and detailed dossier is a tale of horror in which Mao emerges as one of the greatest mass murderers in history, responsible for the deaths of at least 45 million people between 1958 and 1962. It is not merely the extent of the catastrophe that dwarfs earlier estimates, but also the manner in which many people died: between two and three million victims were tortured to death or summarily killed, often for the slightest infraction.
This is from historian Frank Dikötter, and his book is called Mao's Great Famine: The History of China's Most Devastating Catastrophe, 1958-1962
China was subjected to not one, but two, bouts of genocide wherein Mao basically declared war on the Chinese people. The "Great Leap Forward" is just the first one. The second is the so-called "Cultural Revolution" and Dikötter has a history of that, too: The Cultural Revolution: A People's History, 1962-1976.
After the economic disaster of the Great Leap Forward that claimed tens of millions of lives from 1958-1962, an aging Mao Zedong launched an ambitious scheme to shore up his reputation and eliminate those he viewed as a threat to his legacy. The stated goal of the Cultural Revolution was to purge the country of bourgeois, capitalistic elements he claimed were threatening genuine communist ideology. Young students formed the Red Guards, vowing to defend the Chairman to the death, but soon rival factions started fighting each other in the streets with semiautomatic weapons in the name of revolutionary purity. As the country descended into chaos, the military intervened, turning China into a garrison state marked by bloody purges that crushed as many as one in fifty people.
As usual, the foaming, sputtering 1-star reviews by Maoist apologists are thigh-slapping funny. My favorite is the one that said "hey, Mao made a few mistakes, just like any other leader."

Ignoring the Obvious
Last week, commenting on 'Dabiq', the magazine of ISIS, Scoggdog asked:
Why is it, from Mein Kampf to Dabiq and everything in between ... are all tyrants motivated to tell you what they're going to do before they do it, in either writing or video ... and then so many people so committed to simply refusing to take them at their word ?
There's actually two questions here:
(1) why do bad guys monologue? -and-
(2) why don't people listen?
I'll give some short answers before I get to what I really want to talk about. My answer to #1 is that nobody, not even a bad guy, likes to think of themselves as a bad guy. So they have to believe that what they're doing is right, and furthermore, they want you to believe it, too. That's why it is not uncommon for confessions to come gushing out of criminals like water from a broken fire hydrant. They want the police to know all the extenuating circumstances of why they did what they did. As for #2, I don't think this is universal. I think you see this mostly in liberals, because part of the liberal worldview is the belief in the inherent goodness of man, particularly nations and cultures other than your own. So when it says in Dabiq that they're going to kill all the infidels, the liberal replies, no, that's just bluster. In other words, they can't possibly mean that.
So, this being the book thread, I need a tie-in to books and literature, and thanks to moronette Elisabeth Wolfe, I have one. She e-mailed a few days ago and said:
After WWII, of course, the cries of "How could this happen? How could you let Hitler take power?" were rampant, and two Swiss Jews set out to answer them in such a way to warn people not to let it happen again. Both wrote plays in the grotesque mode, very similar to Flannery O'Connor (but funnier, IMHO). Max Frisch's is Biedermann und die Brandstifter, translated with the titles The Firebugs and Biedermann and the Arsonists; Friedrich Dürrenmatt's is Der Besuch der Alten Dame, translated as The Visit. I read both in German and highly recommend them. The stories are very different in plot, but they share one major theme: average people, especially those who are harboring guilt or are trying to rationalize their mistreatment of someone else, flat out refuse to believe that anyone could openly state a desire to commit a heinous crime and be serious about it. When someone does (the arsonists in Biedermann frankly admitting their plan to turn Biedermann's attic into a firebomb, the old woman offering to save the town if someone will kill the man who ruined her life), most people assume they must be joking—until it's too late.
Fortunately, English translations of these plays exist:
The Visit
The Arsonists
alt: The Firebugs
It's good to know that there are plays out there that don't parrot progressive talking points. Not sure how often they get performed, though, either on or off Broadway.

Secret Service Man
On Tuesday, ace provided some commentary on a video of CNN bobblehead Don Lemon trying to talk tough to former Secret Service Agent Dan Bongino because he refused to participate in the daily doubleplus ungood Donald Trump hate ritual.
I thought, "Dan Bongino. Hmmm. That name rings a bell. Didn't he write a book about his experiences in the White House?"
As a matter of fact, he's written two.
His first one, published in 2013, is Life Inside the Bubble: Why a Top-Ranked Secret Service Agent Walked Away from It All. The Amazon blurb says it shows us
...an intimate look at life inside the presidential "bubble," a haze of staffers, consultants, cronies, acolytes, bureaucrats and lobbyists that creates the "alternate reality" in which monumental policy decisions are made. And it is the story of a dedicated Secret Service professional who, after years inside the "bubble," walked away in favor of sounding a clarion call to the American people in defense of sane government and the US Constitution. Finally, why the Fast & Furious scandal, the bombings in Boston and the terrorist attacks in Benghazi are harbingers of what's to come without a bold change in direction
And then earlier this year, his second book was published. The Fight: A Secret Service Agent's Inside Account of Security Failings and the Political Machine is a sequel to the first:
In The Fight, Dan Bongino picks up the story where his New York Times bestselling book Life Inside the Bubble ends, tackling current political and security issues and offering new solutions. From Hillary's emails to the security failings at the White House (including the drone crash and the fence jumper); from Charlie Hebdo to Bowe Bergdahl--the author examines how our current administration has allowed our security efforts to lapse both at home and abroad. He also offers solutions to the growing terrorist threat and how we can protect American citizens while also deconstructing what's wrong with our political process and what his experience running for office has taught him.
Too bad he lost both his bids for public office.

Help a Moron Out
This comment was posted on the chess thread yesterday:
33 Since it's also an open thread, can I ask a favor? I've just realized that my about-to-be 8th grader has so idea what the Enlightenment is or why it's important, no idea of natural rights, no fundamental knowledge of why western civilization is kind of a big deal. I've failed him, but in my defense he's not here full time. Are there any books for a 13 year old that can help here? He's a voracious reader, so that helps. Wasn't sure the book thread was going to pop up...

Posted by: Discobobby at August 13, 2016 05:57 PM (0i5Sw)
So it sounds like this boy is at the age where he's just about to get hit with all the progressive "America is the most racist/sexist/homophobic/evil country on earth, multiculturalism is totes great, let's spend all semester reading about wonderful women and scummy men" crap, if he's not getting it already. I can't think of any titles offhand, so I'm hoping some of you morons can come up with something.
And I'm thinking it doesn't necessarily have to be explicit instruction on Western civ (NTTAWWT), it could be novels and stories that reflect the values that made Western civilization great.

Moron Recommendations
Still dining out on ace's book rec thread (which I've been dining out on for weeks now):
Longtime moron commenter redbanzai noted he had completed his "annual reread" of the book Warlock, by Oakley Hall, a book I had never heard of until he mentioned it.
Warlock can be called a "western" only because it takes place in the American West, but it's not your typical western adventure story.As one Amazon reviewer writes:
This is pretty much an existential western, our hero a man confronted with living up to a code which even he knows is phony and impossible to sustain, and those who love him trying to make it possible for someone, anyone, to live their life truly. Unfortunately, when the hero knows this is happening, conflict ensues. Well, it's a great book, a better western than The Ox-Bow Incident, with more action and a more provocative theme.
As it happens, Warlock is the first of a trilogy of westerns by hall. The second in the series is The Bad Lands and the third is Apaches.

What I'm Reading
I'm finishing up Lines of Departure, on book #2 of the 'Frontlines' series by Marko Kloos. It's a page-turning military sci-fi series and I recommend it to those of you who like military sci-fi. I notice that all four books in the series are on sale for $2.00 each.
___________

I've started Hillary's America: The Secret History of the Democratic Party by Dinesh D'Souza, just the first few pages so far, but I find myself asking the question, who's he trying to convince? There is a mini-review on the front cover that reads "Utterly terrifying - and based on a true story. --William Peter Blatty, author and producer, The Exorcist" Really? So is Hillary supposed to be Satan or the girl spitting pea soup as her head twists round and round? And of all the pull-quotes the publisher could have used, they chose one from an author who got lucky with a schlock horror story? Personally, I think it's funny, but I'm a moron, and on this blog, the equivalence of Hillary with Satan is a given. Oh, and one more thing, at one point, D'Souza refers to Hillary disparagingly as "a broad". Again, really? If you're writing a book that claims to be a history of something, don't you think less vitriol and more dispassionate analysis would be in order?
As I said, I've just started reading the book, so I'm hoping D'Souza will calm down and argue his points with sobriety. Because I think his thesis is absolutely correct; that is, that the Democratic Party has always been rife with racism, greed, and corruption, and that this truth has been carefully swept under the rug and kept from public discussion. I'm just concerned (heh) that that he's just preaching to the choir, and that this book is not going to expose the decades-long cover-up of the sleazy history of the Democratic Party.

___________
Don't forget the AoSHQ reading group on Goodreads. It's meant to support horde writers and to talk about the great books that come up on the book thread. It's called AoSHQ Moron Horde and the link to it is here: https://www.goodreads.com/group/show/175335-aoshq-moron-horde.

___________
So that's all for this week. As always, book thread tips, suggestions, bribes, rumors, threats, and insults may be sent to OregonMuse, Proprietor, AoSHQ Book Thread, at the book thread e-mail address: aoshqbookthread, followed by the 'at' sign, and then 'G' mail, and then dot cee oh emm.
What have you all been reading this week? Hopefully something good, because, as you all know, life is too short to be reading lousy books.


posted by Open Blogger at
09:00 AM
|
Access Comments