« Ace of Spades Pet Thread [Mis. Hum]
|
Main
|
Overnight Open Thread (30 Jul 2016) »
July 30, 2016
Saturday Afternoon Chess/Open Thread 07-30-2016 [OregonMuse]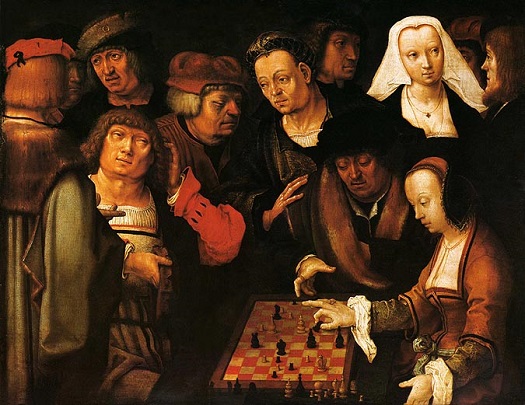 The Chess Players - Lucas Van Leyden ( 1508 )

Good afternoon morons and moronettes, and welcome to the Saturday Afternoon Chess/Open Thread, the only AoSHQ thread with content specifically for all of us chess nerds who pay homage in the temple of Caïssa, goddess of stalemates and perpetual checks. And, for those of you who aren't nerdly enough for chess, you can use this thread to talk about checkers, or politics, or whatever you wish, only please try to keep it civil. Nobody wants to get into a pie fight on a Saturday afternoon

White Mates In 1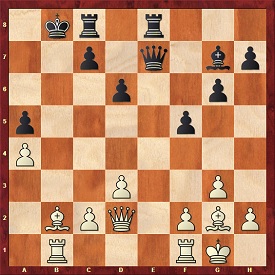 FEN: [1kr1r3/2p1q1bp/3p2p1/p4p2/P7/3P2P1/1BPQ1PBP/1R3RK1 w - - 0 1]


Notes On Lucas van Leyden's Painting
Sometimes I look at these old chess-themed paintings where the board and pieces don't look quite right, like this one, and I think that the artist probably didn't know much about chess, or didn't care, so he drew some chess-like pieces and a chess-like board and deemed it sufficient for his purposes. I mean, whoever heard of a playing chess on a 12x8 board? Click on the pic for a larger version. The board and pieces look quite odd.
But my criticism of the artist's supposed lack of precision is wrong.
What's being shown here is actual chess, not chess as we know it, but rather an old variant known as "courier chess", which dates back to the Middle Ages, and is indeed played on a 12x8 board. The rules, as near as I can tell, are the same as medieval chess with some addition of some funky pieces, the Courier, the Sage, and the Jester.
There's an entire website devoted to this particular variant. It even has for sale a set of courier chess pieces based on what they've been able to reconstruct from the painting, and other historical sources.
Issues Raised by Morons
The big cheating thing with these "mates in 2" or "mates in 3" puzzles for me is that I'd just stare at the board haplessly with no idea at all if there was a chance of checkmating unless the puzzle was identified that way. If you didn't say "White mates in 2," I'd just start wandering around the board, advancing my pawns and vaguely trying not to lose.

Posted by: iforgot at July 23, 2016 07:38 PM (5o5ek)
This raises an issue I've been thinking about for a bit, namely, whether to announce what kind of problem it is, whether it's "White to play and win" or "White mates in 3". I'm tempted to just leave such descriptions off because you're not going to see them in an actual game, anyway. So all you'll see is "what is White's best move?" and the line you must discover will do one of the following:
--wins the game
--achieves a draw
--wins material
--secures overwhelming positional superiority.
Please note that with some problems, there may be more than one of these possibilities available. Therefore, you need to keep in mind the class chess rule "if you see a good move, wait, look again, there may be a better one."
This adds the additional burden of having to do a serious assessment of the position in order to understand the possibilities, and from there, determine a plan. Which, actually, is what you have to do during an actual game.

So let's see how this works: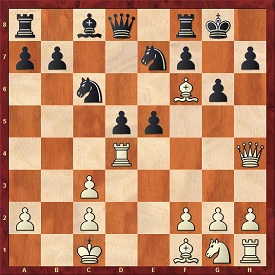 FEN: [r1bq1rk1/pp2np1p/2n2Bp1/3pp3/3R3Q/2P5/P1P2PPP/2K2BNR w - - 0 1]

It's White's turn. What's the BEST move?
Did you get it? OK, now try this one: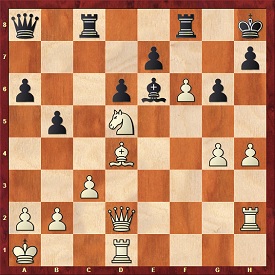 FEN: [q1r2r1k/4p2p/p2pbPp1/1p1N4/3B2PP/2P5/PP1Q3R/K2R4 w - - 0 1]

Again, it's White's move. What's the best he can do here?
Let me know if this format, where I don't tell you the specific goal of the problem, is good, bad, meh, or etc.
Chess Considered Harmful
The article 17 Reasons Why Chess Is Not Good For You is simply a trashing of all the world champions one by one starting with Morphy. It is by turns annoying, infuriating, factually inaccurate, hilarious, and is badly in need of editing throughout. But despite all of its defects, I wouldn't link to it here if I didn't think it might be worth taking a look at.

Endgame of the Week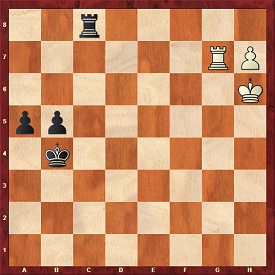 FEN: [2r5/6RP/7K/pp6/1k6/8/8/8 w - - 0 1]


White wants to queen his pawn WITHOUT having Black being able to trade his rook for it. The reason is that King-and-Rook vs. King-and-two-connected-pawns is maybe not winnable. Failing that, if White's king is close to the black pawns when the exchange is made, that should improve his winning chances.
This is not going to be easy. But the technique that White is going to be using to win here is that is handy to know, as you may be able to use it if you're confronted with a similar position in one of your own games

___________
Solutions Update:
White mates in 1.
1. Bd4#
The bishop has to move out of the way so the rook can give check, but only on d4 does it cocer the Black king's flight square at a7.

Issues Raised by Morons Problem #1
My first impulse in a position like this is 1.Qh6 which sets up Qg7# next move, and there's generally nothing Black can do about it. But here, Black does have a resource, namely 1...Nf5, which puts the kibosh on Qg7# and, incidentally, presents White with a nasty fork on his rook and queen.
Instead, White should go all in with 1.Qxh7+. Black has to take the queen:
1...Kxh7
The rest is mopping up:
2.Rh4+ Kg8
3.Rh8#

Issues Raised by Morons Problem #2
First, there's this knight fork:
1.Nb6 exf6
2.Nxa8 Rxa8
Kudos if you saw it. It provides White with a pretty good sized material advantage which should be enough to win the game. But there's an even better move, the simple, yet devastating:
1.f7#
Checkmates are always better than winning lots of material. I like how the pawn move both uncovers the check and cuts off the flight square.

Endgame of the Week
"The common endgame study theme is for White to begin by blocking the opponent's rook from h8. When the Black rook attempts to get behind the White king for a skewer by moving to White's first rank, the White rook checks the opponent's king and moves his own king one square closer to the first rank. If Black attempts a skewer on White's king, it can now be blocked by the rook."
So, the obvious try for White to queen the pawn is:
1.Rg8
The best reply for Black is
1...Rc1!
So 2.h8Q is answered by 2...Rh1+ followed by the trade of rook-for-pawn. White wants to avoid this. He has a plan:
2.Rg4+!
He wants to move his King down to h4 so his rook can block any checks at h1 and enable the unobstructed queening of his advanced pawn.
2...Ka3
3.Kh5 Rc8
There's an alternate line 3...Rc5+ 4.Kh4 Rc8 5.Rg8 Rc4+ 6.Kg3 Rc3+ 7.Kf2 Rc2+ 8.Ke3 Rh2 9.h8=Q Rxh8 10.Rxh8 that may be better since it forces the trade.
4.Rg8 Rc1
White tries once again to queen, which Black parries with his skewer threat
"This process of Black shuttling his rook from his first rank to White's first rank is repeated and so are White's blocks, successive checks on the opponent's king and shuttling his king along the file one square closer to his own first rank."
5.Rg3+! Ka2 6.Kh4! Rc8
"Once all pieces reach White''s first rank, which is virtually inevitable, there are mutual absolute pins of rooks against respective kings forcing an exchange. White's pawn queens on h8 and wins."
7.Rg8 Rc1
8.Rg2+! Kb1
9.Kh3 Rc8
10.Rg8 Rc1
11.Kh2 Rc2+
12.Kh1 Rc1+
13.Rg1 and now Black can't avoid the exchange of rooks and his pawn queens.
I'm not altogether happy with this solution. I'm thinking it's not airtight. But it does illustrate a useful technique of queening a pawn that is useful enough to remember.
Anyway, I stole this problem from here, which is where the quoted material comes from.
___________
Note: that cryptic line of letters and numbers you see underneath each board diagram is a representation of the position in what is known as "Forsyth-Edwards Notation", or F.E.N. It's actually readable by humans. Most computer applications nowadays can read FEN, so those of you who may want to study the position, you can copy the line of FEN and paste into your chess app and it should automatically recreate the position on its display board.
___________
So that about wraps it up for this week. Chess thread tips, suggestions, bribes, rumors, threats, and insults may be sent to my yahoo address: OregonMuse little-a-in-a-circle yahoo dott com.

posted by Open Blogger at
05:16 PM
|
Access Comments