« What Makes You Happy? [Y-not]
|
Main
|
Debbie Wasserman Schultz, Stung by Wikileaks Revelation, Resigns as Chair of DNC »
July 24, 2016
Food Thread: Packaged Food: Is Any Of It Good? [CBD]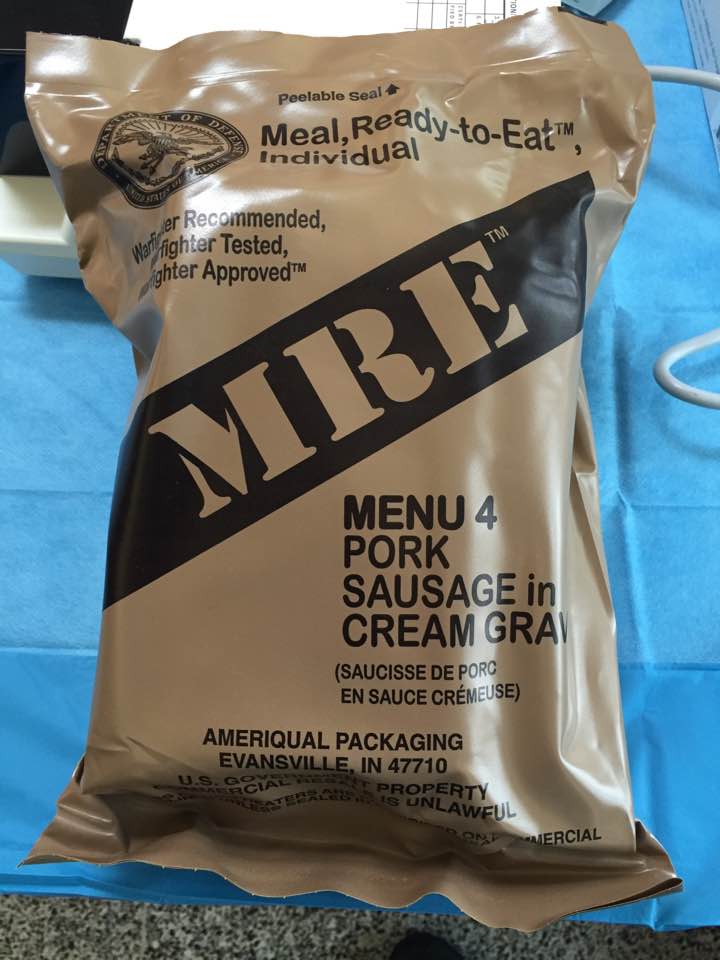 Nevergiveup's kosher lunch: courtesy of the United States Army
Our intrepid Navy dentist is slumming with the United States Army for awhile, but at least he is eating well! Any Morons actually enjoy these meals?
And....what are the best packaged foods? Obviously potato chips and other snack foods are pretty damned good most of the time, but how about other stuff? I remember as a kid getting immense enjoyment out of Swanson frozen dinners, but that's because it was a treat, and we had to behave really well to get them (yes, my parents were smarter than their children).

******
A Moron who shall remain nameless (because I simply cannot remember who)
suggested this site, and it's sort of fun.
The blogger is suspiciously SJWish, but I did get a chuckle out of the first part of her biography....
I am the crazy neighbor with paint under her nails, glitter everywhere, a cat in every window, & the Christmas tree up all year.
Anyway, the link goes to a post about great Depression era recipes and cookbooks. interesting stuff, and indicative of how incredibly well off even the poorest among us are....

******
I asked a fellow glutton gourmet if there was an upper limit to the amount of bacon one should add to Mac & Cheese. He responded...
No. God no. I prefer "bacon with Mac and cheese topping" actually. That's the ratio you are looking for.
Makes sense.

******
Some of you may watch cooking shows, and while most of them are silly vehicles for mediocre chefs who happen to have some on-screen ability, some are fun to watch.
This lunatic
is obviously not an accomplished chef, but seems to get immense pleasure from eating and cooking, and that is, after all, the point. His recipe for
Grilled Pork Tenderloin al Pastor with Avocado Crema
actually looks pretty good.
******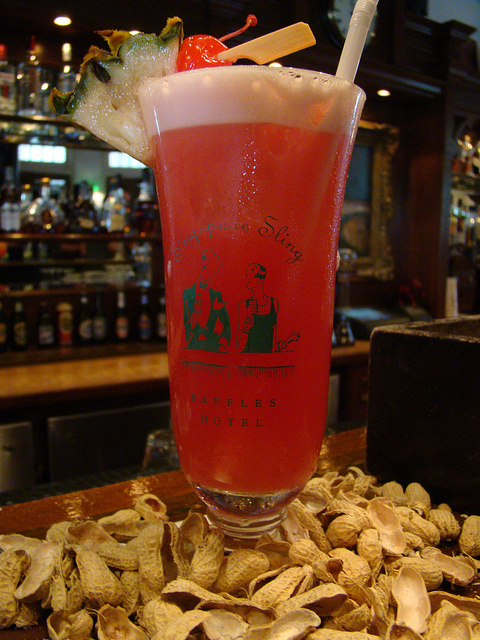 Anyone a fan of the
Singapore Sling?
I saw it mentioned recently and while many of the recipes I found seem overly sweet, it does cry out for a deft hand to make it an interesting concoction. Unfortunately my go-to bartender is moving on to greener pastures, and I don't think I will be able to convince him to make one for me before he quits.
It is times like this that the idea of indentured servitude makes a lot of sense.

******
Y-not here. Our host, who is indisposed right now, asked me to add a recipe and "hit the button" on the Food Thread this week.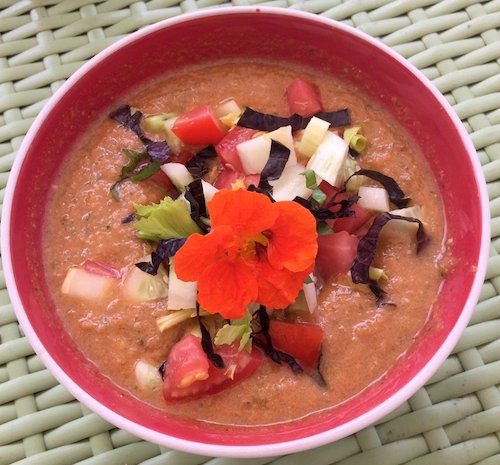 Alton Brown's Gazpacho
Ingredients
1 1/2 pounds vine-ripened tomatoes, peeled, seeded and chopped
Tomato juice (I use V8 )
1 cup cucumber, peeled, seeded and chopped
1/2 cup chopped red bell pepper
1/2 cup chopped red onion
1 small jalapeno, seeded and minced (I use poblano peppers)
1 medium garlic clove, minced (More)
1/4 cup extra-virgin olive oil
1 lime, juiced
2 teaspoons balsamic vinegar
2 teaspoons Worcestershire sauce
1/2 teaspoon toasted, ground cumin
1 teaspoon kosher salt (I've been using a bourbon-smoked sea salt)
1/4 teaspoon freshly ground black pepper (I've been using piri piri seasoning)
2 tablespoons fresh basil leaves, chiffonade (I use purple basil for color and a anise-y kick.)
Directions
Fill a 6-quart pot halfway full of water, set over high heat and bring to a boil.
Make an X with a paring knife on the bottom of the tomatoes. Drop the tomatoes into the boiling water for 15 seconds, remove and transfer to an ice bath and allow to cool until able to handle, approximately 1 minute. Remove and pat dry. Peel, core and seed the tomatoes. When seeding the tomatoes, place the seeds and pulp into a fine mesh strainer set over a bowl in order to catch the juice. Press as much of the juice through as possible and then add enough bottled tomato juice to bring the total to 1 cup.
Place the tomatoes and juice into a large mixing bowl. Add the cucumber, bell pepper, red onion, jalapeno, garlic clove, olive oil, lime juice, balsamic vinegar, Worcestershire, cumin, salt and pepper and stir to combine. Transfer 1 1/2 cups of the mixture to a blender and puree for 15 to 20 seconds on high speed. Return the pureed mixture to the bowl and stir to combine.
Cover and chill for 2 hours and up to overnight. Serve with chiffonade of basil.
You can see a video of this recipe being made at the Food Network.

Often gazpacho recipes include stale bread to add body. I've been skipping that and pureeing all of the ingredients, rather than reserving some of them as Alton Brown does. Then I add diced vegetables as a garnish when I serve the soup.
To make this more of a meal, substitute the basil with fresh cilantro and add cold boiled shrimp (unseasoned or seasoned with Mexican spices) when you serve it. Or ceviche.

Speaking of tomatoes, if you are inundated with tons from your garden (or if you went a little too wild at the farmer's market, as I did this week), you can freeze them. Obviously their texture is affected by this process, but they are supposedly still fine for sauces and stews.
I'm making up buckets of gazpacho which I plan to freeze, but I will also try this whole tomato method and let you know how it turns out.

What's cooking in your kitchens this week?

posted by Open Blogger at
04:09 PM
|
Access Comments