« Thread below the Gardening Thread 23Jul16 [KT]
|
Main
|
Ace of Spades Pet Thread [Mis. Hum.] »
July 23, 2016
Saturday Gardening Thread: Summer Foraging [KT]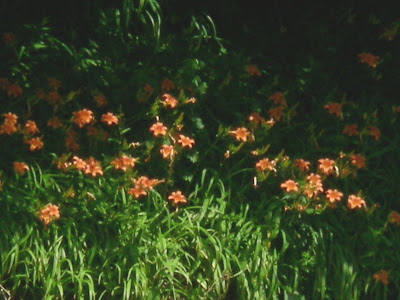 The mysterious, but not elusive, common daylily
Good afternoon gardeners. And a special welcome today to foragers, preppers, campers, and hobos. And those with an interest in genetics, developmental biology or related fields. Are you out there this afternoon, Y-not?
For today's thread, I went foraging through the comments on some recent AoSHQ threads. A couple of weeks ago, in the Food Thread, WhatWhatWhat? took us foraging for common daylilies, "one of the very best and easiest to harvest of the wild foods." Sounds fun. Here's a sample, but read the whole thing:
The common Day Lily stands about chest-high and grows in clonal groves. You rarely see just one. The buds and flowers (including opening and withered flowers) are edible. So are the roots and young shoots, but July is the time for the buds and flowers. The buds sort of resemble green beans and taste, to me, like a combination of green beans and mushrooms all in one (but it's very difficult to describe the taste of wild foods.)
The common daylily,Hemerocallis fulva is also known as the orange day-lily, tawny daylily, tiger daylily, fulvous daylily or ditch lily. Other common names include railroad daylily, roadside daylily, outhouse lily, tiger lily, and wash-house lily.
It grows in clonal groves because the most commonly distributed kinds are sterile triploid plants. Seems pretty unusual to me for a sterile plant to become an invasive noxious weed. But this one has aggressive roots. You should not plant it near your clumping hybrid daylilies, or most other plants you want to keep in the garden. It is good fo erosion control or in confined areas where gardening is difficult.
Both diploid and triploid forms are known in the wild, but most cultivated plants are sterile triploids which only reproduce vegetatively by stolons or division. At least four botanical varieties are recognized, including the typical triploid var. fulva, the diploid, long-flowered var. angustifolia (syn.: var. longituba), the triploid var. kwanzo, where the stamens are modified into additional petals, and the evergreen var. aurantiaca.
Europa is a sterile triploid single-flowered cultivar that is available commercially. Not mentioned in the Wiki: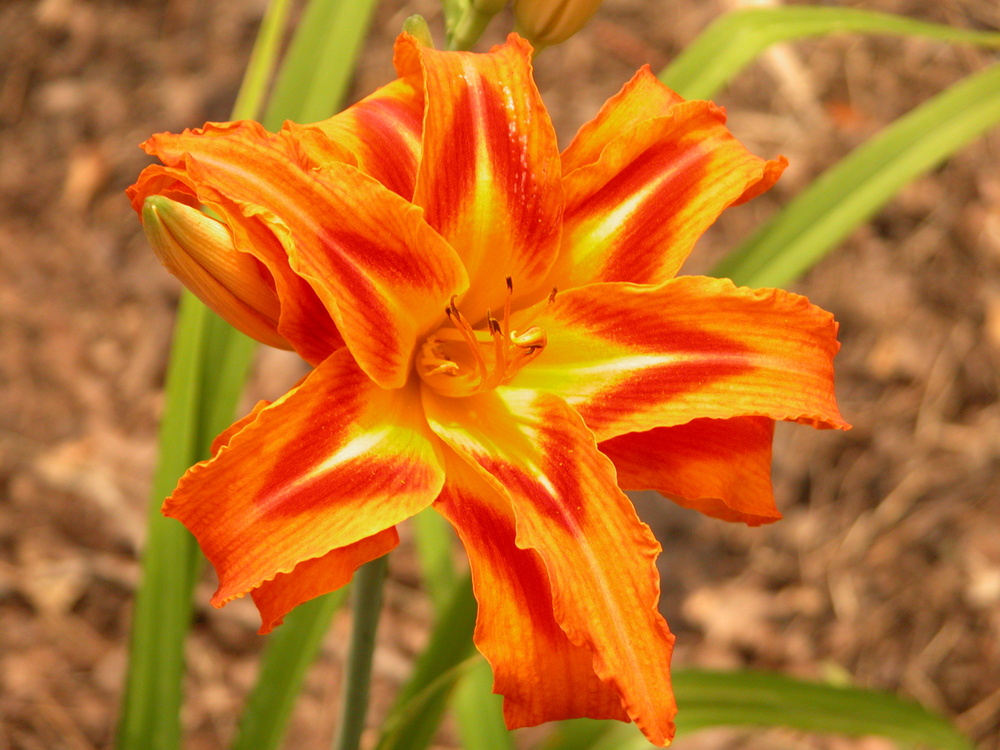 Hemerocallis fulva 'Flore Pleno'
Single vs. Double Flowers
A couple of weeks ago, Youkali posted a nice rant about the superiority of single flowers over double flowers. I tend to agree with regard to close-up views of flowers. Daylilies got special mention:
Doubled day lilies? Fine if you like your flowers twisted and deformed and think that such is worth the sacrifice of the beauty of singles.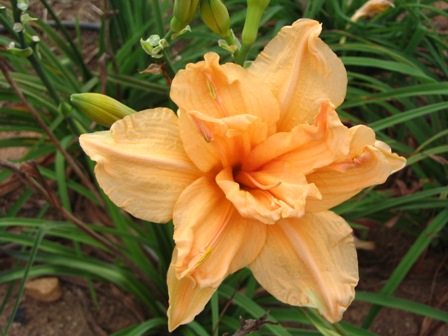 Double Dream. Some are more twisted.
Some sources say that 'Kwanso' and 'Flore Pleno' are the same cultivar, and they probably have been labeled interchangeably. But Dr. Arlow Burdette Stout, The Father of Modern Daylily Breeding, used both of them in his breeding program. He said, "The flowers of the Flora Pleno Daylily ... in comparison with those of Kwanso ... have a greater number of well-formed petals, the number of stamens and aborted stamens per flower is less, and the pistil is more frequently fully aborted or not in evidence. The central column of the flower is shorter and the flower is more compact."
It sounds like Youkali gets some backing from the Father of Modern Daylily Breeding, particularly with regard to Kwanso, which likely passed down its deformities to some double hybrids. Dr. Stout's most famous hybrid, the heavy-blooming little Stella de Oro, has single flowers. But enough about the modern hybrids for today. I don't know if they are edible.
Old Kwanso persists. There is also a Kwanso variegata. It is a sport of Kwanso. Bet it is not as invasive as the other H. fulva cultivars.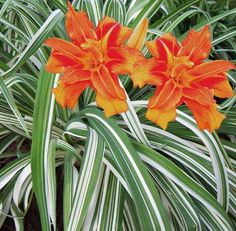 A Botanical Mystery
For you scientists, Oxford presents a lengthy online paper advocating the use of daylilies as model organisms for research and as "nutraceutical foods". A discussion of the world of hybrid daylilies will have to wait for another day, but I thought this bit about the "common daylily" was interesting:
Outside of the Far East, Hemerocallis is primarily cultivated as a garden ornamental, with currently very little interest in culinary and medicinal usage. This is despite horticultural material—including presumed Far East cultigens, the virtually sterile triploid forms of H. fulva—having been cultivated for centuries. . . By repeating artificial crosses many hundreds of times, Stout was able to incorporate the genetics of almost sterile triploid clones of H. fulva (Chandler 1940) into hybrid lines. The origin of these old triploid clones is fascinating and mysterious in itself. No tetraploid individuals have ever been found in nature . . .
Let's Eat! Without making ourselves sick or burning ourselves
In Just Cloning Around, the Eat the Weeds Guy reminds us that not all daylilies are edible. There are hybrids out there resembling H. fulva that may not be as edible as H. fulva. Plants from old naturalized stands are likely to be H. fulva, though. If the daylilies are in a well-tended garden, you might want to check on what kind they are.
People can also develop sudden allergies to daylilies, and there is a sex-linked reaction in a minority of women. The roots are the plant part most likely to produce a toxic effect. Daylilies are toxic to cats. If you have cats and daylilies, also plant something more enticing, like cat grass.
At the link below are photos of other edible daylily species, like the fragrant "Lemon Daylily", Hemerocallis lilioasphodelus, AKA H. flava or H. citrina. And some subspecies. In Asia, it is dried into "golden needles" which are used in soups and other dishes. In Taiwan, the orange Common Daylily is prepared in the same way. Little H. minor is also used in traditional Asian foods. It is hardy enough to live in the interior of Alaska. Like the Common Daylily, the Lemon Daylily is naturalized in parts of the USA, usually around old buildings. But be sure that you identify it correctly. It probably has more look-alikes than the Common Daylily.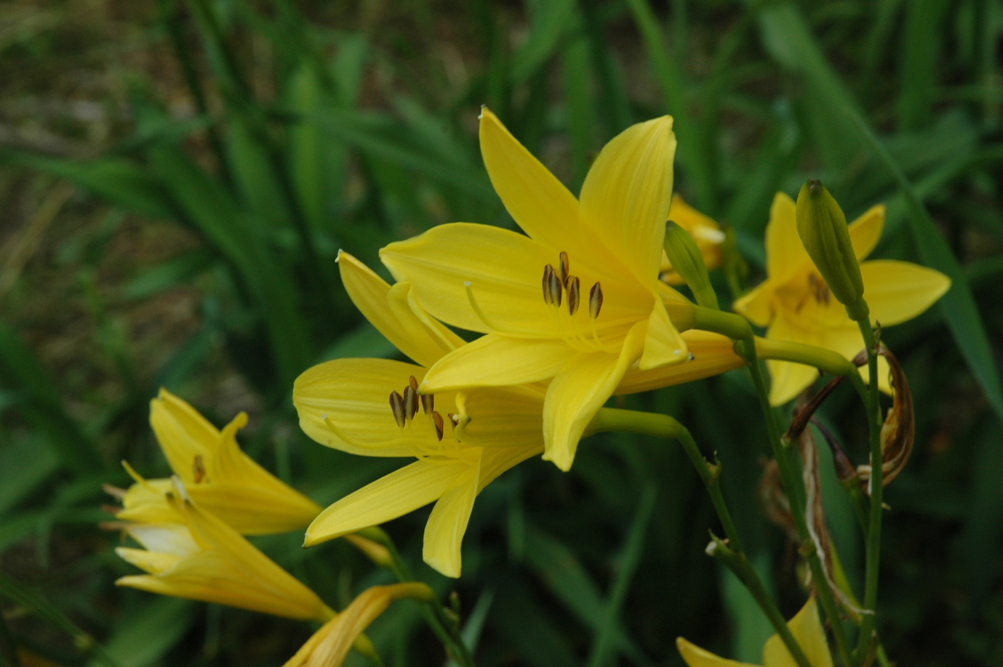 PBS featured a campfire recipe for daylily bud fritters. Sounds ambitious to me. I would probably catch myself on fire. Has anyone in The Horde ever deep-fried food over a campfire?
Stuffing daylily flowers is O.K., but be careful about using hybrids. The ones pictured at the link look like hybrids Daylilies stuffed with lemon balm/chicken salad.
Reminder: Raw bean toxicity
O.K., so now I am going from foraging to garden grazing. Late in the Feed Thread (Sorry, Food Thread) a couple of weeks ago, the subject turned to the toxicity of raw green beans. We have addressed raw bean toxicity previously in the Garden Thread. Bottom line seems to be that a few young string beans from the garden probably won't hurt you. But if the beans inside have started to get big, be careful. The aftermath of eating raw Scarlet Runner Beans did not sound pretty. Eating Shelly Beans raw is a no-no. Kidney beans are especially toxic when raw, apparently. Keep this in mind when foraging from the neighbors' garden, or your own.
Lima beans and soy beans are also toxic when raw, but contain different toxins.
That was a cheery topic. Anything going on in your garden?


posted by Open Blogger at
12:45 PM
|
Access Comments