« Thread below the Gardening Thread [KT}
|
Main
|
Ace of Spades Pet Thread [Mis. Hum.] »
July 16, 2016
Saturday Gardening Thread: Deep in Gumbo [KT]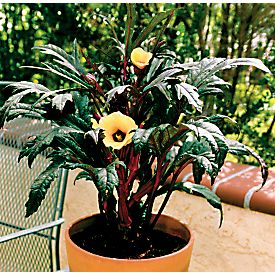 Okra 'Little Lucy'
Good afternoon to all gardeners, garden visitors, history buffs and chemistry nerds. Time to relax a little, learn some new things together and report on our garden successes, failures and sudden disasters.
It is really hot in the San Joaquin Valley. One of the few veggies that continues to produce during the worst summer heat here is okra. But little did I know the directions that this topic would take me for today's thread. Because when I think of okra, I also think of gumbo.
Among Merriam-Webster's definitions of gumbo are:
1. A soup thickened with okra pods or file' and containing meat or seafoods and usually vegetables.
2. Okra
3. Any of various fine-grained silty soils especially of the central United States that when wet become impervious and soapy or waxy and very sticky. OR a heavy sticky mud.
Can you guess what File' Gumbo, Syphilis, Cape Cod, Root Beer, Promethea Silkmoths and Ecstasy have in common?

SASSAFRAS
In the Garden or Landscape
Sassafras albidum is native to the Eastern and Southern USA, into Mexico. It is "the northernmost New World representative of an important family of tropical timbers." Looking to attract some winged visitors to your garden? The berries on female trees attract birds. It is also among the larval hosts of several beautiful swallowtail butterflies (Spicebush, Eastern Tiger, Palamedes and Pale). It is also a host to the Promethea Silkmoth. This big moth is variable in appearance, and the males are usually darker than the females.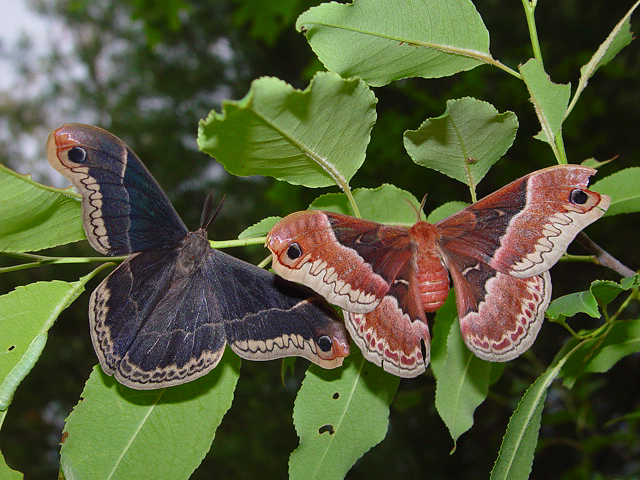 Male and Female Promethea Moths
In the landscape, sassafras can be trained as a single-trunked tree or allowed to sucker into a small grove. Or keep it low and bushy through pruning. It has a pyramidal form when trained to a single trunk and a horizontal branching pattern. It can get chlorosis in alkaline soil. Quite an attractive tree where it is adapted. The foliage is multi-colored in the fall. Leaves, twigs and bark smell like root beer or citrus when crushed.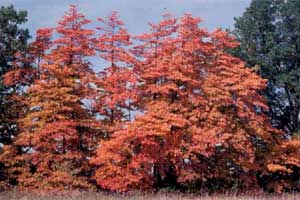 Sassafras trees, fall color
Floridata has a nice summary on the characteristics of sassafras trees, and the history of their use.
A distinctive feature is variable foliage, with a single tree showing unlobed, 2-lobed (left mitten, right mitten) and 3-lobed leaves. When young, these leaves are used to make file' powder. "You can make your own file'. In Tony Chachere's Cajun Cookbook, he says it is best to harvest the leaves during a full moon. . . "
Sassafras leaves
File' Gumbo
Jambalaya, crawfish pie, file' gumbo . . . Hank Williams
These guys are still singin' Hank's song. Coming to an Indian Casino near us soon.
Serious Eats has a piece about the history of gumbo. "You can learn a lot about the history of Southern food by studying a bowl of gumbo." The wiki includes some other ideas about the origins of gumbo. But everyone seems to agree that file' powder was first used as a thickening and flavoring agent for food by the Choctaw Indians. File' translates to "string". Can't remember where I read that file' gets stringy in gumbo when you cook it too long, but okra is stringy when you don't cook your gumbo long enough.
Unlike sassafras oil, sassafras leaves are basically free of safrole, a substance restricted by the FDA. You can buy File' Powder through the AoSHQ Amazon Store if you don't have your own sassafras tree.
Other Historic and Current Uses of Sassafras (and Sarasparilla)
The Hiker's Notebook has a pretty nerd-ish rundown on the history of the plant, its historical uses and the chemistry of its extracts. Without sassafras, there may never have been a Cape Cod or Martha's Vineyard.
Sassafras was the cynosure for the first two English settlements in New England. Bartholomew Gosnold and 32 cohorts set sail from Falmouth, England in 1602 on the Concord with the intention of harvesting sassafras, then selling in London for 20 shillings a pound. The Concord returned to England with a cargo of sassafras and cedar. . . .
Among other things, Europeans used sassafras to treat syphilis. A history of syphilis is included in the plant profile. But there were less dramatic uses, too:
The original flavoring for root beer is the oil of the sassafras root. . . A hot beverage called saloop is also made from the leaves. Research conducted in the 1960's revealed that safrole caused cancer in laboratory rats. Sassafras bark and oil were banned by the FDA for flavoring or food additives in 1976.
Apparently, it is legal again. since 1994. to use sassafras root extracts in commercial products in the USA as long as the safrole is removed. But safrole is the main flavoring compound, as far as I can tell. Anybody out there use real sassafras in home-brewed root beer?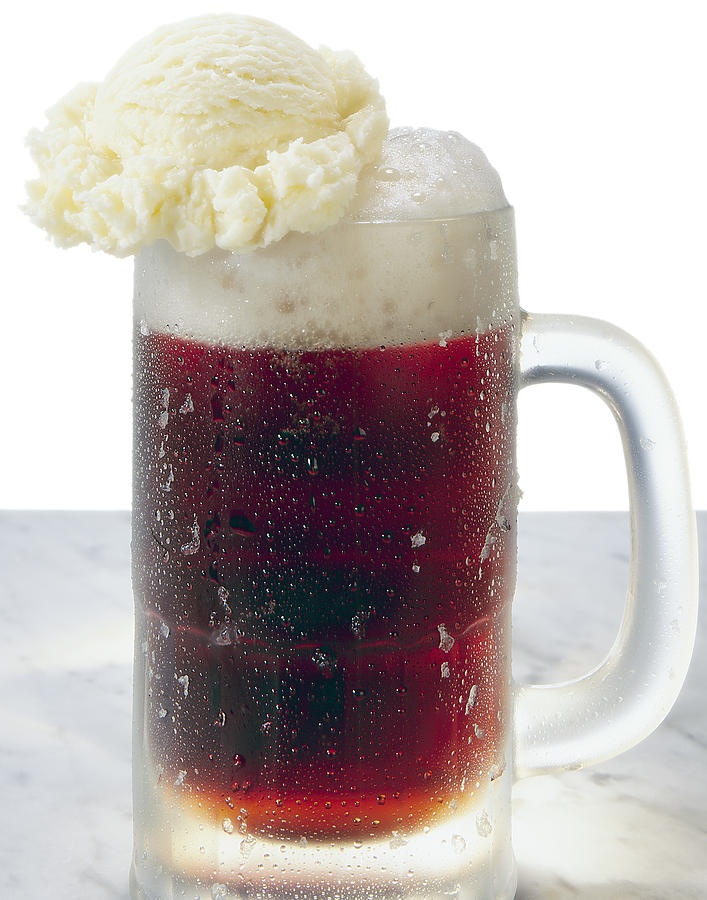 Why is there so much foam on a root beer float?
Safrole is a precursor to the recreational drug MDMA (ecstasy). There are reports of rainforest destruction related to cultivation of the trees in tropical areas.
Incidentally, if you have ever wondered about the difference between root beer and sarsaparilla, the latter is based on extracts from the roots of prickly vining Smilax species native to Central America and Mexico. The history of medical uses of the roots is interesting. Some people still consider it to be effective in treating syphilis. I would need to see the studies.
In recent times, sarsaparilla has been widely promoted as one of the ingredients in various herbal combination products intended to serve athletes and bodybuilders as legal replacements for illegal steroidal medications. To promote such usage, some distributors claim that sarsaparilla contains testosterone.
OKRA
In the comments on CBD's famous food thread last Sunday, I noticed this exchange of opinions.
"Okra is pretty disgusting. I don't like furry food. " - L, Elle

"Fried okra is good stuff." - Insomniac

"In fact, anything fried is great!" - EC
Of the 12 favorite okra recipes presented by Southern Living, I think Smashed Fried Okra would be the most fun to make. Smash whole okra with a meat mallet before frying, so more breading sticks to it. Where's the county fair?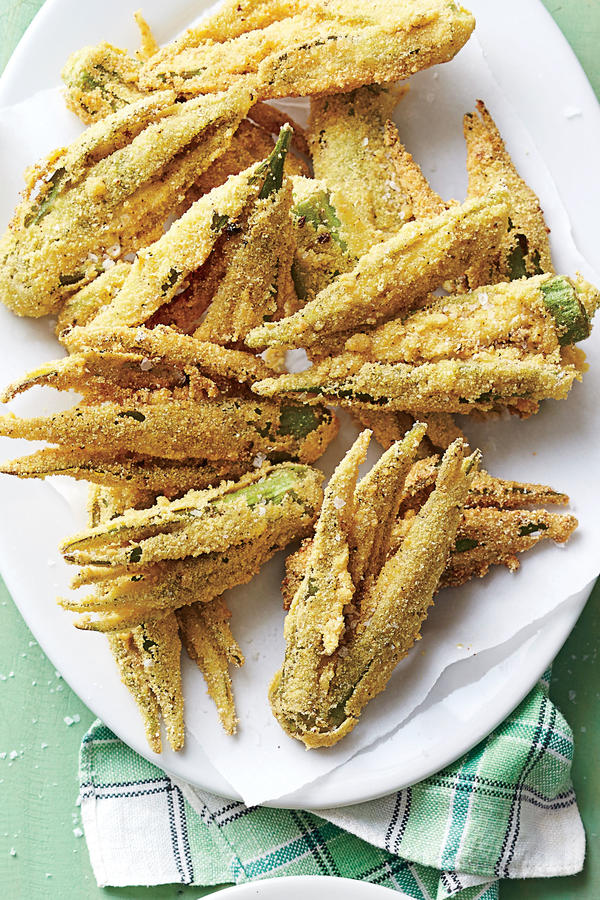 From Frog Bottom Farms, Okra Four Waya, includng lacto-fermented okra pickles for JTB.
The Washington Post has a nice piece on growing and eating okra.
Okra needs a marketing campaign. Many people don't know this weird and wonderful vegetable. Those who do, find it slimy -- for avoidable reasons we'll explain. As a garden plant, okra is arguably the prettiest edible in the landscape. . .

At the American History Museum's Victory Garden, gardener Joe Brunetti and intern Nan Campbell have raised a robust and handsome stand of an antique variety of okra named Alabama Red. . . Joe takes a pod that is just two inches long, and says it will work raw in salads. Pods that are twice that long are optimum size for cooking. He removes a pod that has gone over, big, fibrous and a bit thorny, and thinks its only value in the kitchen would be to slice it, bread it and fry it. . .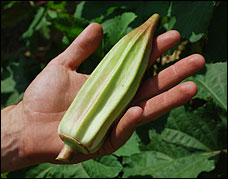 "Too big, Joe. It'll break your teeth.
Southern Living offers 5 slime-busting tips for okra. They are from this book about okra, available through the AoSHQ Amazon Store. Southern recipes, African recipes, international recipes. I ran across this little vignette in which one of the reviewers talks about his father:
How his intense gardening throughout his life substituted for his loss of eyesight from WWII, and other related injuries I'm not sure, from a psychological therapeutic view, but my guess is that growing okra, corn, beans and other vegetables provided a transition and a sense of achievement in the context of great physical and psychic loss.
There are several interesting okra cultivars. Some look better (or more interesting) than they taste. Just as a clue, "Clemson Spineless" was an advance because it is spineless. If you live in the North, check to make sure that the okra cultivar you want to plat is not daylength-sensitive. Most of the hybrids are not. My mother-in-law's favorite is non-hybrid Emerald Velvet. Do you have a favorite cultivar? Do you enjoy growing okra, or is it too furry (or slimy) for you?
GUMBO SOIL
ATEXASPATRIOT writes:
On the Gulf Coast Plains of Southeast Texas, the ground is gumbo. I have tried to explain this to others from other places and I often hear, "Yeah, we have that here too." They do not, but I do not argue. We have GUMBO. It is unbelievable.
This introduction is followed by a thorough discussion of how to garden gumbo soil, which can (at times) look deceptively easy to work. Check the garden category at the top of the page, too.
At other times, gumbo soil may not look so hospitable.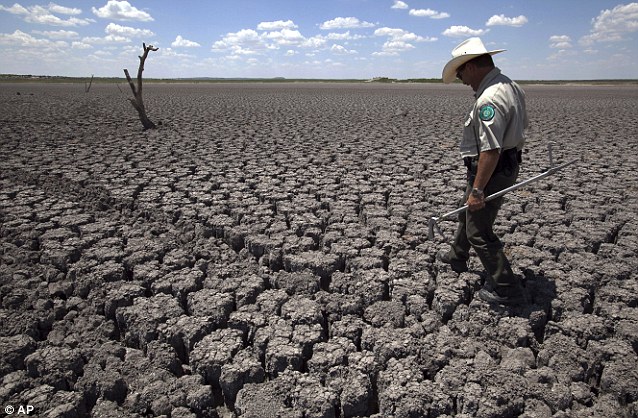 How to Water your Foundation
MISCELLANY
Austin Bay reports on . . . Monarch Butterflies and Gardeners?
Not something I would expect from him. Well, O.K., maybe . . "what intrigued me most was the host's 'we do this ourselves' approach. . . . "
Farm and Produce Report
The harvest of canning tomatoes is in full swing here. Coming to a pizza near you. Growing, harvesting and processing tomatoes is a highly mechanized business and takes a great deal of coordination. Truckers are generally in demand this time of year. Hiring is also underway for the pistachio harvest.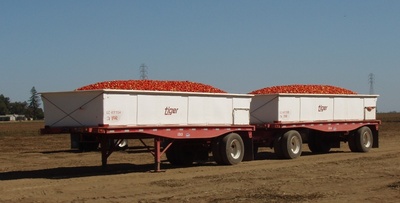 Tomato truck trailers
Muskmelons, honeydews and specialty melons are also being harvested locally. Anything new going on in a farm or farmers' markets near you?
Garden Report
I was up sorta early today because it is my government-designated watering day. Had to be finished by 8:00. I can try again in the evening. My garden needs water. A friend asked if the big bush by my fence was a weed. It is rosemary.
How are things going in your garden?

posted by Open Blogger at
12:40 PM
|
Access Comments