« How the Other Half Survive - Niedermeyer's Dead Horse
|
Main
|
EMT 7/04/16 Happy Independence day. [krakatoa] »
July 03, 2016
Overnight Open Thread (7-3-2016) - Pre-4th Edition
We can be overwhelmed by the present. At the time I thought Bill Clinton was an extraordinarily bad man, but Barack Obama has helped me understand how good we had it with Bill Clinton. Not to say that Clinton isn't the most repugnant, but we now have a larger context within which to judge him. Perhaps Hillary Clinton will lend a similar context to our judgment of Obama. Ah, the uses of history.

-- PowerLine's Scott Johnson in Why Not The Worst
They went to Arnold [Schwarzenegger]. They went to Sly, who turned it down. They went to Richard Gere-turned it down. They went to James Caan-turned it down. They went to Burt Reynolds, and all of these people rejected it because, remember, this is 1987. You had all these Rambo movies. We've had Commando, Predator, and in the wake of all of these, the hero, they said, was like a pussy. The reaction? "This guy's no hero." Right? In desperation, they went to Bruce Willis.

-- from Die Hard: An Oral History
Soon.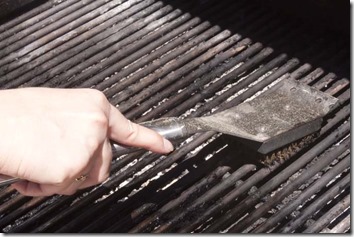 An in depth investigation by the Marine Corps has concluded that for over 70 years it had wrongly identified one of the men in the iconic photo of the flag being raised over Iwo Jima. The investigation determined that Navy Corpsman John Bradley was not one of the flag-raisers in the photograph and in fact the actual flag-raiser was PFC Harold Schultz.
Neither man seems to have sought any fame or reward from their role in the photo:
As for John Bradley, he also had no taste for celebrity and was long traumatized by what he witnessed on Iwo.  But he also understood the military, and when directed to take part in the bond drive, the young Corpsman obeyed his orders.  Yet, he also moved to quickly distance himself from the fame accorded to the flag-raisers.  After leaving the Navy, Bradley became a successful funeral director in his home state of Wisconsin, fathered a large family and became a pillar of the community. 

While acknowledging his service in World War II--and participation in the flag-raising -- Bradley refused to provide any details.  As recounted in Flags of Our Fathers, John Bradley struggled with the demons of war, weeping in his sleep for many years, and rejecting all media requests for interviews.  Even members of his family knew only the barest details of time in battle.  After Bradley's death in 1994, his widow and children found a Navy Cross in a shoebox in his closet.  John Bradley received the Navy's second highest award for valor on Iwo (for braving withering enemy fire to treat wounded Marines) and never told anyone about it, even his wife of 50 years. 

Likewise, Harold Schultz did his best to bury the past and move on.  Wounded in battle, he returned to the U.S. to recuperate and was discharged from the Marine Corps in the fall of 1945.  He spent the rest of his career working for the Post Office in southern California, living a quiet and humble existence.  Schultz didn't marry until he was 60 and only mentioned the flag-raising once, over the supper table with his wife and step-daughter in 1992.  When his daughter exclaimed "My gosh, Harold, you're a hero," he said "No, I was a Marine."  It was the last time he mentioned the event, although a copy of the Rosenthal photo was among his belongings when Schultz died in 1995.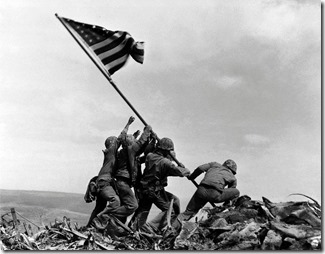 The Kremlin Admits Snowden is a Russian Agent
The real question is whether he was already working for them when he was stealing classified files or if that was an after-thought.
Hannah Cohen has an inoperable brain tumor and for 17 years has been regularly visiting St. Jude's Children's Hospital in Memphis for regular treatments. But apparently this time she did not comply with a TSA employee's orders fast enough so she got roughed up, arrested, and put in jail. We're all safer now for their quick action.
"They wanted to do further scanning, she was reluctant, she didn't understand what they were about to do," said her mother Shirley Cohen.

Cohen told us she tried to tell TSA agents her daughter is partially deaf, blind in one eye, paralyzed, and easily confused, but said she was kept at a distance by police.

"She's trying to get away from them but in the next instant, one of them had her down on the ground and hit her head on the floor. There was blood everywhere," said Cohen.

Hannah was arrested, booked and on the night she should have been celebrating the end of her treatment, she was locked up in Jail East.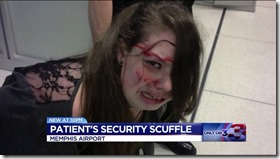 More here.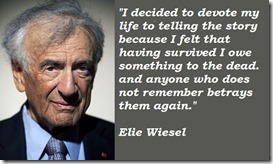 MD Governor: State House Saved by 'Ben Franklin' Lightning Rod
It somehow feels fitting for 4th of July weekend that the oldest State House in the nation was hit by lightning but saved by a 208-year-old original Ben Franklin lightning rod.

The rod atop the State House was constructed and grounded to Franklin's exact specifications and the use of it was, in some respects, a political statement, expressing support for Franklin's theories on the protection of public buildings from lightning and the rejection of opposing theories supported by King George III. At the time, the pointed lightning rod atop such an important new public building was a powerful symbol of the independence and ingenuity of our young nation.
Ben Franklin was a modern renaissance man and the US was blessed to have a man like him at the founding.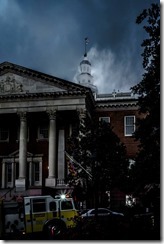 Microsoft Prepares One Final, Full-Screen Get Windows 10 Nag
Weekly Commenter Standings
Top 10 commenters:
1 [453 comments] 'J.J. Sefton' [63.60 posts/day]
2 [411 comments] 'Jay Guevara'
3 [393 comments] 'Jane D'oh'
4 [390 comments] 'ThunderB'
5 [325 comments] 'iforgot'
6 [325 comments] 'Bruce With a Wang!'
7 [318 comments] 'Vic  We Have No Party'
8 [307 comments] 'Nevergiveup'
9 [301 comments] 'Insomniac'
10 [294 comments] 'Skip'
Top 10 sockpuppeteers:
1 [75 names] 'Secretary of State Lurch Kerry' [10.53 unique names/day]
2 [48 names] 'The Political Hat'
3 [40 names] 'andycanuck'
4 [36 names] 'That guy who always says...'
5 [33 names] 'Cicero (@cicero)'
6 [32 names] 'TeamRawDog'
7 [31 names] 'Bertram Cabot Jr.'
8 [28 names] 'Insomniac'
9 [24 names] 'f'd'
10 [23 names] 'josephistan'
The group. Banned on 12 universities.
Where it's at - the Twitter
Tonight's post brought to you by the politics of religion: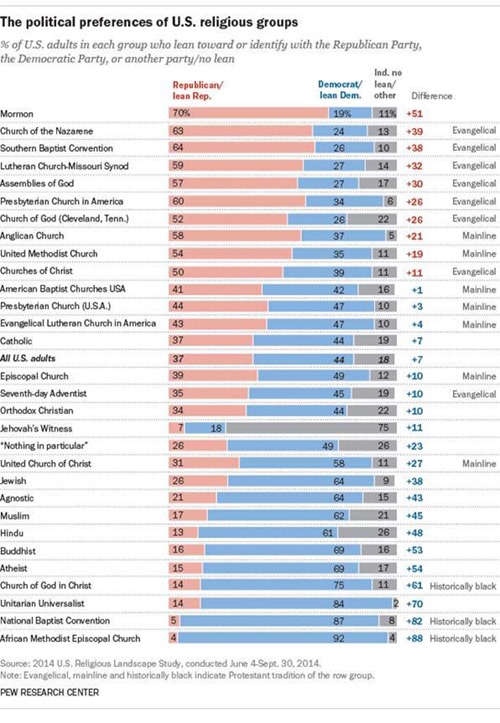 Notice: Posted by permission of AceCorp-Thatherton LLC. Taste the heat, not the meat.

posted by Maetenloch at
10:34 PM
|
Access Comments