« Open Thread [Y-not]
|
Main
|
How the Other Half Survive - Niedermeyer's Dead Horse »
July 03, 2016
Food Thread: Phoned-In, Long-Weekend Edition [CBD]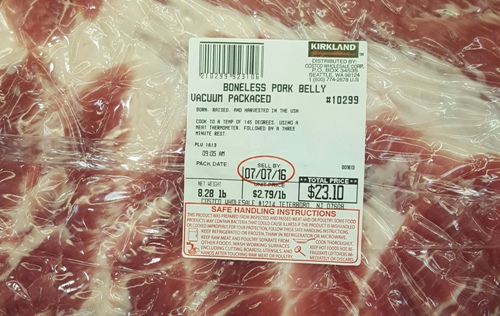 I have no idea what I would do with this, but the second I saw it at Costco I wanted it...badly.
Of course I can make bacon, but I can also braise it, then crisp it and serve it in chunks on pretty much anything.
As Clarence the (almost) angel said, " Remember, George: no man is a failure who has pork belly."
Any suggestions?
******
I made pork ribs, and there was much rejoicing. I dry-rubbed them the day before, smoked them for one hour with cherry wood, then cooked them another four and a half hours at about 250 degrees (that's more than my usual four hours total). They turned out really well, especially because I smeared them with a few tablespoons of honey just before cooking them. The honey caramelized well, better than my usual brown sugar.
The longer cooking time seemed to render more fat without drying them out. I am very happy with the results!

******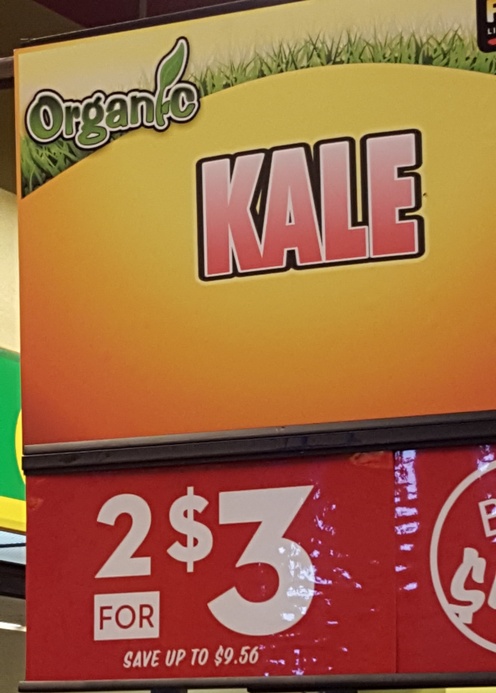 I am second to none in my contempt for and mockery of foods such as kale, which are heralded as super foods and things that everyone (at least the hippest among us) must eat for heart health, brain health, psychic health...blah, blah, blah.
The "organic" gave me pause, because A: organic is bullshit, and 2: it usually is pricier to take advantage of people's fears. I hate that.
But it was on sale, and I was having some people over, and I needed something other than fat and protein. Oh, I'm cheap, and for $1.50/head I'll give it a shot. So I made this stuff into a salad, with beets and red onion and goat cheese and almonds. Pretty good, although I found that the red kale was tougher than the green. Coincidence? I have no idea.
KALE SALAD
• 2 Bunches of Kale (stems removed sliced thin)
• 1 Large Golden Beet (peeled and sliced paper thin)
• 1 Large Red Beet (peeled and sliced paper thin)
• 1/2 cup Almonds (toasted)
• 1/2 cup Crumbled Goat Cheese
• 1/2 Clove Garlic (minced)
• 1 Red Onion (peeled and sliced paper thin)
• 1/2 cup Red Wine Vinegar
• 6 oz Extra Virgin Olive Oil
• Salt
Place kale, beets and onion in a large mixing bowl and season liberally with salt.
Mix and top with the vinegar. Set aside, tossing occasionally (This should be done at least a couple of hours in advance to allow the kale to soften*).
Whisk together the oil and garlic. Toss the oil mixture with the kale, beets and onion. Add cheese and almonds. Mix and serve.
*If it doesn't look like the kale is softening and becoming tender, add the olive oil and toss. Then, just before serving, add the cheese, garlic and almonds.


posted by Open Blogger at
04:00 PM
|
Access Comments