« Elie Weisel: 1928-2016 [CBD]
|
Main
|
Overnight Open Thread (July 2, 2016): Caturday Night Fever Edition [Y-not] »
July 02, 2016
Saturday Afternoon Chess/Open Thread 07-02-2016 [OregonMuse]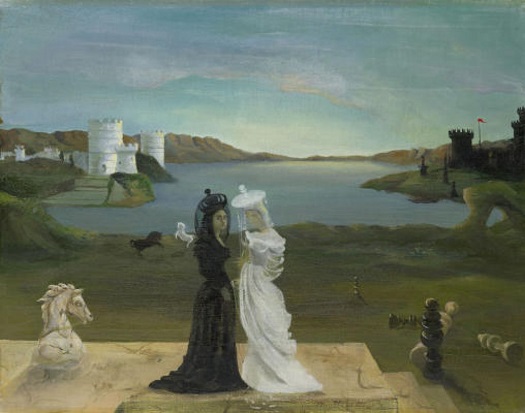 Muriel Streeter, The Chess Queens

Good afternoon morons and moronettes, and welcome to the Saturday Afternoon Chess/Open Thread, the only AoSHQ thread with content specifically for all of us chess nerds who pay homage in the temple of Caïssa, goddess of grandmasters and patzers alike. And, for those of you who aren't nerdly enough for chess, you can use this thread to talk about checkers, or politics, or whatever you wish, only please try to keep it civil. Nobody wants to get into a pie fight on a Saturday afternoon.

Black Mates In 1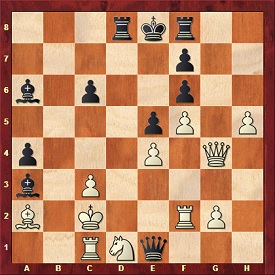 FEN: [3rkr2/5p2/b1p2p2/4pP1P/p3P1Q1/b1P5/B1K2RP1/2RNq3 b - - 0 1]


Feedback
There's usually a fair amount of discussion in the chess thread comments about the various problems I put up. Bur last week, there wasn't much, and I don't know if that means I should be worried. If nobody's solving the problems, then that means the problems are too difficult and I need to dial it back. My goal is to get lots of participation and for everybody to have fun solving the problems, and hence learning more about the wonderful game of chess. So I try to put up a wide range of problems each week, from beginner to advanced, realizing that if we could graphically display the different playing strengths of the AoSHQ chess thread audience, most of us would probably bunch up toward the low end.
It very well could be that last week was an aberration because the thread did not appear at its usual time and so participation was down. I don't know. So I'm asking you all for some feedback about the problems. Do you think they're too easy? Too hard? Are there types of problems you would like to see that I'm not doing?
Please let me know in the comments. If I see a definite spike in interest in this or that, I will see what I can to make appropriate adjustments.

Catastrophe In The Opening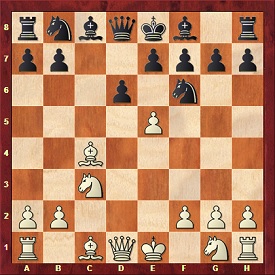 FEN: [rnbqkb1r/pp2pppp/3p1n2/4P3/2B5/2N5/PP3PPP/R1BQK1NR b KQkq - 0 6]

This position is arrived at in the Smith-Morra Gambit: 1.e4 c5 2.d4 cxd4 3.c3 dxc3 4.Nxc3 d6 5.Bc4 Nf6 and then White moves 6.e5. With this seemingly innocuous pawn push, White sets a trap. If Black replies 6...dxe5?, White can COMPLETELY CRUSH his position with one DEVASTATING move. What move would that be?
(and isn't there a book titled 'Catastrophe In The Opening'?)

Two-Part Challenge
Sometimes it's good to place both of your rooks on a rank or file. This arrangement, called a "battery", can be quite powerful, even game-deciding. For example, take a look at this position: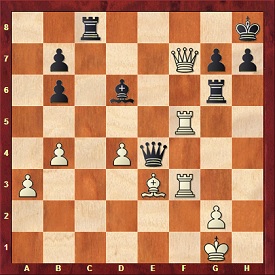 FEN: [2r4k/1p3Qpp/1p1b2r1/5R2/1P1Pq3/P3BR2/6P1/6K1 w - - 0 1]


As you can see, White has a battery set up on the 'f' file, and he's even got his queen helping out, which makes the whole thing crippling to Black. In fact, White's battery is so uuuge, he actually has a won game. To wit, a mate in 3. What does he do to bring the game to a victorious conclusion?
Now, that was the easy one. Part two is a bit more of a challenge:
If you're using an actual board and pieces, set up the original position, turn the board around, and play it from the Black side. If you're making use of the FEN string, paste the original one to a text editor like Notepad, change the little 'w' that's close to the right end of the string to a 'b', and then copy and paste it to your chess app.
Believe it or not, White can only pull off his victory because it's his move. It may not look obvious, but Black also has a won game - if it's his move.
So, for part 2, assume it's Black to move. He can bring off a mate in 5 or 6 moves, depending on how White defends. Nevertheless, his fate is sealed. Black to move can force the win. How?

Chess Resources On Teh Interwebz
Here's another great YouTube channel: MatoJelic, who is quite the chess instructor. Warning: link opens to a page containing one of those accursed self-starting videos.
Anyway, this guy has got over 1700(!) videos on all aspects of chess, geared toward beginning and intermediate players.
For example, here is his endgame series. 94 videos on various types of endgames.
H/T Tom Callow

Endgame Of The Week
This is a position I stole from one of MatoJelic's videos: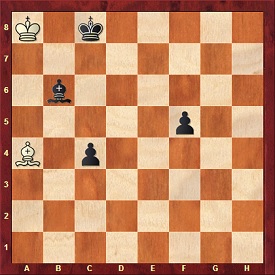 FEN: [K1k5/8/1b6/5p2/B1p5/8/8/8 w - - 0 1]

Looks grim for White, doesn't it? In addition to his bishop, Black has not one, but two, advanced pawns ready to promote. With only one bishop, White won't be able to win. However, he will be able to salvage a draw out of this position starting with ONE SHOCKING MOVE. How does he accomplish this?
Swipe the space past the word 'Hint' below if you like one.
Hint: If White's bishop was off the board, and it was White's move, it would be a stalemate.
___________
Solutions Update:
1. Black Mates in 1
1...Bd3#
Hope everybody got this one.
2. Catastrophe In the Opening
This is a well-known trap in the Smith-Morra, and it can catch the inexperienced player unawares. It works like this: White pushes his pawn, and if Black takes the bait with 6...dxe5?, White then hits him with:
7. Bxf7+!
Black has no choice:
7...Kxf7
And with that move, Black's queen is now en prise.
8. Qxd8 with a won game.

2. Two-Part Challenge:
The first part should be fairly straightforward. Black's king being trapped back there doesn't look good for him, and look at the f8-square. It's being attacked by 3 White pieces, but defended by only 2 Black pieces. Hence White is in absolute control; he can throw pieces at it secure in the knowledge that Black will run out before he does:
1.Qf8+ Bxf8
2.Rxf8+ Rxf8
3.Rxf8#
The second part is a little harder to see, but it starts with
1...Rc1+
White's best reply is 2.Bxc1 If 2.Rf1 then Qxg2#
2...Qe1+
3.Rf1 Rxg2+
4.Kh1
4.Kxg2 fails because of 4...Qg3+ 5.Kh1 Qh2#
4...Rh2+
Substandard is 4...Qh4+ 5.Kxg2 Qg3+ 6.Kh1 Qh2# although it does get you there, just one move later.
5.Kg1 Qg3#

4. Endgame of the week.
So the key observation here is that White is almost in stalemate. This actually gives him freedom to make moves he would not ordinarily make
1. Bb3! f4
Not 1...cxb3? which is stalemate. If 1...Kc7 to avoid the stalemate, White simply eats the c pawn.
2.Bxc4 and White eats the c-pawn, anyway
2...f3
3. Bf1 and now White has control over f1. He can simply shuffle his bishop back and forth along the a6-f1 diagonal and Black can do nothing. If he pushes the pawn to f1, White will simply take it. If Black brings his King down to help out, it will avail him not. When he tries to use the King to support the pawn advance to f1, White will simply trade his bishop for the newly-minted Queen and it's a draw due to insufficient material.

___________
Note: that cryptic line of letters and numbers you see underneath each board diagram is a representation of the position in what is known as "Forsyth-Edwards Notation", or F.E.N. It's actually readable by humans. Most computer applications nowadays can read FEN, so those of you who may want to study the position, you can copy the line of FEN and paste into your chess app and it should automatically recreate the position on its display board.
___________
So that about wraps it up for this week. Chess thread tips, suggestions, bribes, rumors, threats, and insults may be sent to my yahoo address: OregonMuse little-a-in-a-circle yahoo dott com.


posted by Open Blogger at
05:50 PM
|
Access Comments