« Saturday Afternoon Chess/Open Thread 07-02-2016 [OregonMuse]
|
Main
|
EMT 7/03/16 [krakatoa] »
July 02, 2016
Overnight Open Thread (July 2, 2016): Caturday Night Fever Edition [Y-not]
This thread brought to you by:
(More fun commercials of the 1970s here.)
Inspired by a recent outing to a local bar that was featuring an all-70s playlist of Muzak, tonight's ONT is a retro edition.
For some of you, this will be a pleasant reminder of your glory days; for others, a history lesson (get off my lawn); for still others, a good excuse to turn in early.
First, a poll:
Do you see yourself as a product of the 60s, the 70s, the 80s? Although a close friend and I are separated in age by only two years, based on our musical tastes and interests, we identify with very different eras: she with the 70s and I with the 80s.
Here's BuzzFeed's (silly) attempt to help you identify your decade (or era, really). (Yours truly belongs "somewhere in the classical and romantic era." OH-KAY)
Do you wish you'd been born in a different era? If so, when?
I always wonder how people arrive at their self-identified era (or decade). Is it based on when you spent your Wonder Years? When you went to college or had your first job or apartment? How about when you got married or started your family? I've always strongly identified with the 80s, which is when I struck out on my own, first for college and then as a newly married grad student. How about you?
On a related note, here's the definitive LOL determination of when various generations begin and end. I'm on the cusp of Baby Boomers and Generation X, which they seem to define based on birth years. Incidentally, in case you missed it, Millennials passed Baby Boomers in sheer numbers not long ago.
Beloit College publishes the Mindset List each year (starting with 1998 ). It provides a useful insight into the frame of reference for each of their incoming classes of students. I wonder what the Mindset List for the Class of '84 would be.
To those of you who are parents of college-aged students: how accurate do you find their list to be?
OK, now on to our 70s retrospective...
Music
Can you guess the top song for the '70s (according to Billboard)?
1. "You Light Up My Life" - Debby Boone
Hot 100 Peak Position: 1, Peak Date: October 15, 1977
YIKES!
I spent most of the 70s avoiding "pop" music, gravitating more toward blues which I often listened to on WGTB. (I still remember the shutdown in '76.)
Here's the sort of stuff I dug:
And here's a fun clip of a young Paul Butterfield on To Tell the Truth:
As I've gotten older, I can appreciate some of the top songs of the era. Even
disco
, but especially
funk
.
What music do you associate with the 70s?
Saturday Night Fever
No discussion of the 1970s would be complete without paying homage to the quintessential movie of that decade: Saturday Night Fever. Test your knowledge of the movie here.
The movie will turn 40 next year. Here are some fun facts courtesy of the NY Daily News. For example:
Tony Manero's iconic bouncing strut down 86th street while the opening credits rolled almost never was. Originally, director Jon Badham wanted the entire scene to be shot with a stand-in from the waist down. Travolta hated the way that looked and insisted that he be shown doing the walk. The only shot in the scene that isn't Travolta is the one where Tony lifts up his shoe to compare it to one in a shop window. The scene of the car chase in "French Connection" was also filmed under the same train tracks that sprawl above Travolta as he makes his way to Lenny's Pizza.
Finally, how many of these mistakes in the film had you caught?
Confession time: I've never watched Saturday Night Fever.
What movies say The Seventies to you? Do you agree with this list of the top twenty-five 70s-era films?
Fashions of the 70s
A quick poll:
I think we've discussed this before, but the Seventies certainly had a distinctive "look." Personally, I hated the fashions from that era, but I know some of the horde loved them.
I've noticed that women's clothing has been getting that 70s look again. It seems as if more of the fabrics are synthetic, platform shoes have reappeared, but worst of all is the push to bring back "maxi" dresses. It's bad enough we're suffering through the worst Presidency since Jimmy Carter, I'd rather not have everyone around me LOOK like we're back in 1977! (By the way, you can compare the fashions of past decades here.)
These folks argue that current fashion trends say that Good Times are just around the corner. Yeah, right.
Anyway, dig through your closets, guys and gals, because those old clothes might just be "vintage!"
70s Tech
From Business Insider, here are ten iconic tech gadgets from the Seventies. How many of them did you have?
Bonus content: Betamax or VHS?
Boob Tube
Face it, most of us probably watched far too much television. Here's a trip down memory lane. And a listing of program ratings here. "All in the Family" really dominated, but who in heck was watching "Laverne and Shirley?"
Let's Talk Food
Remember when moms cooked dinners that everyone sat down to eat together? No, no, it's true! You kids don't know what you're missing. Via TheKitchn, here are ten recipes that defined the 70s.
To me the Seventies will always be associated with Hamburger Helper. I think there's still a wad of it undigested in my lower G.I.

We could go on to discuss world events or presidential elections or the economy, but it's Saturday night and life's too short to spend on that nonsense!

To wrap things up, here's an appropriate song:
And no Caturday Night would be complete without disco kitty: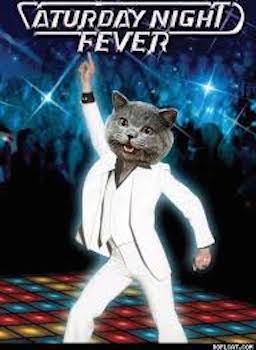 Be good, horde!
Or if you can't be good... DON'T GET CAUGHT!

posted by Open Blogger at
09:50 PM
|
Access Comments