« Food Thread: You Know What's Really Going To Leave A Mark On All Of Those $15/hr Minimum Wage Workers? Robotic Pizza Making [CBD]
|
Main
|
How The Times Have Changed [Mis. Hum.] »
June 26, 2016
Sunday Evening Chess/Open Thread 06-26-2016 [OregonMuse]

Good afternoon morons and moronettes, and welcome to the Sunday Evening Chess/Open Thread, the only AoSHQ thread with content specifically for all of us chess nerds who pay homage in the temple of Caïssa, goddess of bughouse and blitz chess. And, for those of you who aren't nerdly enough for chess, you can use this thread to talk about checkers, or politics, or whatever you wish, only please try to keep it civil. Nobody wants to get into a pie fight on a peaceful Sunday afternoon.
And sorry I'm a day late with this, I was out of town all day yesterday.

White Mates In 1
Oops, I Meant Black Mates In 1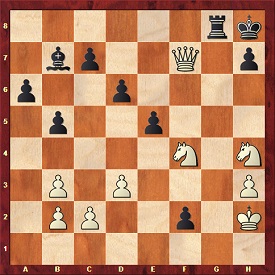 FEN: [6rk/1bp2Q1p/p2p4/1p2p3/5N1N/1P1P3P/1PP2p1K/8 b - - 0 1]

And for those who might be stuck on this, I've provided a hint that you can see if you swipe the blank space past the word 'Hint:' on the line below.
Hint: Underpromote
White Mates In 2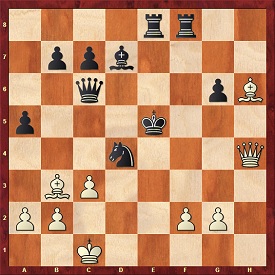 FEN: [4rr2/1ppb4/2q3pB/p3k3/3n3Q/1BP5/PP3PP1/2K5 w - - 0 1]

Nothing too fancy.

Chess Resources On Teh Internetz
If you're interested, you should check out the Chess Club and Scholastic Center of St. Louis channel on YouTube. The CCSC is trying to establish itself as a major player in United Stares chess, and they've got some really awesome videos of lectures on various chess topics from international grandmasters, mostly for intermediate and advanced players, not for absolute beginners. They typically last 40-50 minutes each.
If any of you chess-playing morons know of other great sites I missed, preferably free ones, by all means, let me know in the comments.

How Does Black Win?
In this position, White's queen looks poised for an attack. But it's Black move and he can use a simple forcing tactic to eliminate the threat. How does he do it?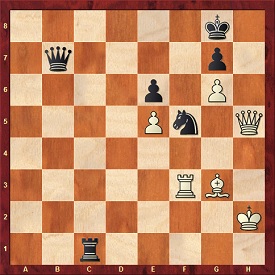 FEN: [6k1/1q4p1/4p1P1/4Pn1Q/8/5RB1/7K/2r5 b - - 0 1]


A Manly Chess Set
John McNamara is one of the chess thread's readers who has talent working with wood. He sent me a pic of his hand-carved chess set: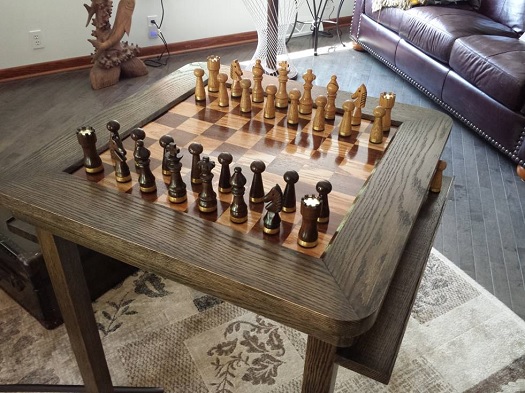 He tells me:
Board and pieces are from black walnut and red oak cut on my property
So before he could work with the wood, he had to *get* the wood, and not from a store. There's an old joke about a recipe for baking bread that starts out "Step 1: Harvest wheat." John's instructions for carving your own chess set start out similarly: "Step 1: Cut down some trees." Of course, Mr. McNamara could cut down one tree and use a dark stain to get the different colors, but he probably thinks that's a limp-wristed, pansy way to do it.
The bases are brass. To give you a size perspective, the squares are 2.5" on a side and the kings are 5" high. I think it turned out better than I expected.
The brass bases are a nice touch. And they probably add a good, solid heft to the pieces. But I'd be afraid of the metal-on-wood contact that might scratch a nice board, so I'd want to put on a felt or leather pad on the bottom of each piece. As it looks like there is.
Nice work, John.
So, if any of you morons have a hand-caved chess set, or really, any set you own that you're proud of, send me a pic. The AoSHQ pet thread has pet pics, so why can't we have chess set pics?

Are You Man Enough To Avoid Stalemate?
Yes, it is extremely unlikely that this position will ever occur in an actual game. But many a "won" game has been blown when the player who is about to lose is able to finagle a stalemate because his opponent gets overconfident and careless. So stalemate is something you always have to watch out for in the endgame.
Therefore, with all of that in mind, how does White win this game, bristling as it is with stalemate threats?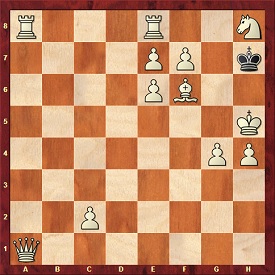 FEN: [R3R2N/4PP1k/4PB2/7K/6PP/8/2P5/Q7 w - - 0 1]

I pulled off one of these el cheapo stalemate traps in my very first tournament and my opponent was this close -><- to putting his fist through the wall. I could tell I was a little bit better player than he was and if truth be told, I should've won. But then, guess what, I got overconfident and careless and derped away the win. I wanted to tell him, look, you actually should've *lost* the game, but by then, he didn't look like he was in the mood for any post-mortem analysis, so I quietly tiptoed away with my half point.

Endgame Of The Week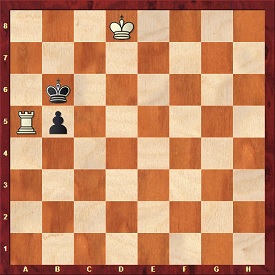 FEN: [3K4/8/1k6/Rp6/8/8/8/8 w - - 0 1]

It's White to play and win. He needs to figure out how he can snatch that pawn.
___________
Solutions Update:
1.White Mates In 1
There was a bit of a trick to this. Congrats to those who remembered that a pawn advanced to the 8th rank does not necessarily have to promote to a queen. In this case,
1...f1N#
...will do nicely.
("f1N#" is algebraic notation at its most dense, and it unpacks to: Black advances his pawn to f1 and promotes it to a knight, which results in a checkmate)

2.White Mates In 2
This is pretty straightforward:
1.Qxd4+ Kf5
2.g4# 1-0

3.How Does Black Win?
The key to this is noticing that if White's king were on h1, Black could play Nxg3 and voila, knight fork. So, can Black make this happen? As a matter of fact, yes:
1...Rh1+
2.Kxh1 Nxg3+
3.Kg1 Nxh5
...and White is pretty much schlonged.

4. Are You Man Enough To Avoid Stalemate?
There's hardly any moves White can make that doesn't produce a stalemate. Let's take a look:
1.f8=Q? (oops, that's a stalemate)
1.f8=R? (so's that)
1. f8=N+? (not a stalemate, but it doesn't really get you anywhere. A possible continuation:
1...Kg8
2. Nfg6+ Kh7
3. Nf8+ Kg8
4. Nd7+ Kh7
5. c3 etc.
So the answer is ( *drum roll* ):
1. f8=B ( *cymbals clash* )

Now you can put together the mate in pretty short order:
1...Kg8
2. Bg5 Kh7
3. Qg7# 1-0

Endgame of the week:
In chess, the rule of thumb when you're trying to stop a pawn from getting to the 8th rank is that you need to use your rook to get in front of it to block it. This position, however, is an exception. If White tries to bring his rook down to keep the black pawn out of b1, he'll come up short. It might look like this:
1.Ra1 b4
2.Rb1 Kb5
3.Kc7 Kc5
4.Rc1+ Kd4
5.Kb6 b3
6.Kb5 b2
7.Rb1 Kc3
8.Ka4 Kc2
...and White can't get his King down there fast enough to keep Black from seizing control of the queening square.
Instead, White needs to come at the pawn from behind and then use harassing moves by his rook to buy time to bring his king into position. Like this:
1.Ra8 b4
2.Rb8+ Kc5
3.Kc7 Kc4
4.Kb6 b3
5.Ka5 Kc3
6.Ka4 b2
7.Ka3
...and now White can safely snatch up the pawn, with a won endgame.

___________
Note: that cryptic line of letters and numbers you see underneath each board diagram is a representation of the position in what is known as "Forsyth-Edwards Notation", or F.E.N. It's actually readable by humans. Most computer applications nowadays can read FEN, so those of you who may want to study the position, you can copy the line of FEN and paste into your chess app and it should automatically recreate the position on its display board.
___________
So that about wraps it up for this week. Chess thread tips, suggestions, bribes, rumors, threats, and insults may be sent to my yahoo address: OregonMuse little-a-in-a-circle yahoo dott com.


posted by Open Blogger at
06:00 PM
|
Access Comments