« Riot Thread [Y-not]
|
Main
|
Sunday Evening Chess/Open Thread 06-26-2016 [OregonMuse] »
June 26, 2016
Food Thread: You Know What's Really Going To Leave A Mark On All Of Those $15/hr Minimum Wage Workers? Robotic Pizza Making [CBD]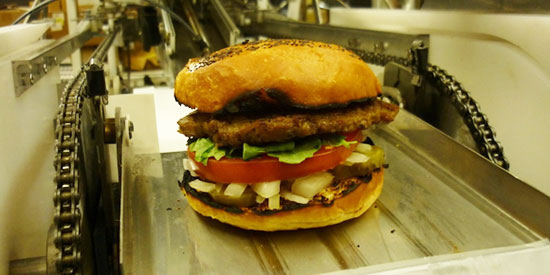 There are already functional and efficient hamburger makers, not to mention robotic ordering systems. So the writing is on the wall, but these guys are expanding the horizon to a traditionally hand-made product, and they think they can do it better, not just more efficiently. Inside Silicon Valley's Robot Pizzeria
I absolutely love the idea that these pizzas will be cooked to order and arrive at the customers' doors straight out of the oven. Of course the government doesn't approve, because IT'S NEVER BEEN DONE BEFORE! and they can't have innovation happening without government oversight.
In August, Zume wants to start cooking its pizzas in the startup's patented delivery trucks. Each truck has 56 ovens that can be turned on and off remotely. Garden can barely contain his excitement for what comes next: "The robots will load all these individual ovens with different menu items. Then the truck will circle the neighborhood. At precisely 3 minutes and 15 seconds before arriving at the customer's location, the cloud commands the oven to turn on and--" Garden made the symbol of a large explosion emanating from his brain-- "BOOM, the customer gets a fresh, out-the-oven pizza delivered to their door."

Nobody has ever done this before, he said. The Santa Clara County Health Department is reviewing Zume's mobile food permit application now, and the startup's truck plan depends on its approval. Although laws vary from state to state, traditional food trucks generally aren't allowed to cook food while in motion.
Why can't they cook while in motion? Probably because the unelected bureaucrats who have the power to stifle creativity imagine big fryers sloshing flammable oil around. Their pinheads can't imagine what the market can create, and if it doesn't fit into their pigeon-holes...BAN IT!

I was in the Bronx a few days ago. No, it wasn't burning. There is an old Italian neighborhood called Arthur Ave. that has held on to a lot of the charm it once had. And it also held on to a few superb stores, one of which sells fresh pasta, cut to order.
Borgatti's
is the best place in NYC for fresh pasta, and they didn't disappoint this week. If you have never tried fresh, then I suggest you go out of your way to buy it. Don't get me wrong; I think that dried pasta is fantastic too, but there is something about the texture of the fresh version that I have never found in even the fanciest and most expensive dried pastas.
I also bought a pound of fresh mozzarella, and that too is a taste sensation. Firm but soft, with an incredible mouth feel. Good stuff, especially with a chunk of Italian peasant bread (Pane di Casa).

Here is the lamb marinade I mentioned last week. Play around with the proportions a bit if you feel like it. More garlic wouldn't hurt.
Lamb Marinade


4 ounces chopped parsley

3 garlic cloves

1 tablespoon Dijon mustard

1 tablespoon chopped fresh rosemary

1 tablespoon chopped fresh thyme

1 teaspoon oregano

1 ounce fresh lemon juice

2 ounces olive oil
In a small food processor or with a hand-held blender blend all but the olive oil into a paste.
While blending, slowly drizzle olive oil into mixture until emulsified.


posted by Open Blogger at
04:10 PM
|
Access Comments