« It Is Time For A National Conversation On How Stupid And Ugly Our Current Crop Of Neo-Nazis Is [CBD]
|
Main
|
Wednesday Morning News Dump [6/22/16) [Mis. Hum.] »
June 21, 2016
Overnight Open Thread (6-21-2016)
Quote of the Day I - Failure to Heed Market Signals Edition
The percentage of new doctorate recipients without jobs or plans for further study climbed to 39% in 2014 from 31% in 2009, according to a National Science Foundation survey released in April. Median salaries for midcareer Ph.D.s working full time fell 6% between 2010 and 2013.

The reason: supply and demand.
Quote of the Day II - A Matter of Faith Edition
Former President Bill Clinton said Tuesday that more people would have died in the terrorist attack at a nightclub in Orlando over the weekend if clubgoers had been armed and shot back at the lone gunman.

In an interview with Bloomberg TV, the former president was asked to respond to Donald Trump's claim that fewer people would have died at the club if they had firearms.

"Did you see how dark it was?" Clinton said. "It's likely that more people would have been killed."
Funny the killer seemed to have no problem with finding and shooting people in the dark.
Attorney General Loretta Lynch: Orlando Gunman's Motive May Never Be Known
I can't help but be reminded of this classic AoS thread:
The Words That Come Out Of His Mouth: The Secret Source Of What A Man Is Really Trying To Tell You!
What Really Happened During the Orlando Shootings - a Time Line
2:02 a.m.: OPD call transmitted multiple shots fired at Pulse nightclub.
2:04 a.m.: Additional OPD officers arrived on scene.
2:08 a.m.: Officers from various law enforcement agencies made entrance to Pulse and engaged the shooter.
2:18 a.m.: OPD S.W.A.T. (Special Weapons & Tactics) initiated a full call-out.
2:35 a.m.: Shooter contacted a 911 operator from inside Pulse.
One interesting note from this is that police were already engaged in a firefight with Mateen within 6 minutes of the shooting being reported. But when they realized they were outgunned and he retreated inside, they called out the SWAT team.
And during calls with negotiators Mateen claimed to have a suicide vest and have bombs planted in the building and his car:
"There is some vehicle outside that has some bombs, just to let you know. You people are gonna get it, and I'm gonna ignite it if they try to do anything stupid." Later in the call with the crisis negotiator, the shooter stated that he had a vest, and further described it as the kind they "used in France." The shooter later stated, "In the next few days, you're going to see more of this type of action going on." The shooter hung up and multiple attempts to get in touch with him were unsuccessful.


4:21 a.m.: OPD pulled an air conditioning unit out of a Pulse dressing room window for victims to evacuate.
And here one survivor who played dead even after being shot a second time by Mateen describes what was happening in the club during this time:
With the sounds of Mateen still shooting and the screams echoing in the club, Marrero stayed as perfectly still as he could and he estimates 30 to 40 minutes went by. He saw the shooter walking over the bodies on the floor and shooting them again, presumably to make sure they were dead.

This is when he shot Marrero again, hitting his lower back and his left arm. Now this young man was on the floor with four gunshot wounds. "I just lay there and all the blood coming out of my hand, and my arm was destroyed," he said. "The amount of pain was unbearable."

He said while the shots were still going off, he made eye contact with a police officer through the front door. He said he pleaded for help. The officer told him to crawl to him, but Marrero couldn't and told the officer he was shot in the back.

The officer told Marrero, "You need to find the strength to do this." Using his right arm he grabbed onto the dead bodies giving himself the leverage to push himself towards the officer. The cop grabbed him by the hand and quickly dragged him away from the club and to a vacant lot where paramedics were set up and eventually got to him.
Here the pseudonymous LAPD officer, Jack Dunphy, weighs in on the Orlando police's actions that morning:
And in those hours before the final confrontation came at about five in the morning, the police faced an agonizing dilemma: Should they move in and risk a gun battle that would jeopardize more innocents, or should they wait it out in the hope of a surrender? But this second option carried its own risks. Mateen might have resumed shooting at any moment without warning, or he may have detonated the explosives he claimed to have. What's more, during a protracted siege, people already wounded and hoping for rescue might bleed out and die.

There is no easy answer in this situation. Officers on the scene must rely on incomplete and sometimes conflicting information. In the panic and chaos that greeted the first arriving officers in Orlando, there must have been varying accounts on the number of shooters and their whereabouts within the club. Adding to the confusion, officers from all over the city and beyond rushed to the scene, few of whom had had the opportunity to work or train together before. Patrol officers are accustomed to handling things alone or in pairs; unlike their counterparts in SWAT, they are seldom called upon to act as a cohesive unit.
Greg Gutfeld on Orlando: The Most Depressing Article You Will Ever Share
Dumbest Criminals of the Year So Far
Port Authority Police Department Superintendent Michael A. Fedorko said that 50-year-old John Cramsey, 52-year-old Dean Smith and a 29-year-old woman were taken into custody after they were stopped around 7:40 a.m. in Jersey City, N.J.

Officials found multiple weapons -- some loaded -- including rifles and handguns in their vehicle, described by a law enforcement source as a "jacked up SUV."

The vehicle, a Dodge truck, also bore the name Higher Ground Tactical, an indoor shooting range and gun dealership in Upper Milford Township, Pa., WNBC-TV reported.

...The trio, from Pennsylvania, initially was stopped by Port Authority Police at a toll plaza for a cracked windshield, authorities said. An officer saw the weapons in plain view on the passenger side of the vehicle.

Drugs were also recovered from the vehicle, which has been cleared from the scene but is still being processed for evidence.
Anyone who has been dispassionately following crime trends over the past couple of years will have noticed a curious pattern: Despite clear evidence that homicide rates surged in the last twelve months, in what is quite likely the biggest single-year spike in a generation, many journalists and number crunchers seem determined to communicate to their readers that there is nothing unusual going on-that crime rates remain at historic lows and that any talk of "rising crime" is demagoguery intended to smear racial justice protestors and torpedo criminal justice reform.
18 Year Old Hooker Takes Down 3 Bay Area Police Chiefs In Just 9 Days
Germany Bans Fracking For the Foreseeable Future
From here on out it's going to be expensive subsidized renewables and Russian gas.
Meanwhile California Plans to Shut Down Its Last Nuclear Reactor
Despite the fact that this one reactor produces more than double all of the state's solar panels combined.
Paprika: Your Frenemy in the Kitchen
The Amazing Korean Breakdance Crew
Sheer beautiful cultural appropriation. The little muscular dude is incredible - he clearly has hacked the matrix.
The Last Time The Beatles Ever Performed Together
Despite all the tension and acrimony here for a few minutes at least they were able to recapture their old chemistry and joy of playing together. Today playing an impromptu gig on the roof is no big deal but back then It Simply Wasn't Done. Also can you spot the obligatory Yoko presence?
Related: Ringo Talks Honestly About the Death of John. Both fascinating and painful to watch. I wish the ghoulish Barbara Walters had respected his request to turn off the cameras when he became weepy.
The Yahoo group is for closers only.
Teh Tweet!
Tonight's post brought to you by what the bands got paid at Woodstock: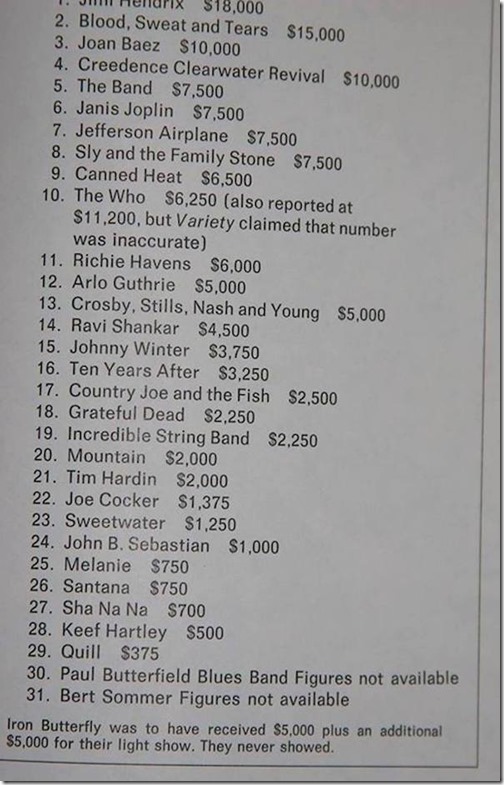 Notice: Posted by permission of AceCorp LLC. No announcements at this time. Your ad could appear here.

posted by Maetenloch at
11:25 PM
|
Access Comments