« Thread below the Gardening Thread: Summer [KT]
|
Main
|
Ace of Spades Pet Thread [Misanthropic Humanitarian] »
June 25, 2016
Saturday Gardening Thread: Just Peachy [KT]
Greetings to gardeners, farmers and those who like farmers' markets, fruit stands, flowers or shade trees. Welcome to the first Saturday Gardening Thread of the year following the Summer Solstice. Do you feel any different?
Last week, Dave at Buffalo Roam wrote:
The hot weather is here and the sweet corn is probably finished this weekend. I put up 48 ears today. But we have Fredericksburg peaches! God bless Texas.
Then he wrote in response to my query:
Fredericksburg peaches are yellow, cling stone and so juicy it runs down your neck.
Mmmm. Those peaches sound good. Anybody who has a local source for peaches is fortunate. If you have your own tree(s), even better! More on peaches and nectarines later in this thread.
Do you live where it is too cool in summer to grow flavorful peaches? Maybe you could grow a beautiful scented tuberous begonia in peachy tones to admire while sipping a nice peachy-flavored beverage.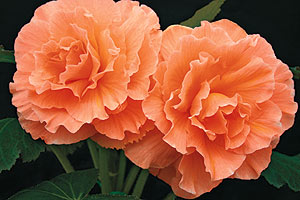 John Smith Scented Tuberous Begonia
Tuberous Begonias
Tuberous begonias can be spectacular when grown under deep-rooted trees. (You can shop for them through the AoSHQ Amazon Store). They need light, well-drained soil, but it does not need to be very deep. You can put down a few inches of potting mix under a tree. Mama AJ might be able to grow some in a shady corner of her compost pile.
They will need to be watered, preferably by drip. Even if your shade trees are surface-rooting, tuberous begonias can be grown under them in containers. One of my favorite ways is to hang baskets from tree limbs.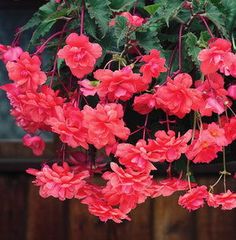 Amerihybrid Hanging Basket Begonia
Floridata compares tuberous begonias with other begonias grown by gardeners.
There are some 1500 species of begonias and, by some estimates, more than ten thousand named cultivars and hybrids. To simplify matters, they are divided by horticulturists into informal groups, based mainly on their growth habits.
The University of Minnesota Extension has a nice summary on growing tuberous begonias. After reading it, some members of The Horde may decide to start with blooming plants from the nursery. Have you ever grown them? Did you start with plants, tubers or seeds?
Peaches and Nectarines
Looks like they do grow mostly yellow peaches in and around Fredericksburg. But Dave at Buffalo Roam may get to try some freestones a little later in the summer Although the crop may be short at times, due to this year's weather.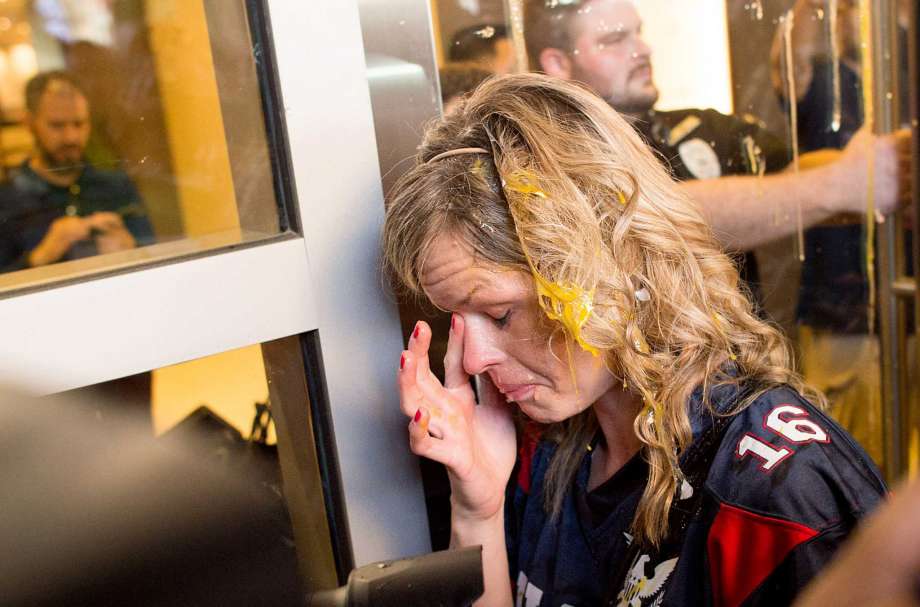 Peaches just outside Fredericksburg, Texas
Speaking of Texas, I covet the peachcot sold by Fanick's Nursery in San Antonio. LE Cooke, here in the San Joaquin Valley, sells the John Fanick Peach wholesale. We used to have our own luscious peachcot in the Valley, but the USDA lost the budstock during virus indexing. It took a while for the nursery to figure out what had happened.
My peaches are not ripe yet, but the days are hot and the nights are cool. Great weather for peaches and nectarines. I have bought some peaches and nectarines at a packing house. They are clingstones, too. Some may be showing up at a market near you. But anyone who has access to ripe, local peaches will probably like them better than the ones shipped from the San Joaquin Valley. Though even shipping peaches have improved in the last coouple of decades. Roughly since Epitaph for a Peach.
How to choose and grow a peach tree
Breeders like Floyd Zaiger have been busy with peaches and nectarines. In addition to old favorites, you can now choose supersweet cultivars. The low acid ones taste pretty good even when they are crispy. I prefer the balanced, high sugar/acid ones when ripe. They can be a little zingy when still firm.
The best way to pick a peach cultivar is to go with one known to do well in your area. There are some things to keep in mind if you want to get adventurous.
In the North, you will want to consider hardiness and bloom time.
In humid or rainy climates, you will want to consider brown rot and peach leaf curl resistance. Some people grow peaches as fan-shaped espaliers under a south or west overhang to limit peach leaf curl where it rains a lot.
In mild-winter areas, you need to know the chill requirement of the cultivar you want to grow. In the desert, early or late-ripening peaches may be a better bet than midseason ones.
Everywhere, you need to consider whether the rootstock is compatible with your climate and soil. The productive life of a peach tree is about 15 years when well-grown. This is longer than the life of many plums in the East, but in the West other stone fruits tend to stay productive longer. If you wnat to can or freeze, get cultivars recognized for this use. Cling canners are a challenge for most home gardeners. Not for my mother-in-law, who uses the little ones whole for pickled peaches. She has a special pit remover for canning peach halves.
Old peach and nectarine cultivars tend to have smaller, less showy blossoms than newer cultivars. I have an older cling cultivar which barely looks like it is in bloom when it blooms. The larger flowers are thought to be more attractive to bees. My Arctic Star white nectarine has beautiful large pale pink single blossoms. Normally it has very tasty, low acid super-sweet fruit. It's a little bitter this year because of early lack of water and poor thinning. These bitter overtones are especially characteristic of white nectarines and peaches if the trees are stressed before ripening, as by lack of water. Cutting back on water just before ripening can sweeten the fruit, though.
There are several cultivars with especially showy double blossoms that are marketed as "ornamental edibles". Some have fruit that rates high in taste tests. One of these is Red Baron, which produces fruit over a prolonged ripening season. It has a low chill requirement, only 250 hours. Double Jewel has lighter-colored blossoms and a slightly higher chill requirement. Its blossoms are pictured below. Take a look around the site at the link below the photo. If you had a ton o' money, would you build a thoroughbred horse ranch? In California? Not sure I would want to own it, but I would love to have friends who owned it.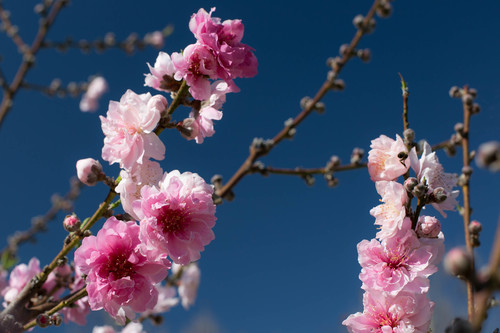 Double Jewel Peach Blossoms
Peach Melba
Peaches are great for homey desserts like cobblers, grunts, clafoutis, dowdys and buckles. But there is an elegant peach dessert that does not require baking.
Peach Melba was named after an Australian opera star of the Victorian era, Nellie Melba. The celebrity chef created this dessert also named Melba Toast after her. The original Peach Melba was introduced on a swan ice sculpture with spun sugar rather than raspberry puree as a garnish. I think the raspberries are better. This is a great hot-weather dessert. Nice video at the link.
Either sweetened raspberry puree or raspberry sauce is traditional. Peaches are generally poached, but I saw another recipe that used grilled peaches. Freestone peaches are best for this dish.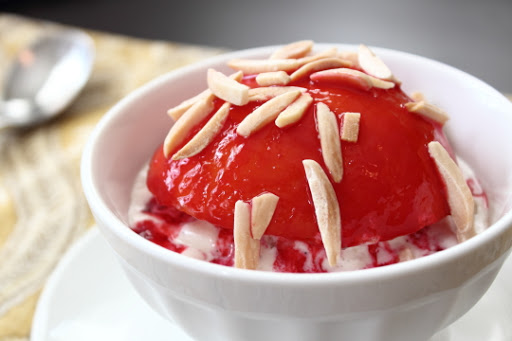 Peach Melba Pie uses sliced peaches, so you could use clingstones. Inelegant press-in crust, homey.
Have you ever made Peach Melba? Do you have another favorite peach recipe - preserves, a dessert, drink or main dish? Think about it. Tomorrow is the day for CBD's remarkable Food Thread.
Boring Fruit Trees
Our insects of the week are the caterpillars or grubs that bore into peach trees. Some also attack other fruit trees. One of my earliest horticultural memories is of my Grandfather cutting a Peach Tree Borer out from the base of our apricot tree with a pocketknife. You should check the base of stone fruit trees in spring for gum exuding from the bark. They can kill your tree. Our apricot tree produced for several years after my grandfather took his pocketknife to it, but it was eventually ripped out of the ground by a whirlwind. There were signs of decay at the base of the tree.
The adult form of the Peach Twig Borer is also a moth. The caterpillars can therefore be controlled with good old Bt. The moths lay eggs on the succulent twigs of peach trees and other stone fruits. The caterpillars start eating this green growth, then switch to the fruits, making those fruits wormy.
I think the creepiest stone fruit borer is the Pacific Flathead Borer. It also attacks apple and other trees. One killed a young cherry tree at our house. The grub was pretty long, with a big head. Other flathead borers attack trees and shrubs like cedar.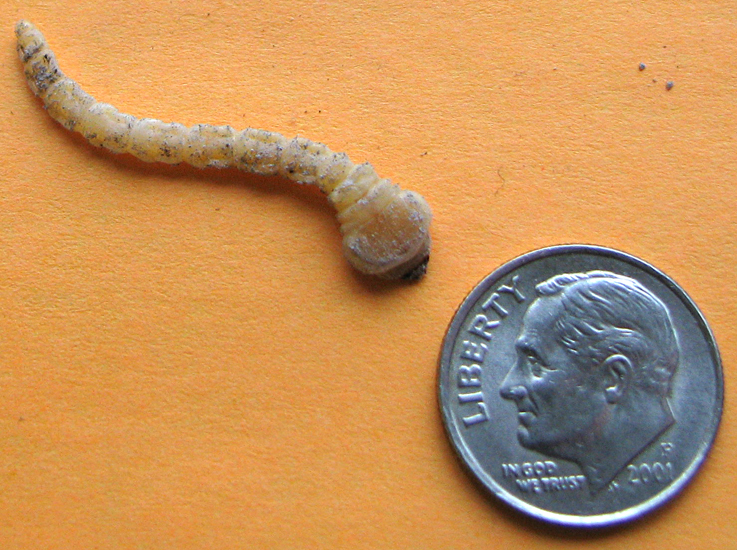 Flathead Borer Grub
It is hard to tell the species apart at the grub stage.
This is a Flat Headed Borer Grub in the family Buprestidae, known as the Metallic Wood Borers or Jewel Beetles. . . Many of the adult beetles are quite gorgeous and are sometimes made into jewelry in tropical counties. . . Sadly, we are not skilled enough to tell you the exact species. Flat Headed Borers often live many years as grubs feeding on wood. We have heard reports of the Golden Buprestid, Buprestis aurulenta, emerging from furniture 50 years after it was built. . . We have received our own report of an adult Golden Buprestid emerging from an 8 year old pine cutting board.
Eeew. Any interesting insects in your garden? In your life? Be careful to eat only the ones you don't mind eating.
Have a great week.

posted by Open Blogger at
12:25 PM
|
Access Comments