« Gun Thread: Gersh Kuntzman Memorial AR-15 Discussion [CBD]
|
Main
|
Food Thread: Roasting....High Temp-Low Temp, Or Low Temp-High Temp? [CBD] »
June 19, 2016
The Problem With "Assault Weapons" Bans, Illustrated
Massachusetts passed a state "assault weapons" ban in 1994 that was similar to the federal one, with a glaring exception ... the MA ban did not sunset after 10 years, so it's still in effect.
As described by the Massachusetts Gun Owners Action League:
The definition of "assault weapon" is the same as the federal law that went into effect on September 13, 1994. Specific guns are banned by name, and guns with certain combinations of features are banned:

a semiautomatic rifle that has an ability to accept a detachable magazine and has at least 2 of--

(i) a folding or telescoping stock;
(ii) a pistol grip that protrudes conspicuously beneath the action of the weapon ;
(iii) a bayonet mount;
(iv) a flash suppressor or threaded barrel designed to accommodate a flash suppressor; and
(v) a grenade launcher;
Now for the fun part ... one of the two functionally-identical rifles pictured below, if newly-manufactured, could not be legally purchased by a resident of Massachusetts while the other could. Which one is illegal, and why?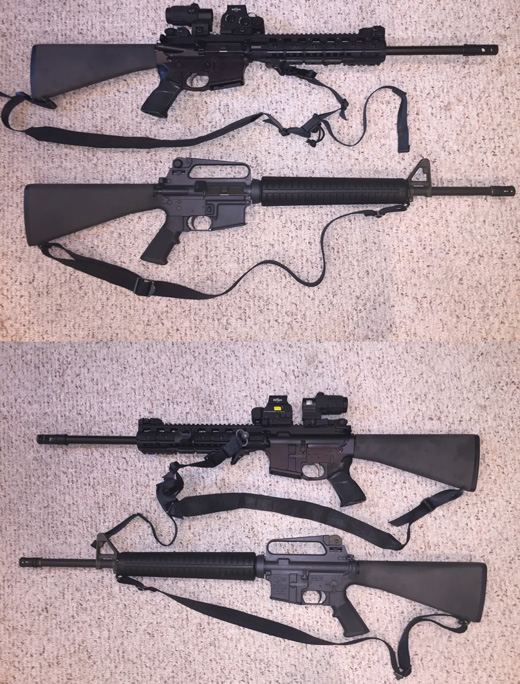 Answer (click and drag your mouse to reveal): The one on bottom isn't MA-compliant because it has a flash suppressor/threaded barrel. Note that this particular rifle is, however, MA-legal since it was manufactured pre-ban.

posted by Andy at
01:40 PM
|
Access Comments