« The Problem With "Assault Weapons" Bans, Illustrated
|
Main
|
Overnight Open Thread (6-19-2016) - Father's Day Edition »
June 19, 2016
Food Thread: Roasting....High Temp-Low Temp, Or Low Temp-High Temp? [CBD]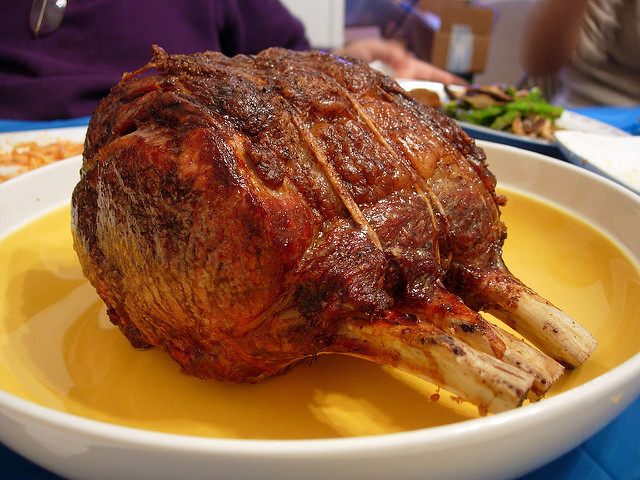 There are lots of recipes for cooking large chunks of cows and pigs and lambs. Many of them call for a high temperature sear, then a lower roast. And that works just fine for us carnivores.
But....there is more than one way to skin a cat, and there is more than one way to roast beast. At first glance there seems to be no difference between a high temperature sear then a low temperature roast, and its doppelganger; the low temperature roast then a high temperature sear. Both will create that delectable crust that we all want, and with correct timing will produce the desired doneness. However there is a difference, and it is an obvious one. I figured it out immediately once it was...um...pointed out to me.
Searing to get that crust begins with dehydration of the surface. You can't get the temperature to the appropriate point for maillard reactions (browning) until the surface moisture is boiled away. And that takes longer if the roast hasn't been cooked at all.
The Food Lab: How to Cook a Perfect Prime Rib by J. Kenji López-Alt is a fantastic primer (SWIDT?) on how to cook roasts using this technique. it is also impossibly geeky (but fun), so just skim it for the cooking advice.
I tried this last night on a boneless leg of lamb, and it worked like a charm. Maybe the best lamb I have ever made. I marinated it overnight in a parsley/mustard/garlic/olive oil/herb sauce, cooked it at 225 degrees for a very long time (longer than I expected). Then removed it and heated the oven to 500 degrees. 10 minutes in the hot oven and it was a glorious crusty, juicy chunk of deliciousness.
Oh...I bought the lamb at Costco, which sells wonderful Australian lamb for ridiculously low prices. It was wrapped up in an elastic net to keep it roast-like, so I removed the net, slathered the entire thing with the marinade, then re-wrapped it to preserve the shape.
The one downside to this is that if you lose control of the elastic netting, it snaps around and splatters parsley-green marinade everywhere, including all over the dress shirt that you stupidly wore while prepping this dish.

******
Brioche is one of those breads that is fantastic in small doses. I love it for burger buns, and as the base for French Toast it is beyond compare. But as an everyday bread I think it is too rich and sweet.
That being said, if you want an impossibly rich version, try this one.

******
Ace recently wrote about
The Transnationalists/Globalists/Universalists of the GOP Capital Class,
and how they "are utterly indifferent to your fate." Of course Ace was referring to seemingly larger issues than food, but it occurred to me that the current and seemingly accelerating trend toward "Organic" food is a perfect example of the elites not caring a whit about the common man. "Organic" is simply a buzz-word that pleases those in power. But it is a very real and immediate danger for those on the margins. "Organic" food is more expensive, has a shorter shelf life, but it displaces the standard food that America has become quite unbelievably efficient at producing. So the very people whose welfare is supposedly so, so important to the mandarins -- the poor -- are being pushed toward cheaper and less healthful alternatives.
******
This is a pretty standard recipe which I trot out whenever cod is on sale. It is a perfect frying fish, and this splits the difference between the crunch and the mess.
Crunchy Pan-Fried Cod


Cod filets (about 6-8 ounces per person)

Flour

Egg

Panko bread crumbs

Butter

Olive oil or vegetable oil
Preheat oven to 300°F
In a large oven-safe non-stick skillet melt a few teaspoons of butter over low heat.
Cut the filets into single portions, trying to keep each piece uniform (they will cook more evenly).
Dry the pieces and then lightly salt and pepper them just before cooking.
Whip an egg until frothy, adding a bit of salt and pepper to taste.
Turn the heat under the skillet to medium high and add 1 ounce of oil.
Dust each piece of cod with lightly seasoned flour. I use salt and pepper, but whatever makes sense is fine.
Starting with the thickest pieces of fish, dredge the cod through the whipped egg wash and then through the Panko bread crumbs, making sure that the fish is covered completely. If necessary pat the crumbs gently to help them stick to the fish. As you prepare each piece, put it in the skillet so the Panko doesn't get soggy.
Place the thicker pieces in the middle of the pan, which is usually hotter than the edges. Cook for a few minutes until the Panko is lightly browned and crunchy, and then flip gently with a wide spatula.
Cook for a few minutes more, and then finish the fish in the oven for 5-6 minutes.
Serve immediately with a few squirts of lemon. You can also cut the cod into chunks and make fish tacos. Whatever floats your boat.


posted by Open Blogger at
04:00 PM
|
Access Comments