« Weekend Politics: What's Next (for the Non-Trumps)? [Y-not]
|
Main
|
Ace of Spades Pet Thread [Mis. Hum.] »
May 14, 2016
Saturday Gardening Thread: Sweets for the Sweet [Y-not and KT]
Y-not: Good afternoon, gardeners!
Today is expected to be 30 degrees cooler than last Saturday, but at least it's not going to snow (I think!).
Those of you looking for easy ways to beautify your gardens might appreciate this:

Not much happening in our garden this week, but I did check out a new (to me) garden center and picked up this lovely gardenia: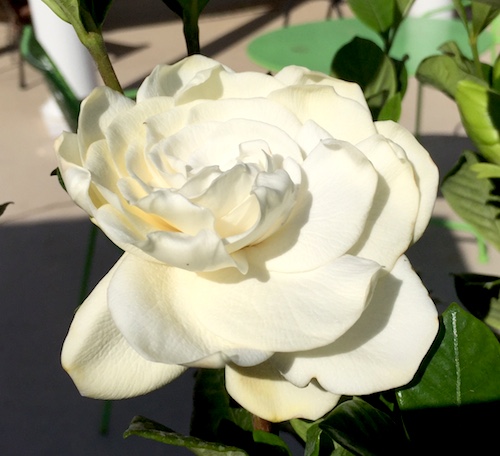 I gather that they do very well here in Kentucky thanks to our hot and humid summers, although the variety I picked up (whose name escapes me) will need to be brought indoors during the winter.
I love gardenias, however, so I've begun looking for cold-hardy varieties. Looks like this variety (Gardenia jasminoides 'Crown Jewel') might work for me. (I'm in Zone 6b.)
Do any of you have experience growing gardenias in a climate where you get occasional snow and a rare hard freeze?
Speaking of gardenias, are there any budding (SWIDT?) perfumiers in our midst?
Now, here's KT:
Hello, Horde. I harvested our first Sun Gold cherry tomatoes this week. Not much else going on in our garden. But I have been thinking about those of you in cooler climes. Heard a frost warning for parts of the country. In contrast, our hot weather has arrived, for sure. I don't think there is more rain forecast for the San Joaquin Valley any time soon.
I also brought in some windfall Flavor Delight Apriums and Royalty Apricots (not to be confused with "Royal", a more famous apricot with firmer flesh and smaller fruit. The Apriums were on the small side - too little water and not enough thinning, but sprightly in flavor. The apricots were tastier than normal with less water near harvest, but still on the mushy side. The tree is wind-resistant. Seems like an attractive feature lately.
Sweet Violets
Not long ago, we got a question in the comments about how to get rid of violets in a lawn. I have no experience in trying to get violets out of a lawn, but there seemed to be some sensible ideas from The Horde. I guess this can sometimes be a real problem.

There were short violet plants with very fragrant flowers in the lawn on the north side of our house when I was growing up. I liked them, even though the flowers were mostly hidden in the grass. It took some effort to find and pick a few, and the stems were short. But I think of spring when I remember the fragrance.
It is possible that violets are more popular with children than with adults. There are four states in which violets are the State Flower: Illinois, New Jersey, Rhode Island and Wisconsin. Schoolchildren chose the violet as the State Flower in three of these states. In the case of Rhode Island, the violet was voted in by school children in 1897, but not officially adopted until 1968. Wisconsin children chose the Wood Violet. It would have been familiar to many Wisconsin children when children were still allowed to walk in the woods.
Not all violets found in lawns and gardens have that sweet violet fragrance, but the ones I am familiar with resemble the fragrant violets in their flower form. Pansies and violas, generally larger than sweet violets with flatter faces, are usually grown as annuals. They are a subject for another day.
But there is a lot of hybridization within the Viola genus, and some of our favorite pansies and violas may include some genes from plants we call violets. I think the Sagebrush Violet (AKA Rainier or Three-nerved Violet) strays pretty close to viola territory in flower coloration, but I have never seen foliage like that on a viola or violet plant. It is one of those native violets that you would probably get from a specialist nursery if you were dedicated enough to grow it. Most garden violets are easier to grow.
Below is a nice video about Sweet Violets, particularly for those who think of Doris Day and Rock Hudson whenever they hear Dinah Shore singing with Henri Rene's Orchestra and Chorus. You can also imagine that all of the purple flowers in the video are violets if you like. Create your own reality!
The song above was before my time, and I don't know much about it. For ultimate sweetness, audiophiles recommend the contemporaneous version in which Jane Turzy sings with herself. Ah, the '50s. The Sons of the Pioneers did a version with somewhat edgier lyrics in 1936. So, is this a cowboy song? A farmer song?
Native Violets
Some of the violets which can become a nuisance in lawns are natives. On the Southern Living Blog, the Grumpy Gardener asks, Who wants to kill violets?
Violets are weeds? Well, yes, they are, if they're growing somewhere you don't want them to. Dooryard violet (Viola sororia), the South's most common type, frequently invades lawns. And once it establishes a beachhead there, even General George S. Patton and his Sherman tanks can't root it out. . . .

The only sure way to control them is to dig them all up (every one!) by the roots. . .

Or - you could just relax, pour yourself a glass of wine, surrender to the inevitable, and let the violets take over. Dooryard violet grows only about 4 inches tall and offers pretty blue or white flowers standing just above its heart-shaped leaves (heart = love). One form, Confederate violet (Viola sororia 'Priceana'), features white flowers with blue veins. I always look forward to seeing its blooms adorning my no-maintenance, shady moss lawn.
Are Confederate Violets ready to rise in your lawn?
The Illinois Wildflowers site gets technical about how Viola Sororia can become a pest so easily:
During the summer, cleistogamous flowers without petals produce seeds, which are flung outward by mechanical ejection from the three-parted seed capsules. The root system consists of thick, horizontally branched rhizomes; there is a tendency to form vegetative colonies.
And besides that, "the seeds have soft appendages that attract ants" which also help distribute them. Since cleistogamous seeds are formed without pollination, the seeds produce plants identical to the parent. Distinct colors and flower forms like the Confederate Violet, "Freckles" and "Dark Freckles" can be easily propagated from seed. If you understand seed striation.
I think that the violets in the lawn of my childhood home on the Wasatch Front may have been Western Dog Violets, Viola adunca. This species is native to parts of Central California and the Pacific Northwest east to New England. There is a white-flowered subspecies in Yosemite. It prefers half a day of winter sun and summer shade in most regions. It is short, just 3 to 6 inches tall, and extremely fragrant. It is sometimes sold as Viola odorata. It is somewhat drought-tolerant and can be invasive.
The Western Dog Violet (AKA Early Blue Violet, California Sweet Violet or Sand Violet) is the only larval food source for the threatened Oregon Sllver Spot Butterfly in most of its range, primarily in salt-spray meadows.
Silver eyes, even?
Butterflies dependent on violets
This butterfly above is one of the Greater Fritillaries. There are also other Greater Fritillaries (genus Speyeria) that use violets as their exclusive larval host.
"Shrinking as Violets do . ." - Thomas Moore "The timid, bashful violet . . " - Phoebe Cary "The violet, modest and shy as a nun . . " William Cullen Bryant

Oh please! Violets shy and retiring? Poets and other English majors should not write about plants because they rarely get it right. Gardeners know that Violets are self-sowing thugs, eager to invade a lawn or flower bed. Of course, I specialize in collaboration with self-sowing thugs . . . .
Great Spangled Fritillary
In addition to the Greater Fritillaries, the
Lesser Fritillaries (genus Boloria)
use violets as host plants in North America, along with other plants. So does the Variegated Fritillary. The Gulf Fritillary, not closely related to most fritillaries, eats only passion vines.
Alien Violets
Much of our attachment to violets probably comes from the violet of song and story, the Sweet Violet. Cultivars with long stems for cutting have been developed, but the most fragrant I have found is short-stemmed, pink Rosina. Makes me wonder if it has some Western Dog Violet in its background.
The Parma Violets are less vigorous than most violets, and prefer a climate like, say, coastal Italy or France. They are very fragrant.
I will go over some ground cover violets for various climates in the comments if people are interested.
Many of the violets above, including the native Common Blue Violet and alien Sweet Violet and Parma Violet, are edible. Before the salmonella scare, the flowers were often coated with beaten egg white then coated with fine sugar to make edible garnishes for desserts. The old-fashioned candy below layers violet-flavored sugar over an anise seed. If you have never tried candy that tastes like a flower smells, here is your chance.
Violet Pastilles
Y-not: Thanks, KT!
To close things up:
Aloha.

What's happening in YOUR gardens this week?


posted by Open Blogger at
12:40 PM
|
Access Comments