« Ace of Spades Pet Thread [Mis. Hum.]
|
Main
|
Kentucky Derby Thread [Y-not] »
May 07, 2016
Saturday Afternoon Chess/Open Thread 05-07-2016 [OregonMuse]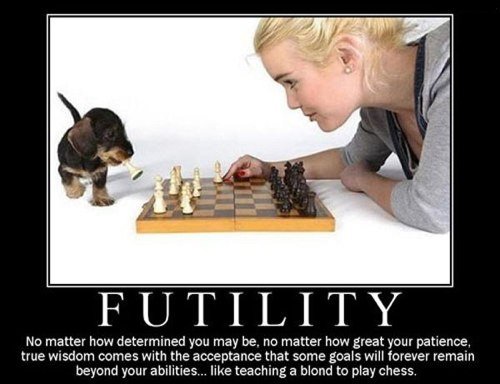 Good afternoon morons and moronettes, and welcome to the Saturday Afternoon Chess/Open Thread, the only AoSHQ thread with content specifically for all of us chess nerds who pay homage in the temple of Caïssa, goddess of open games and seizing the opposition. And, for those of you who aren't nerdly enough for chess, you can use this thread to talk about politics, or whatever you wish, only please try to keep it civil. Nobody wants to get into a big ugly pie fight on a Saturday afternoon.
"Chess is the most elaborate waste of human intelligence outside of an advertising agency." - Raymond Chandler

Mate In 2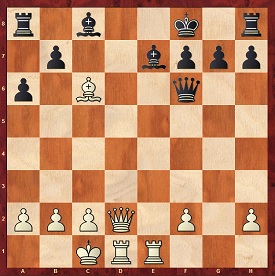 FEN: [r1b2k1r/1p2bppp/p1B2q2/8/8/8/PPPQ1P1P/2KRR3 w - - 0 1]

Pretty straightforward. White is a piece down, but his heavy pieces pretty much own the d and e files. And Black's king looks trapped back there. Finish him!
Gentle Bishops Puzzle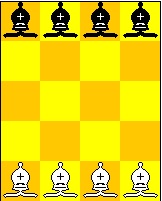 Here is one I hadn't seen before. In the above diagram, you need to replace the black bishops with the white bishops, and vice versa, using conventional bishop moves on the reduced board, and no bishop may be moved to a square that attacks an opposing bishop. So there are no captures in this game. I'm not going to give you the answer because I don't know it. I got this puzzle from this web page, where the diagram is a java applet that allows you to move the bishops around to solve the puzzle.

Black Mates In 7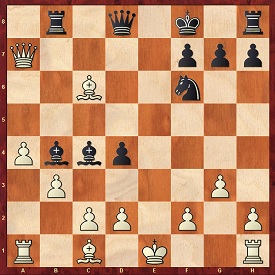 FEN: [1r1q1k1r/Q4ppp/2B2n2/8/Pbbp4/1P4P1/2PP1P1P/R1B1K2R b KQ - 0 1]

You may think you can see a mate in 6, and that's fine, only there's one futile gesture White can make that will delay the inevitable by one more move.

Opening Explorers
There used to be a lot fewer named openings then there are now. Nowadays, pretty much any random collection of opening moves is named something, even the really stupid ones like 1.Na3 or 1.h3. Of course, all of these openings have assigned ECO codes now as well.
So, if you ever want to find out about openings by poking around, by making this move or that and seeing what comes up, there are online tools called "opening explorers" that can help you do this. Here are the two I've found:
The 365chess.com Opening Explorer
The Master Chess Openings Explorer
Both feature an interactive board where you can make moves and you'll be told what opening you're playing and what possible moves are next.
Pretty handy tools for opening research.

Mate in 5 or 6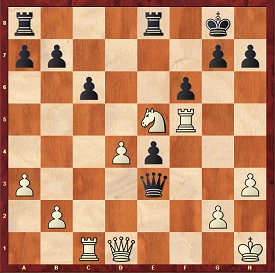 FEN: [r3r1k1/pp4pp/2p2p2/4NR2/3Pp3/P3q2P/1P4P1/2RQ3K w - - 0 21]

This problem is technically not a forced mate. It will be, though, if Black's response to White's first move is the "natural" move. But computers are the most unnatural of chess players, and so if you plug the position into your favorite app, it will no doubt suss out the possible impending mate and do something else.
But if Black plays the natural move, the resulting mate will look very familiar - like one we had last week.

A Useful Chess App
If you're a serious chess player (i.e a chess player who wants to improve), you should be recording as many of your games as you can. That way you can go back and get your nose rubbed in your laughably bad play and humiliating defeats study your games and learn from your mistakes. Which is what I try to do, but more often than not, I screw up the scoresheet by missing a move and them writing White's moves in the Black column, and vice versa, for 6 or 7 moves or until I notice my mistake. No matter how much I try not to do this, I seem to always make a mistake.
So, this being the computer age and all, I went out looking for a software solution for my lack of discipline, and lo and behold, I discovered the Blieb Chess Recorder. This is an Android app that I installed on my Nexus, and I tried it out this week at my Wednesday chess group. It works great. As soon as I make a move in meat space, I just make the same move on the Blieb interactive board, and it automatically keeps a record of it. Then once the game is concluded, I can store the finished game as a .pgn file on the cloud, or on the device, or (and this is what I like), I can forward it to a previously designated e-mail address.
There are some recorders that the USCF has approved for tournament use. This is not one of them. But for casual use, it's great. And it's free. There's a "pro" version that costs a buck and a quarter, but I am satisfied enough with the free version that I haven't bothered to find out what the differences are.
This app is not available for Apple devices, as far as I know.
If any of you Apple users know of any chess recorder apps you can run on your iPad or iPhone, please let me know in the comments.

Endgame of the Week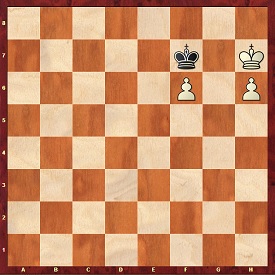 FEN: [8/5k1K/5P1P/8/8/8/8/8 w - - 0 1]
Can White Win?

Actually, that's a dumb question. Of course White can win -- if Black plays like a complete dork. So let's say that Black is Magnus Carlsen and he's at the top of his game, so don't bet on him making any mistakes. With all of that, can White force a win?

___________
Note: that cryptic line of letters and numbers you see underneath each board diagram is a representation of the position in what is known as "Forsyth-Edwards Notation", or F.E.N. It's actually readable by humans. Most computer applications nowadays can read FEN, so those of you who may want to study the position, you can copy the line of FEN and paste into your chess app and it should automatically recreate the position on its display board.
___________
So that about wraps it up for this week. Chess thread tips, suggestions, bribes, rumors, threats, and insults may be sent to my yahoo address: OregonMuse little-a-in-a-circle yahoo dott com.

posted by Open Blogger at
04:00 PM
|
Access Comments