« Sunday Morning Book Thread 04-24-2016: Seeing Red [OregonMuse]
|
Main
|
Return of the Travel Thread: North Carolina and Mississippi Edition [Y-not] »
April 24, 2016
Gun Thread: Hoplophobia And The Burgeoning Regulatory Apparatus [CBD]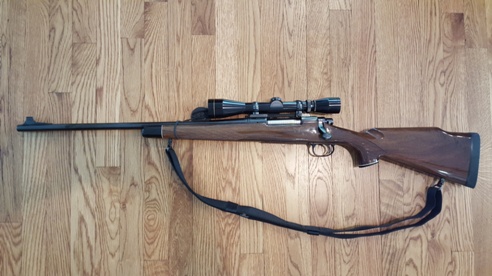 This is my 30-year-old .30-06. It is far, far more accurate than I am, even off a bench. But it is loads of fun to shoot, because it is full-sized and not light at all, and it just fits my shoulder. And it is chambered for a marvelously versatile cartridge. 110 grains to 220 grains....and they are all pretty accurate. I wouldn't hunt elk with it, but for everything else in North America this is a perfectly respectable rifle. It is zeroed for point of aim from 0-200 yards for a 165 grain bullet, which worked well for me in California, where I did my hunting.
Savvy observers will note why this Remington 700 BDL is superior in one very important respect.
So....what does The Moron Horde hunt with? It will be interesting to see the difference between the regions....
An open mind for thee, but not for me.
I have no particular interest in proselytizing about guns. If you don't know anything about them. I will say something like, "Gee, they are loads of fun to shoot, and most of them are marvelously well designed and built machines! And by the way, I enjoy exercising my rights" But if that doesn't sway you....fine. I'll shut up. And yes, I'll think less of you. But allowing your personal opinion of guns to affect a decision? That's patently ridiculous unless I was hiring you to be a bodyguard.
80% Lowers get machined into a felony
I will cheerfully admit that this guy was playing fast and loose with the law.
But..."the law is a ass -- a idiot."
This will probably segue into a discussion of C&R licenses; so have at it!
[both links courtesy of MH]

posted by Open Blogger at
12:57 PM
|
Access Comments