« EMT 4/24/2016 [krakatoa]
|
Main
|
Gun Thread: Hoplophobia And The Burgeoning Regulatory Apparatus [CBD] »
April 24, 2016
Sunday Morning Book Thread 04-24-2016: Seeing Red [OregonMuse]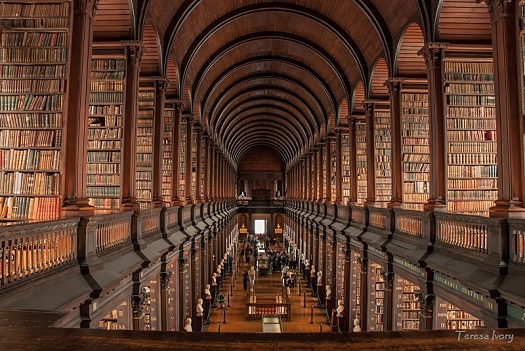 An Impressive Library
The Great Hall, Trinity College, Dublin
(yeah, I don't know which one this is. I copied the image to my hard drive some time ago, and now I can't remember where I got it. Please let me know if you know the name of this library.)
Update: Thanks and a year of AoSHQ Premium content to thefritz, anon, Grump928(C), and NaCly Dog for quickly identifying the library pic.
Not sure why we don't just call it the "den" -- an old and good word, and suggestive of a lion's cave. I like calling it a "study". Some shelves filled with books, a big desk, limited access. That's more fitted for a Father and Man of the House.

Posted by: ReactionaryMonster Bravely supporting kittens at April 07, 2016 05:34 PM (uURQL)

A Most Inadequate Solution
Hot Air's Ed Morrissey, known non-too-affectionately around these parts as "Poppin' Fresh", has just published a book. Going Red: The Two Million Voters Who Will Elect the Next President--and How Conservatives Can Win takes a look at the upcoming presidential election and asks the question, how can conservatives Republicans win this thing?
The answer, conservative columnist and analyst Ed Morrissey says, depends on seven battleground counties in swing states Republicans must win. Each county pulled for Obama in one or both of the last two elections, but after eight years of misadventures under the Obama administration, the door is open for Republicans to win them—and the presidency—once again, making a decisive mandate against progressivism for the generation to come.
Sigh. This blurb contains "what is wrong with this picture?" levels of stupid. The argumment of Morrissey's book apparently is that if we only can swing some voters in Ohio and Florida, then congress will immediately start to zero-out all of the corrupt, redundant, and blatantly unconstitutional federal agencies, reject broad, over-reaching legislation if it has been constitutionally determined to be left to individual states, appoint a Supreme Court full of strict constitutionalists and go back to a foreign policy wherein we help our allies and thwart our enemies (rather than the other way around, which is what we have now).
Oh, and take vigorous action to protect our borders. This conservative policy is based on the radical proposition that the United States has the right to be its own country, separate and distinct from other countries, one whose leaders and legislators decide who is allowed to be a citizen, and who isn't, and who can live here, and who can't. All other countries get to do this, so why isn't the United States of America allowed to do this, also?
No, I'm not hyperbolizing, I don't know how else to interpret the phrase "decisive mandate against progressivism" that Morrissey's book promises. It's either that or whoever wrote this Amazon blurb is blowing smoke up our collective wazoo.
I must confess I no longer have any kind of patience for this Karl Rove-style granular scrambling for votes. If a national election truly does come down to two million voters who are so malleable that they could just as well vote blue instead of red, we're already lost. Electing yet another half-conservative GOPe-approved candidate to the executive will accomplish little.
I don't want to make it sound like I'm just picking on Ed (although I am picking on Ed). I had the same problem with Dick Cheney's book, Exceptional. There is a uuuge focus on politics among mainstream conservatives (like Dick n' Ed), which might have been feasible 30 years ago, but the progressives have so thoroughly rotted out the culture that the downward trajectory is inexorable and even our victories are hollow.
The problem is that the lack of confidence in American values and American civilization brought about by the institutional march of progressivism goes back many years and Americans have the attention span of a gnat. This is why voting feels so much like exchanging one set of deck chairs on the Titanic with another. Nothing is going to get fixed until we, collectively, come to view progressivism as we do phrenology or eugenics.
So yeah, sorry Ed, I think your book is insufficient for the task that is confronting us. There's a raging fire that's destroying our country, and all you've got is a squirt gun.
Buy Me Some Peanuts and Crackerjack Amphetamines
Remember the '86 Mets, how they went out there and kicked everybody's butt, and brought home the pennant? How did they do it? How did they come back from a 3-0 deficit to beat the Red Sox in the final game of the World Series?
Answer: They were tanked:
In his new book, former pitcher Ron Darling recounts how the Mets relied on a cocktail of amphetamines and beer between innings to get through a World Series-winning season... In the following excerpt, Darling describes how the Mets' in-game use of amphetamines and alcohol fueled their run through a grueling season.
In the Met's clubhouse, team "chemistry" had a different meaning:
Each pill had its own name. The five-milligram amphetamines were known as white crosses -- and these were passed around like candy, if that was your bag. The heavier doses were black beauties. Remember, this was well before the common use of steroids and other performance-enhancing drugs; in many ways, you could make an argument that the drugs of choice in our clubhouse were more performance reducing than anything else.
The Amazon blurb for Game 7, 1986: Failure and Triumph in the Biggest Game of My Life doesn't mention anything about drug use, so maybe the other review I quoted is trying to make a big deal out of a few pages.
Oh wait, 1986. Isn't that the series where the Ghost of the Bambino crept up behind Bill Buckner and kicked him in the butt just as he was reaching for that slow roller for the easy out that would've ended game 6 and given the pennant to the Sox? Maybe Bill should've raided the Mets medicine cabinet beforehand.
By the way, that entire game is available to watch or download on YouTube. And the video quality is not bad, considering it was from almost 30 years ago.

Emergency!
This week, veteran moron Jay Guevara reminded me that Emergency Room doctors sometimes like to give advice, based on cases they've seen that they've had to deal with. Such as:
When your 15yo daughter gives precipitous delivery to a bleating, underweight infant 30 minutes after presenting to triage with "gas pains", you should run around the department loudly yelling, "I don't know what y'all did or who that baby is, but my lil' girl warn't pregnant when she come in here".
And:
Injecting a mixture of wine, Klonopin, and Lidocaine into your veins may seem like a cool idea at the time when you're wasted, but can leave a nasty phlebitis a few days later.
That one sounds moron-worthy. One more:
That broken hand you deliberately smashed with a hammer will get you ONE PRESCRIPTION FOR VICODIN, NO REFILLS. Do not go home and remove the cast and try to return to the ER two hours later to get more. We are busy, but we will remember you.
So then I discovered that there are compilations of these sorts of ER stories available. Like this one: Emergency! True Stories from the Nation's ERs by Mark Brown, MD.
ER personnel confront the entire range of human life from its beginning to its end, but hardest to bear, they find, are crib deaths and futile attempts to resuscitate child and teenage accident victims, not so much because the ERs are traumatized by mortality but because they must deal with the survivors. Among their least favorite patients are unwashed derelicts and near-psychotics high on drugs or liquor. Regarded as a minor annoyance are malingerers and hypochondriacs, who waste the resources of the ERs. There are funny stories here as well, like the one about the doctor who was misunderstood when he requested a stool from a patient, meaning a chair.
Or these:
ER Confessional (Southern Medical Humor Book 1) and Emergency Laughter: Stories of Humor Inside Ambulances and Operating Rooms.
And not just the doctors:
The Rants, Raves and Crazy Days of an ER Nurse: Funny, True Life Stories of Medical Humor from the Emergency Room by Dani Jacobs.
What triggered this was Jay linking to a lengthy thread on the studentdoctors.net site entitled 'Things I learn from my patients.' Here's the first one:
Tonight I learned yet another helpful life lesson from one of my patients. If you're on the street corner selling coke and you see the cops coming to bust you don't eat all your coke. Having been taught this valuable lesson I will now know better than to do this and wind up going to the ER in handcuffs, seizing uncontrollably, aspirating my vomit and doing all of this with a white powder mustache looking like and ad for "Got Coke?"
If you don't want to buy any of the books, this long thread should provide you with enough entertainment.
Emergency rooms are frequently hellish places. Especially on weekends, when they're filled with drunk guys who've set their hair on fire, or shoved a cue ball up their nose, or stapled their own hand, and so you have to wait 2-8 hours to get treated. But I did find out one thing: if you're an old guy complaining of chest pains, you get to go to the front of the line.

Books By Morons
Moronette author Sabrina Chase brutally and with malice aforethought micro-aggressed the AoSHQ mailbox earlier this week, demanding that I let you all know that she's coming out with a new book, One Blood (Argonauts of Space Book 2). This is the sequel to her earlier effort, The Scent of Metal.
Amazon says this about that:
After freeing the AI ship Argo from the ice of Pluto, Lea and her team race for the prison planet Beredul to free the Wiyert trapped there. The planet conceals vital information about the aliens that enslaved the Wiyert--and now threaten Earth. Little time remains to protect humanity.
Sabrina says her new novel has "AI's learning how to serve cats, space Neanderthals, psychotic aliens, and adorable kaiju!" Of course, it's Suitable for Morons™.
It is available for pre-order now, and will be released on April 29.
I didn't know what a "kaiju" was, but after Googling around, I did find this helpful size comparison chart.

___________
Hallow Mass, mentioned here two three weeks ago, will also be released on April 29th. The print version will be available within a week. The trailer for it can be seen here.
I would like to encourage everyone to not only read books by morons but review them, too. Even if it's only a one-sentence review, although hopefully you'll do more. The reason is that if a book gets 50 Amazon reviews it gets more prominent placement on the site.

What I'm Reading
For some reason, in one of the Friday morning threads, I idly clicked on the nic of 'ette commenter Barb The Evil Genius, which took me to her site. From there, I clicked on the link to this site, which appears to be a blog written by a pastor who has been battling depression for a number of years. Come to find out, he has a book. And a .pdf download is available for free. Just click this link.
I Trust When Dark My Road: A Lutheran View of Depression is a 100-page book which
...offers a rare glimpse into one LCMS pastor's personal journey through depression while remaining reliant upon God's grace.
It's a book about depression written by a Christian for other Christians. After reading a chapter or two, I can only say I'm glad I'm not prone to depression. Or, at least, not the endless days of black depression that he talks about here. I remember one time about 20 years ago I had some weird, free-floating depression that almost paralyzed me. It was all I could do to simply sit there at work staring at the computer screen. I felt like I was covered in lead weights. Even the most simplest tasks, like getting my e-mail, took the maximum amount of effort. But then I went home at the end of the day, went to bed, and the next day I was OK. I cannot imagine what it must be like to experience that horrible black pit darkness day after day, month after month, like some people do.
Anyway, if you're a believing Christian and you're suffering from depression, this book may help.

___________
Moronette 'votermom' is putting together a list of moron authors over on the Goodreads site which is intended to be accessible to non-members. Here is the list she has compiled so far. Let her know if there's an author she's missing.
http://www.bookhorde.org/p/aoshq-authors.html
___________
Don't forget the AoSHQ reading group on Goodreads. It's meant to support horde writers and to talk about the great books that come up on the book thread. It's called AoSHQ Moron Horde and the link to it is here: https://www.goodreads.com/group/show/175335-aoshq-moron-horde.
___________
So that's all for this week. As always, book thread tips, suggestions, bribes, rumors, threats, and insults may be sent to OregonMuse, Proprietor, AoSHQ Book Thread, at the book thread e-mail address: aoshqbookthread, followed by the 'at' sign, and then 'G' mail, and then dot cee oh emm.
What have you all been reading this week? Hopefully something good, because, as you all know, life is too short to be reading lousy books.

posted by Open Blogger at
08:57 AM
|
Access Comments