« "But They're Only Changing the $20 Bill Because They Want a Woman and/or a Black On It"
|
Main
|
Top 40 Prince Songs »
April 21, 2016
Ted Cruz Rally in Towson, Md. [Weirddave]
One thing about this political season, it's not typical. Normally by this time, the nomination is all sewn up and nothing much is going on but the formalities, but not this year. This year, states that normally don't get much play in the process matter, so yesterday Ted Cruz showed up in Towson, Md. for a campaign rally. It was held in the American Legion hall on York Rd.
Outside, the usual suspects were gathered. You had your Trump people: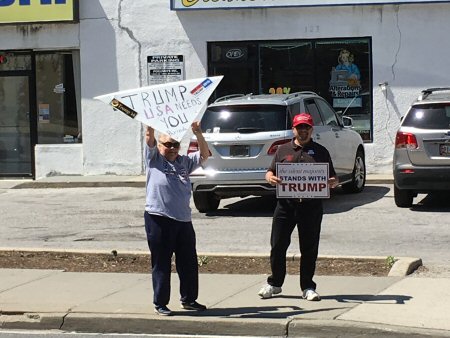 And of course, seeing as how the venue was about a block from Towson University, Bernie's Bros showed up: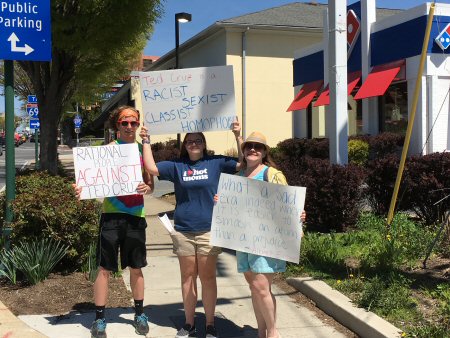 Notice that the guy who hasn't cut his hair in Samson's years, the one wearing a tie dyed shirt with the arms ripped off, is holding a sign up purporting to represent "rational people".
But most of the people were there to see Ted Cruz speak, including our very own Village Idiot's Apprentice. The room filled quickly, buy the time I got there, well before it was scheduled to start, the venue was SRO.
The crowd was a good cross section of the general Republican population of Maryland. Middle aged and older adults, certainly, but also a bunch of babes in arms and families. A large number of young people were there, including a sizable contingent of Jews ("Jews for Cruz"). Most seemed excited just to be part of the process for once, and reporters from all across the country worked them for interviews. Here's one from Tampa reporting on Twitter:
Other than repeating himself like a ninny, that guy seemed to accurately reflect the mood of the crowd.
The event was scheduled to start at 1:30, but it didn't really kick off until about 2. The doyenne of Maryland Republican politics, Ellen Sauerbrey, who ran for Governor in 1994 (and won, only to fall to the margin of fraud) and 1998 took the stage and introduced Carly Fiorina.

Carly gave a short, high-energy stump speech and then introduced Cruz. The crowd went nuts, yelling and cheering, camera phones held high to record this historic (for Maryland) occasion. Ted strolled confidently through the crowd, smiling and shaking hands.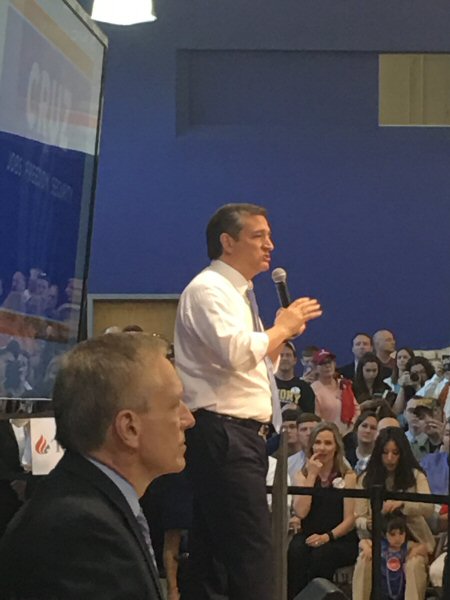 There wasn't much new in his actual speech, how could there be? I can't even imagine how grueling this whole process is for the candidates, especially one who is determined to win by out hustling his opponents. Still, Cruz seemed chipper, not just on stage, but also afterward. The whole thing is on YouTube, I've embedded it at the end of this post. It was notable for one thing, however. I've been to a lot of political events, and this was the only one that ended on time (early, in fact). The Cruz Crew runs a very tight ship (a Cruz ship?), it's easy to see exactly how they are outworking the Trump people.
And that's about it. It was a....political rally. Speaking as a long time Republican in the Peoples Republic of Marylandistan, it was great to see so many people turn out on a weekday for a rally that was announced less than 24 hours earlier. I was encouraged by the number of young people there; the SJWs get all of the press on college campuses, but their outrageous antics are definitely creating a counter movement amongst their fellow students (those who can think). Now it's up to the voters. New York tonight is pretty much a done deal, but next week in Maryland...who knows? If this room was any indication, Cruz has a pretty good shot.

posted by Open Blogger at
05:39 PM
|
Access Comments