« Ace of Spades Pet Thread
|
Main
|
Overnight Open Thread (16 Apr 2016) »
April 16, 2016
Saturday Afternoon Chess/Open Thread 04-16-2016 [OregonMuse]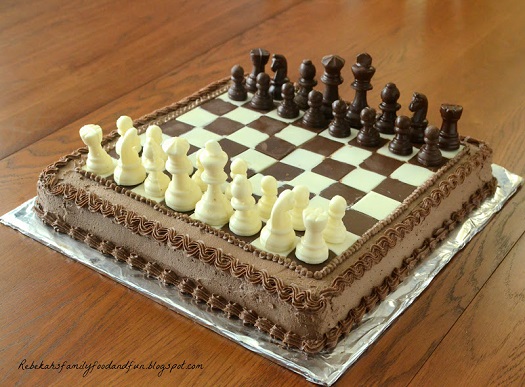 What's Wrong With This Cake?
Give up? Swipe empty space for the answer --> The bottom right square (h1), should be a light square.

Good afternoon morons and moronettes, and welcome to the Sunday Afternoon Chess/Open Thread, the only AoSHQ thread with content specifically for all of us chess nerds who pay homage in the temple of Caïssa, goddess of back-rank mates and the well-timed zwischenzug. And, for those of you who aren't, you can use this thread to talk about politics, or whatever you wish, only please try to keep it civil. Nobody wants to get into a big messy pie fight on a Saturday afternoon. Also, AoSHQ is looking a little sparse today, so I'm putting this thread up a day early.
"Black's position is perfectly balanced. It is weak on the king side and equally so on the queen side." (Marco)

Up The Elevator
Here's a fun one: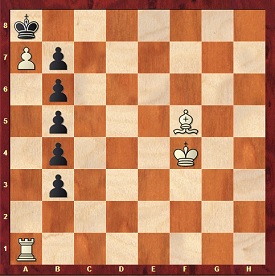 FEN: [k7/Pp6/1p6/1p3B2/1p3K2/1p6/8/R7 w - - 0 1]

White mates in 6. Looking at the position, you can see that Black has very limited moves. The key to solving this problem is keeping it that way.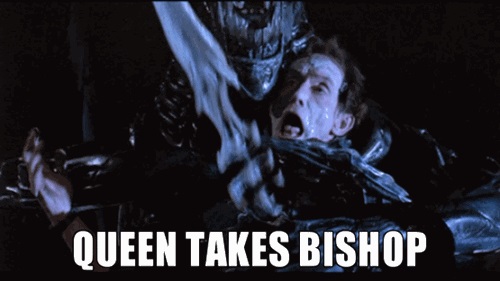 The Secret To Success In Chess: Cheating
Cheating at chess has traditionally been kind of hard to do. After all, if you were facing a tough position that you needed to solve, who were you going to get the answers from? From a stronger player, naturally, and who would be willing to do that for you? I'm not saying it's impossible, but the likelihood of pulling off a cheating scam was pretty remote. At least, it used to be. Nowadays, of course, with strong chess engines available for smart phones, tablets and PDAs, it's a lot easier to do this. Here is an interesting long article from 2012 on chess cheating with an extended discussion on one particular cheater who built up a big rating in scholastic chess before being caught. Also mentioned is eNotate, an app for electronically recording game scores that has been approved by the United States Chess Federation, and whether it could somehow be hacked for cheating.
Cheating kid's mother claims that, when he got caught, that was his first time he cheated. Swearsies! Actually, I'm sure she honestly believes that. However, the article provides evidence that her belief is most likely wishful thinking.

Mate in 4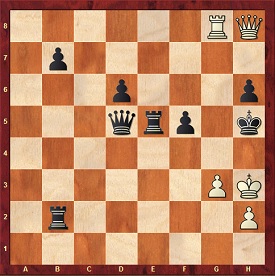 FEN: [6RQ/1p6/3p3p/3qrp1k/8/6PK/1r5P/8 w - - 0 1]

In this position, we see that Black is all set to deliver the death blow to White with 1...Qg2#, boom, game over. The only fly in this ointment is that it's actually White's move. So the problem is, what must White do to get in his own killing blow first?

Moron Chess Group?
In one of Friday's morning threads, 'Burn the Witch' suggested organizing interested Morons into creating free accounts at chess.com so we can play one another. So, I'm telling you to go over to chess.com and create a free account for yourself, and then... I'm not sure what comes next. So I'm open to suggestions.
Some considerations:
1. Is chess.com the way to go? Are there alternatives?
2. Is there some other online chess site where we could form some sort of Moron subgroup, like votermom did on GoodReads?
3. We need to be able to chat during games, so we can taunt and trash-talk our opponent.
My main concern is that if there's only a handful of chess-playing morons who would be interested in this, we'd never connect without some pre-arranged scheduling. So this may not be worth it. I don't know, let's kick it around and see if we can come up with anything.

Endgame Problem
I like endgame problems because most of them look like they could have come from an actual game. Like this one: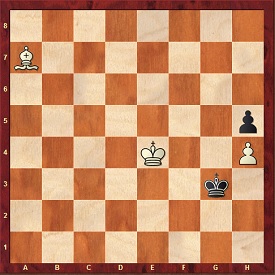 FEN: [8/B7/8/7p/4K2P/6k1/8/8 w - - 0 1]

It looks like Black is about to eat White's lunch, but the appearance is a bit deceiving. This is actually a won game for White. So the problem is "White to play and win". Meaning, you don't have to map out the entire remainder of the game down to the checkmate, just show how White can achieve a decisive advantage.
Here's a hint, if you need it --> White does not need the Bishop to win

___________
Note: that cryptic line of letters and numbers you see underneath each board diagram is a representation of the position in what is known as "Forsyth-Edwards Notation", or F.E.N. It's actually readable by humans. Most computer applications nowadays can read FEN, so those of you who may want to study the position, you can copy the line of FEN and paste into your chess app and it should automatically recreate the position on its display board.
___________
So that about wraps it up for this week. And just like in the book thread, chess thread tips, suggestions, bribes, rumors, threats, and insults may be sent to the book thread e-mail address: aoshqbookthread, followed by the 'at' sign, and then 'G' mail, and then dot cee oh emm.

posted by Open Blogger at
05:53 PM
|
Access Comments