« Gun Thread: Tools Of Ultra-Violence [CBD]
|
Main
|
Quick Hits [Y-not] »
April 03, 2016
Food Thread: Matzoh Ball Edition [CBD]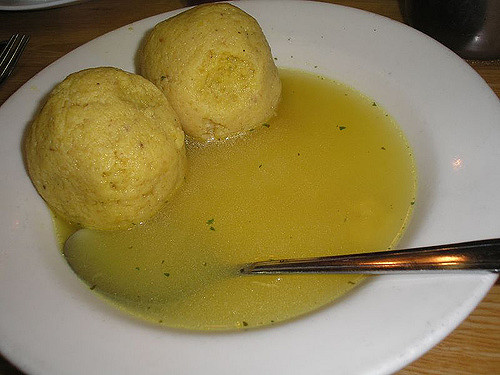 [I searched all morning for a photo of a Matzoh before its balls were removed, but the internet failed me.....]
Matzoh ball soup is a traditional dish served at the Passover Seder, and when it is well made is a very nice thing indeed. But too often they are dense, flavorless balls of matzoh meal. Here is a nice standard recipe for matzoh balls, although I would use seltzer water instead of plain water....that seems to lighten them a bit. And maybe just a bit more chicken fat, or duck fat if you have it. Oh, make real chicken broth. It's worth the trouble.
******
From Neidermeyer's Dead Horse comes a link to something we have all wanted to do, but just didn't have the technique.
How To Make A Meatloaf Roll
I am not sure why anybody needs a meatloaf roll, but since meatloaf in general is a pretty tasty food, I'm game. And the cheese sprinkled inside and on the top can't be a bad thing.
******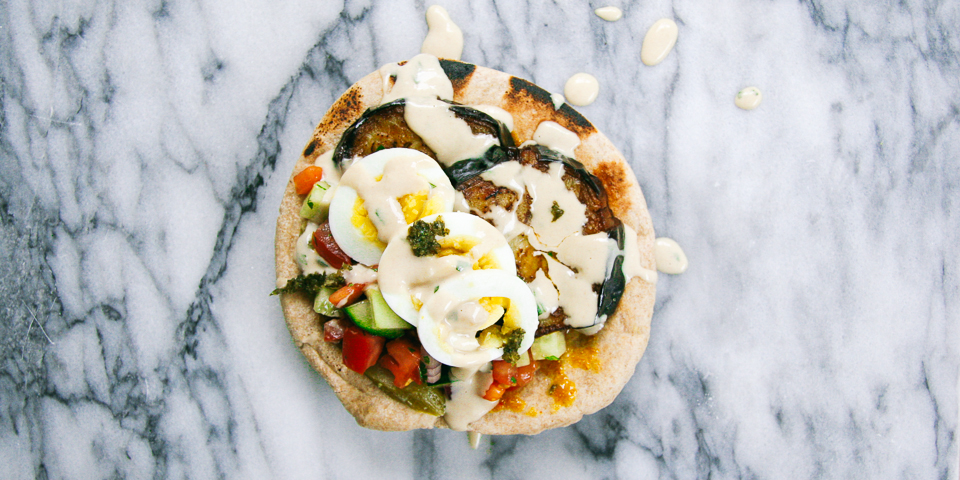 And from phoenixgirl comes a link to an extremely disturbingly named site called "I Will Not Eat Oysters." Oysters are proof that God loves us and wants us to be happy! Actually, any site that has "Put An Egg On It" as a category is fine by me. Anyway, Sabich looks just like what my grandmother used to make for breakfast, only fancier. It seems like a lot of work for a quick meal, especially since the recipe is for two portions. I'm going to try it, but double it and plague the brats with vegetables for breakfast!

******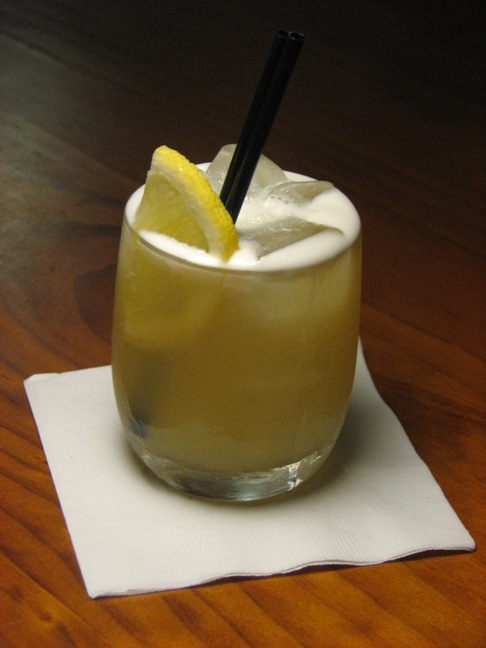 Whiskey Sours used to be popular drinks, but faded away during the great flavor purges of the 1980s. Vodka was ascendent, but thankfully cocktails with actual taste have returned. My favorite bartender has been playing around with Rye Whiskey Sours to great acclamation and praise (at least from me). Give it a try...the spiciness of the rye adds a nice counterpoint to the sweetness of the simple syrup and the tartness of the lemon juice.

******
"Food Safety News" is a website that chronicles food, health and safety issues in America. It's run by an attorney, so that should tell you something about its perspective. In fairness it is a useful source for information about food-borne illness and government responses.
But this article
got me exercised more than most. In fact, the first sentence had me yelling bad words at my screen.
Short version of CBD's review: "Fvck you."
Long version: "Fvck you and the government horse you rode in on."

******
"Dad Cooks Dinner" is one of the better cooking sites around. I have linked to several of his recipes, and his dry-brining technique is without peer. But one of his recent featured recipes is for vegetables. Yuck. In his defense the recipe calls for bacon.
Pressure Cooker Collard Greens With Bacon
solves the problem of that long, slow cook that greens seem to require. I am no expert, but this sounds good.
******
Speaking of vegetables, one of my standard "Oh shit, it's dinner time!" sides is roasted green beans with shallots. I used to buy fresh beans and laboriously clean them, but I have found that unless I can get truly fresh beans not far removed from the farm, the frozen variety is both better and less expensive. All I do is pour the frozen beans into a baking dish, toss in thin-sliced shallots, salt, pepper and a few glugs of olive oil. Mix thoroughly and roast at 425 degrees, tossing them once or twice if I remember, and cooking until they are lightly browned. It takes 20 minutes or so, and tastes great.
******
I have posted this recipe before (I think), but it's worth revisiting because the store-bought pita that most people can get is a pale reflection of the good, fresh stuff that a few places make. There is an Arab bakery in Brooklyn that makes great stuff, but that's the only place I know of.
This recipe is good, but be careful with the timing of the bake. Keep an eagle eye on the first batch, and then adjust accordingly. And of course use a mixer. Kneading for 10-15 minutes is not my idea of a good time.
PITA
Ingredients:
• 1 package of yeast, or quick rising yeast
• 1/2 cup warm water
• 3-4 cups all purpose flour
• 1 1/4 teaspoon salt
• 1 teaspoon granulated sugar
• 1 cup lukewarm water
Dissolve yeast in 1/2 cup of warm water. Add sugar and stir until dissolved. Let sit for 10-15 minutes until water is frothy.
Combine flour and salt in large bowl.
Make a small depression in the middle of flour and pour yeast water in depression.
Slowly add 1 cup of warm water, and stir with wooden spoon or rubber spatula until elastic.
Place dough on floured surface and knead for 10-15 minutes. When the dough is no longer sticky and is smooth and elastic, it has been successfully kneaded.
Coat large bowl with vegetable oil and place dough in bowl. Turn dough upside down so all of the dough is coated.
Allow to sit in a warm place for about 3 hours, or until it has doubled in size.
Preheat oven to 500 deg F. Place pizza stone on bottom of oven.
Once doubled, portion into 8-10 pieces, and form into tight balls. Place balls on floured surface. Let sit covered for 10 minutes.
Roll out each ball of dough with a rolling pin into circles. Each should be about 6 inches across and 1/4 inch thick. Let rest for a few minutes before baking.
Bake each circle for 3 minutes until the bread puffs up. Turn over and bake for 1 minute.
Remove each pita with a spatula and gently push down puff. Immediately place in storage bags with one paper towel to absorb excess moisture.

posted by Open Blogger at
04:00 PM
|
Access Comments