« Food Thread: Matzoh Ball Edition [CBD]
|
Main
|
Overnight Open Thread (4-3-2016) »
April 03, 2016
Quick Hits [Y-not]
A brief news roundup:
Denver Post: Ted Cruz wins first 6 Colorado delegates, Donald Trump shut out. Per CNN, "The state GOP opted not to hold a traditional presidential preference vote for 2016 and instead directly elects 21 delegates at a series of seven congressional district-level meetings, which began Saturday. An additional 13 delegates will be selected at the state convention next Saturday in Colorado Springs."
CNN: North Dakota delegate hunt looks good for Cruz. Cruz's team, both surrogates and the candidate himself, put considerable effort into the ND GOP convention. His was the only camp to provide a list of delegates to support, neither Kasich nor Trump provided their supporters with one. Word is that Team Cruz landed 18 out of the 23 names they wanted. Congressman Kevin Cramer (Heritage scorecard: 48%) endorsed Trump and lobbied for delegates on his behalf.
NBC: Trump, Cruz Work to Block Kasich From Ballot at Open Convention. "While Trump and Cruz are locked in a bitter battle, aides to both men tell msnbc it is in their mutual interest to keep Kasich off the ballot. The convention rules control who is on that ballot -- and thus eligible to win the nomination."
Politico: "Sore-loser laws" will prevent Trump from running as third party if he doesn't win GOP nomination. "He doesn't have the option of running as a third-party [candidate]," the Texas senator told Wisconsin radio host Charlie Sykes. "Quite a few states across the country have what are called sore-loser laws, that once you run as a Republican and lose, you don't get to then turn around and file on the ballot as an independent, so that will not be an option available to him."
Current delegate count here: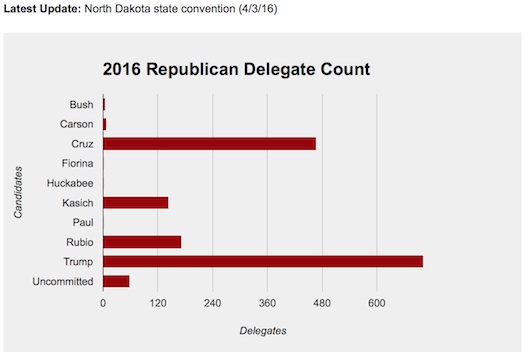 posted by Open Blogger at
08:29 PM
|
Access Comments