« Food Thread: I Want My Maypo! [CBD]
|
Main
|
Overnight Open Thread (3-27-2016) - Easter Edition »
March 27, 2016
Sunday Afternoon Chess Thread 03-27-16 [OregonMuse]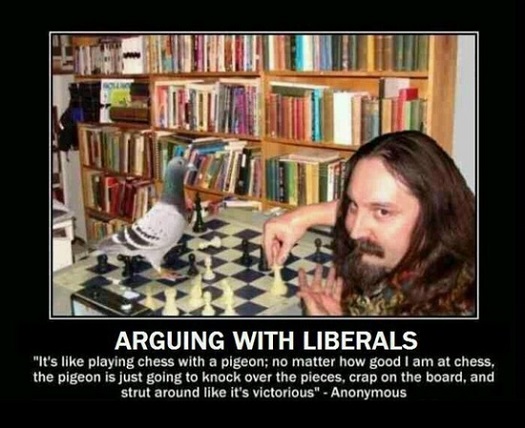 Good afternoon morons and moronettes, and welcome to the Sunday Afternoon Chess Thread, the only AoSHQ thread devoted to chess, written specifically for all of us noobs, fish, patzers, and wood-pushers who pay homage in the temple of Caïssa, goddess of knight forks and rooks on the 7th. Also good for discussion in the comments are other games you can play with boards, cards, pieces and no electricity. Even the newfangledyassed board games like Carcassonne or Settlers of Catan. And poker. Poker's good, too. I suspect there's a lot of Moron poker players here.
"It is always better to sacrifice your opponent's men." (Tartakover)

Chess Resources On Teh Internetz
Based on the comments in the last chess thread, a number of you had questions about how to play chess and how to get better at chess.
How To Play: If you do a Google search for 'free online chess tutorial', you'll get a ton of hits. But for most of them, 'free' means 'free for the first one or two lessons', and I was too lazy to search for any exceptions.
There are are a number of explanatory YouTube videos that are meant to show the absolute beginner how to play. And I didn't like most of them for one reason or another and don't recommend them. But there are some that don't completely suck. One of them is the 'grobchess' YouTube channel and they have a 3-part tutorial that covers the basics.
Alternately, here is a free 15-minute video preview of a basic-chess-lessons DVD aimed at children by GM Susan Polgar, which covers the basics. And then, once you've learned the basic rules and how the pieces move, you should be ready for this 40-minute lecture by Polgar called "How To Think Like A Grandmaster" that goes over some basic concepts of how to play an actual chess game.
The Chesscorner.com Learn To Play Chess page looks like a half-way decent intro to chess. There's an explanation of the basic rules, plus intro to some tactics (forks, pins, skewers, etc.) and also openings.
The Learn How To Play Chess from Chess.com is the one I like the best. It has everything you to need to know to learn the game, moves are demonstrataed via animated, interactive chessboards, and there's a pointer to other free lessons (and even more if you want to pay).
If any of you chess-playing morons know of other free chess tutorial sites I missed, by all means, let me know in the comments.

Chess Problem #1 - Nothing Fancy
Nothing tricky or devious here, it's just White mates in 3: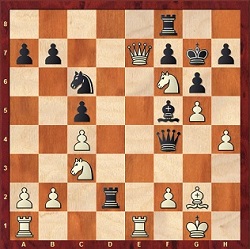 Answer later.
Candidates 2016
8 top-level International Grandmasters are competing in a 14-round double round-robin tournament in Moscow to determine who will challenge Magnus Carlsen 2016 World Chess Championship. Here are the standings after 13 rounds: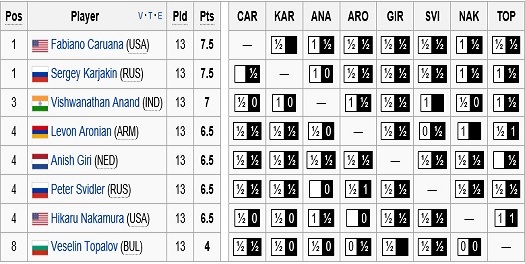 All eyes are going to be on the final round game between Caruana and Karjakin, who are tied for first place.
According to the wiki page,
The prize fund...is 420000 euros, with 95000 to the winner, 88000 to second, 75000 to third, and then down to 17000 for last place. Prize money is divided equally between players on the same score.
Which is a substantial amount of money, and they can all thank Bobby Fischer for it. Really. During the closing ceremonies dinner, all 8 GMs should have a formal toast to Fischer for making their livelihoods possible. Back in the bad old days when the Soviet bloc players were throwing games to each other, Moscow was only interested in the prestige of winning the World Championship, so the prize funds were ridiculously low. When Boris Spassky won his world championship, it was something like $1200. Again, the Soviets only wanted the title and not filthy capitalist lucre. But Fischer changed all of that. He may have been a crazy a-hole, and had the emotional maturity of an 11-year-old, but his crazy-ass tantrums over money had the effect of seriously upping expectations about what chess tournament prize money should reasonably be. Spassky once joked that Fischer was like having a chess player's union representative. The point is, Fischer's psychotic rants were the rising tide that raised everybody else's boat.

Pwned!
This video was put up a few weeks ago and quickly went viral. It shows a trash-talking chess hustler in New York City's Washington Square Park getting spanked by International Grandmaster Maurice Ashley:
And somebody actually figured out the moves of the game from the video, or GM Ashley remembered them, because here they are:
1. b4 e5 2. a3 Nf6 3. Bb2 d6 4. d3 Be7 5. Nd2 O-O 6. Rb1 a5 7. Ngf3 axb4 8. axb4 Nc6 9. c3 Re8 10. e4 Bg4 11. Be2 Bf8 12. O-O d5 13. h3 Bh5 14. exd5 Nxd5 15. Nh2 Bxe2 16. Qxe2 Nf4 17. Qf3 Qxd3 18. Qxd3 Nxd3 19. Nhf3 Ra2 20. Bc1 e4 21. Nd4 Nxd4 22. cxd4 Nxc1 23. Rbxc1 Rxd2 24. Rxc7 Rxd4 25. Rxb7 Rxb4 26. Rxb4 Bxb4 27. Rb1 Bc5 28. Rc1 Re5 29. Kf1 f5 30. Ke2 g5 31. g3 Kf7 32. Rb1 Re7 33. Rb5 Rc7 34. Kf1 Ke6 35. Ke2 Kd5 36. Rb1 Ra7 37. Rd1 Bd4 38. Kf1 Ra2 39. f4 exf3 40. Rxd4 Kxd4 0-1
And WTH kind of opening is 1. b4 followed by 2. a3? It neither fights for the center nor develops a piece. Maybe it's one of those hyper-hypermodern openings.
(Yeah, yeah, I know it's the Sokolsky, or Polish Opening, or even the Orangutan, but just because somebody named it doesn't make it any less irritating.)

And Now, Some Go
From the last chess thread:
32 I'd rather speak of go, which I guess is close enough to the subject - a computer program just beat a top pro best three out of five games. I wasn't expecting that to happen so soon, and it won convincingly and with some real originality. The 37th move in the second game in particular was something that shocked everyone.
Posted by: Locarno at March 13, 2016 05:12 PM (kyQTB)
I agree, this is really quite remarkable:
A computer program has beaten a master Go player 3-0 in a best-of-five competition, in what is seen as a landmark moment for artificial intelligence.

Google's AlphaGo program was playing against Lee Se-dol in Seoul, in South Korea.

Mr Lee had been confident he would win before the competition started.

The Chinese board game is considered to be a much more complex challenge for a computer than chess.
For those of you unfamiliar with Go, it is a game of two players who take turns putting black or white markers (called 'stones') on a 19-by-19 grid. Players win by surrounding and acquiring 'territory'. i.e. intersection points on the grid. The stones are played on the intersection points, not inside the squares, and once played, they're never moved.
The rules of Go are simple and few, but they give rise to strategy and tactics whose level of complexity is at least an order of magnitude higher than chess. It's a fascinating game, one that I tried to learn a few years ago, but never could quite get the hang of.
Attempts have been made to program computers to play chess almost as long as there's been computers around to program. The history of Go programming is not nearly so extensive. Early chess programs were often laughably bad, but they gradually got better over time, so that now there are mass market chess-playing programs that are strong enough to give masters a hard time. Go software, not so much.
Chess programmers can get away with using brute force algorithms to evaluate millions of moves on the decision tree, and in fact, this was what IBM's Deep Blue used to defeat Garry Kasparov. But this alone is not sufficient to make a really strong Go program:
Where Deep Blue mainly relied on brute computational force to evaluate millions of positions, AlphaGo also relied on neural networks and reinforcement learning which more closely resemble human decision-making.
So eventually, I would expect this to work its way down to the mass market level, so the arc is going to turn to be pretty similar to the history of chess programs, which went like this:
craptacular --> laughably bad --> pretty bad --> bad --> meh --> ok --> good --> pretty good --> really good --> really, REALLY good --> f'ing awesome.
Today, I would say that most chess engines are in the "really good" to "f'ing awesome" range. I haven't kept up with the Go software, so I have no idea where on the scale the top programs would land.
So, some questions for you Go enthusiasts: what Go playing software do you use, where on the above scale would you rate it, and can you beat it when you have it cranked up to full strength?
Update: In one of Saturday's threads, zombie posted a long comment (#289) that disputes a number of my claims here. I didn't have time to come up with a decent response, other than to provide a link. So it'll have to wait until next time.

Chess Joke
A chess master died - after a few days, a friend of his heard a voice; it was him!
"What's it like, where you are now," he asked.
"What do you want to hear first, the good news or the bad news."
"Tell me the good news first."
"Well, it really is heaven here. There are tournaments and blitz sessions going on all the time and Morphy, Alekhine, Lasker, Fischer, Tal, Botvinnik, they're all here, and you can play them."
"Fantastic!" the friend said, "and what is the bad news?"
"You have Black against Capablanca on Saturday."
Now click this.

Chess Problem #2 - Coming Down The Escalator
White to play, and mate in 5.
Now, don't panic. Just because the mate is 5 moves out doesn't mean the decision tree is bewilderingly complex. In fact, it's pretty much a straight line. Here's a couple of hints: 1. Black actually has very few legal moves, and your job is to keep it that way, and 2. The bit about the escalator is a description of what the solution looks like.
I actually figured this one out before looking at the answer, so yeah, I'm all cocky and shit.

Answers to Chess Problems
Last time, I tried hiding the solutions by using transparent text, which resulted in CBD having to save my butt from Teh Barrel due to my crappy html skillz.
So I'm trying something new this week, and we'll see how it works: in the fullness of time, I will post the solutions as a comment. This space right here will contain the comment number so that latecomers to the thread will know which one to avoid looking at if they want to try to solve the problems first.
Update: Solutions at comment #103
___________
So that about wraps it up for this week. And just like in the book thread, chess thread tips, suggestions, bribes, rumors, threats, and insults may be sent to the book thread e-mail address: aoshqbookthread, followed by the 'at' sign, and then 'G' mail, and then dot cee oh emm.


posted by Open Blogger at
06:08 PM
|
Access Comments