« wharrgarbl until stomped [krakatoa]
|
Main
|
Sunday Afternoon Chess Thread 03-27-16 [OregonMuse] »
March 27, 2016
Food Thread: I Want My Maypo! [CBD]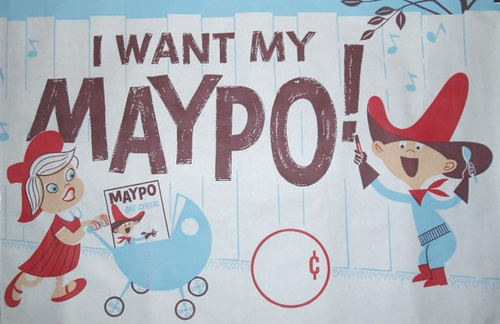 I begged and begged and begged for Maypo, and while my mother usually didn't suffer fools gladly (and I was surely a fool), I must have been particularly irritating because she finally bought a box, just to shut me up.
And I didn't like it at all!
What about the rest of The Horde? When you were kids, what foods were special, both good and bad?
We ate lots of weird stuff, so my list is long and disgusting. Calves brains, kidneys, tripe, octopus (although I love it now)...you name it, we ate it. I remember watching with horrid fascination as my father trimmed a beef heart. he showed me the structures and explained how it worked. All very cool for a 10-year-old kid. But then it showed up at dinner. Less cool.

******
This is odd, although not shockingly so. I guess it makes a little bit of sense, and of course the canned hobo meat at the 34 second mark is a nice touch.....

******
Here is a
whiny, overly sensitive SJW snot-bag
complaining about a restaurant review being racist. If you care about this entitled, spoiled fool and her special snowflake rantings, follow the link, where if you are a true masochist you can also follow her link to a Slate-splaining of food racism.
What's that? Did the shaming have its desired effect? Of course! The website took down the review and grovelled.
Editor's Note:

It has come to our attention that some were offended by the original content of our King's County Imperial review.

While we want to make it clear that our intent was not to be in any way insensitive or offensive, we do recognize that some of the words we used to describe our experience were poorly chosen.

As a result, we'll take another stab at this review at a later date.

In the meantime, we still think you should know that King's County Imperial is a great restaurant, and that you should go support them. We'll approach the review with a different lens next time we write about it.

Thanks.
Yes...we are doomed.

******
Alexandra's Kitchen is a lovely food blog with some glorious photography. I poke around it now and again, mostly for the pictures and the writing. She seems to gravitate toward vegetable-heavy dishes, although she is not a vegetarian, so don't be put off by that. Here is a classic recipe for
MFK Fisher's Potato Soup.
I love potato soup, and not just because it tastes great and is easy to make. It can be the base for pretty much any creamy soup your fevered imaginations can conjure.
******
This is an extremely irritating recipe...because I didn't think of it first. I love grilled cheese sandwiches in all of their glorious permutations, and a fried egg on top of a croque monsieur (the classic French grilled cheese) makes a great sandwich even better. But this recipe for
Croque Madame Muffins
(that's what the Frogs call a croque monsieur topped with an egg) is a great idea because they are little packets of self-contained deliciousness, and can be a side dish for a blowout brunch. Or dinner. Or breakfast.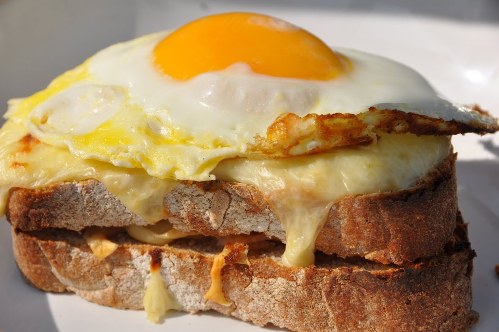 As you can see, the photo, while luscious looking, is clearly not of a muffin. The website owners are rather finicky about use of their photos. Apparently attribution and a link back isn't enough. They require written permission. I think that is silly. So you don't get to see their photos! Come to think of it, the website is sort of finicky too.....

******
BarfBlog is one of the most amusing websites around...both intentionally and unintentionally. And if you think that I have contempt for Chipotle, just head over there and read
Chipotle closed for wankfest
. They cut through the bullshit marketing and spin and get to the real reason why Chipotle customers are getting sick: the food is contaminated because Chipotle sucks at food preparation and sourcing of clean ingredients.
******
The conventional wisdom in matters of braising and stews is to cook and cook and cook some more. That way everything is wonderful and tender and succulent and filled with those delectable braising liquids.
Maybe not!! Stew Science: Why You Shouldn't Cook Your Beef All Day from Serious Eats has some pretty compelling evidence (remember kids: correlation ≠ causation) that there is a sweet spot between tough and underdone, and stringy and overcooked. The experiment was elegantly done, although I would argue that trying to time braising is an exercise in futility. Just test the meat after about two hours, and keep testing until it reaches your preferred degree of tenderness.

******
Speaking of braising, here is a nice recipe for that classic British dish,
Cottage Pie
. There is something comforting and satisfying in the sight of that beautiful crust of mashed potatoes with crispy golden-brown peaks. And....the variation, stirring a bit of horseradish into the potatoes sounds great.
******
A few months -- or years -- ago a Moron mentioned that making lasagna with spaghetti instead of those irritating sheets of pasta dough is easy, and it tastes great. Well, this is dedicated to you, the Moron who suggested it and whose name I have forgotten.
It's great and easy, and very satisfying. I have tried it with meatballs too, but I like the fennel flavor of the Italian sausage. Next time I might try spicy sausage just for kicks.....
Spaghetti Pie
(Anonymous Moron Pie)


1 1/2 pounds spaghetti -- cooked as directed, less one minute

1 1/2 pounds Italian sausage

12 ounces whole milk ricotta cheese

1 pound whole milk mozzarella cheese -- grated

56 ounces crushed tomatoes (Two big cans, you might have some left over)

4 ounces Parmesan cheese -- grated

1 teaspoon dried oregano

1 teaspoon dried basil

1/2 teaspoon dried thyme

2 teaspoons kosher salt

1/2 teaspoon granulated sugar

2 ounces olive oil

2 ounces bread crumbs
Remove the casings from the sausage and saute in a bit of olive oil, breaking into bite-sized pieces, until lightly browned.
Drain the sausage and place on paper towel to absorb additional fat.
Make the spaghetti, drain, and toss with 2 tablespoons of olive oil to keep it from sticking together. When it has cooled slightly, add enough sauce to coat it generously, but not enough to make it a sloppy mess.
Preheat oven to 350 degrees.
Add half the herbs, salt and sugar to each can of crushed tomatoes and mix thoroughly.
In a lasagna pan (Mine is 12.5"x10.5") add about 12 ounces of the sauce to the bottom and spread evenly.
Add a layer of spaghetti and distribute it evenly across the bottom of the pan.
Add small dollops of ricotta, then sausage, then sprinkle grated mozzarella
Repeat layering until you reach the top of the pan (about three layers). You might have spaghetti left over.
Sprinkle top with remaining mozzarella, then Parmesan, then bread crumbs and drizzle remaining olive oil over the top.
Cover and bake for 30 minutes, then remove top and bake for 10 minutes.
place under broiler to crisp top.
Let rest, and serve warm.


posted by Open Blogger at
04:00 PM
|
Access Comments