« The Inaugural Ace of Spades Pet Thread
[L, Elle & Misanthropic Humanitarian]
|
Main
|
Intellectual Engine of Conservative Court, Justice Antonin Scalia Found Dead of Natural Causes at Texas Ranch »
February 13, 2016
Saturday Gardening Thread for a Chile February [Y-not and KT]
Good afternoon, gardening horde!
KT's contribution is about chile peppers, which always gets me thinking about New Mexico (referenced in this famous song above), one of my favorite places to visit. I've been to both Taos and Santa Fe for arts festivals. Maybe some year I can check out the Hatch Valley Chile Festival.
I don't have much to contribute this week, so without further ado here's KT...
Just Warming Up
Here in the south-central San Joaquin Valley, the weather warmed into the 70s on Tuesday. It actually feels like gardening weather now. My Aprium tree is blooming. Appropriately, the World Ag Expo started in Tulare on that day. Related: The New Tech Players of the California Drought
Tuesday was also National Pizza Day. "Approximately 10 acres of pizza are consumed in the U.S. each day." Many of the tomatoes used to make sauce for those pizzas are grown around here.
Super Bowl Sunday, a big pizza day, is over. Hat tip to frequent commenter Traye for this story: "Super Bowl 50 MVP Von Miller . . . may already have an idea of what lies ahead in his post-football career. He wants to be (and currently is) a chicken farmer."
Von Miller is not the first NFL player to be attracted to farming. Jason Brown gave up the NFL to become a farmer, because he wanted to live a life of service.
Inspiring. Maybe I can be a little more industrious in my garden, which has been pretty much neglected the last two or three weeks. I did not start peppers (actually, I have never started peppers indoors) but maybe I could buy some seedlings and grow them out a little before our March outdoor planting season.
I have had more trouble growing bell peppers than chiles, so my pepper choices are generally a mild chile or two plus a moderately hot one. Although I have a couple of favorites now, I am open to suggestions.
Do you have pepper you love to plant in your garden? Maybe I could try a new one this year.
2016 PEPPER CHOICES
Several members of The Horde are into growing seriously, seriously hot peppers. Remember that The Dude has given us appropriate cautions for handling the really hot ones.
For my garden, I am interested in peppers that are not quite that hot. It can be confusing just figuring out which pepper you are looking at. I am starting with an attempt at sorting out the less-incendiary dried peppers offered in our supermarket in winter for pozole and menudo season. I know that this just scratches the surface of the types of chiles available, but you gotta start somewhere.

Pasilla/Chilaca Chiles
"Like many chiles these are known as one thing when dried and are called something else when fresh. When dried they are called Pasilla Negro, chile negro, chile pasilla and chile pasilla de Mexico. The fresh version is known as Chilaca Chiles and these dark green chiles have a similar heat profile to the more popular Poblano pepper."
"The Dried Pasilla Negro chile is a key chile in the famous 'holy trinity' of Mexican chiles used in Mexican moles along with the Ancho and the Mulato chiles. . . .
If you use a California based supplier for your Pasilla chiles be aware that it may not actually be a Pasilla Negro that you are getting. In California the ancho chile is frequently called pasilla. In California and other areas where the fusion of Cal-Mex cuisine is prevalent fresh poblano chiles are often referred to as pasilla."
That is certainly true in our town. Poblano chiles are labeled as Pasillas in the produce section, and some dried dark Ancho chiles are called Pasillas. I am not sure if I have seen Chilaca chiles offered fresh. Has anyone grown them?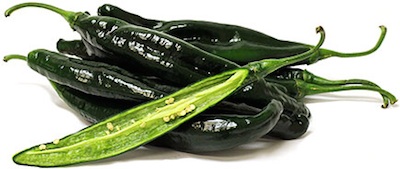 Chilaca when fresh, Pasilla when dried
Guajillo/Mirasol and Puya Chiles
Big bags of dried Guajillo and Puya chiles are also sold in our supermarket in winter. "Guajillo . . . is the dried version of the Mirasol chile.
Guajillo translates to "little gourd" for the rattling sound the seeds make when shaking the dried pods. The Guajillo is the second most popular chile in Mexico surpassed only by the Ancho Chiles. Guajillos are usually combined with Ancho and Pasilla chiles to make Mexican moles. Typically the Guajillo is sold as a whole chile and it is a bit more difficult to find in the powder or ground form.
Guajillo chiles look very similar to the harder to find Puya chiles. Puyas tend to be a bit smaller and pack more heat (5,000 to 8,000 Scoville Heat Units) than the Guajillos. . ."
Ancho/Poblano Chiles
The dried Ancho peppers sold around here are generally very dark in color. The ones in the big bags are called Pasillas, in the California style. They are wrinkles like raisins, which may be why the name sticks even though it is used for another type of pepper in Mexico.
For raw peppers, I like the more-or-less mild, fruity Poblano chiles better than bell peppers in many recipes, especially when marinated. Though I do like orange bell peppers. Probably more than they like me.
Poblanos are good cooked, too. I have not picked a favorite Poblano cultivar yet. I know that cultivars vary in hotness. "Poblano L" is rated at 600 - 1800 Scoville units while "Ancho San Lius" is rated at 1500 - 4500.
"Tiburon", a sweet Poblano hybrid recommended in more northerly climes, has done well for me. It comes in at about 2,000 Scoville units. I grew "Ancho Mulato" once for its color and smokier flavor, but it was not real productive for me. "Ancho Chino" and "Ancho Sweet" sound interesting.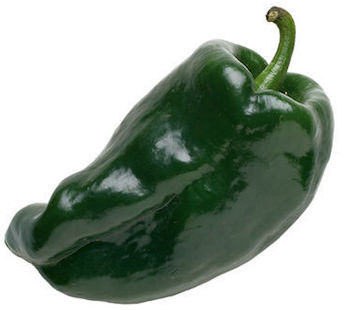 Poblano Chile when green, Ancho when dried
Santa Fe Chiles
Santa Fe Chiles are not sold locally to my knowledge, either fresh or dried. My favorite chile for adding color to salsas is Mariachi Hybrid, featured in an earlier thread. Mariachi peppers grow on a very ornamental, compact, sturdy, container-friendly plant. The peppers are pretty tasty, too. The plants become loaded with attractive, wedge-shaped peppers in an array of colors as they ripen. The peppers measure 500 - 600 Scovilles when not stressed, more when plants are stressed. Here is a nice summary of Scoville measurements for popular peppers, from the Fire Breathing Idiot.
Santa Fe peppers seem to be gaining popularity. I have seen a couple of new Santa Fe style hybrids offered this year. One is called "Rio Treasure," perhaps in honor of the Angry Birds Rio Treasure Hunt. This pepper is billed as high-yielding with fruits in the 3000-5000 Scoville range. It is quite a bit spicier than Mariachi, though they look similar.
Pepperocini
Another of my favorite peppers is an early pepperoncini type I ran across a few years ago. I think it has fantastic flavor. It is called "Sweet Heat." It is quite sweet even when green, with a hint of smokiness.
Burpee did a "Boost Collection" of veggies that measured high in certain nutrients one year. Sweet Heat measures higher in Vitamin C than most peppers. Reportedly. I thought the tomatoes in the "Boost Collection" were losers, but this pepper was great. Kind of typical of Burpee to introduce a great veggie along with some that look or sound better than they taste. You can get Sweet Heat from other vendors, too.
Missouri State notes that Sweet Heat "packed a lot of heat" when ripe. I cooked it green in stir fries and found it to be a little past "mild." Burpee says it is milder when ripe - 329 Scoville units when green vs. 235 when red. Some Gardening Morons would scoff at those numbers. Growing conditions probably make a difference in the amount of heat. I think it was hotter for me than the numbers from Burpee would indicate.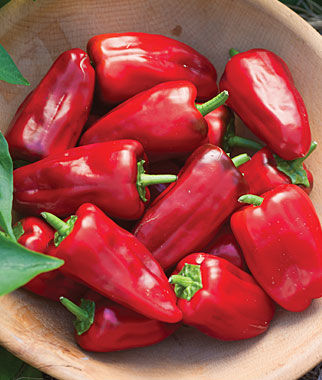 Sweet Heat
Off-season Cooking with Peppers
Last week, I saw a really simple recipe for crock pot pozole-style soup. It calls for ground Ancho chiles rather than the traditional chile paste or sauce for pozole. They do not sell ground Ancho chiles in our town. My neighbor made this recipe with ground Chile California, no cumin, and loved it. I am trying it with a mix of California and New Mexico chiles for lunch on Valentines Day. Mr. Bar-the-Door loves Pozole.
For more traditional members of The Horde, here is a recipe for Ancho/Guajillo Chile Sauce made with whole dried peppers. I am thinking about growing some of these peppers this season to use fresh and maybe dried.
If it is still cold where you are, stay warm. If your weather is warming up, maybe you could plant some peppers.
Y-not: Thanks, KT!
Can you believe we are STILL waiting to get our fence put up? While we wait, we've been thinking of what to do with the 10-15 foot gap that will exist between our fence and the golf course fence. Our original plan had been to remove the grass and put up raised beds, but recently we got thinking about another project: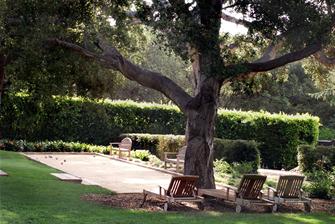 Backyard bocce court
Although you can play bocce on grass, it's better to do so on a specially prepared surface. Looks like it might be a reasonable do-it-yourself project (or here) or perhaps a project that's simple enough for a generic "lawn guy" to do. Have any of you installed one in your back yards?
To close things up, how about some more Asleep at the Wheel?
They play Cotton-Eyed Joe at every college basketball game around here.

What's happening in YOUR gardens?


posted by Open Blogger at
03:05 PM
|
Access Comments