« Saturday Politics Thread: What Do Voters Want? [Y-not]
|
Main
|
Free Speech Is Binary: We Either Have It Or We Don't [CBD] »
May 09, 2015
Saturday Gardening Thread: Down On the Farm [Y-not, KT, and Weirddave]
Good afternoon, gardeners! It's been a rainy week here at Casa Y-not, but nothing compared to what some of you have been getting. Mister Y-not flew to the midwest by way of Dallas -- wow! The storms were really something!
In honor of America's breadbasket, today's theme is Down On The Farm:
This week we have a contribution from a special guest, CaliGirl, who is in zone 9, Santa Barbara County: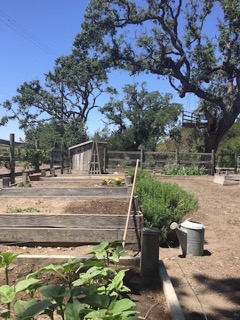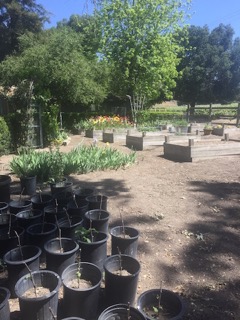 Raised bed garden area. I have planted artichokes, tomatoes, arugula, shallots, and garlic. I also have some gerber daisies, zinnia, aster, and dahlias. In the back corner is the original outhouse for my house. I planted lettuce blend seeds and the birds wiped it all out. I put netting over the beds and replanted, but it is too hot for lettuce now.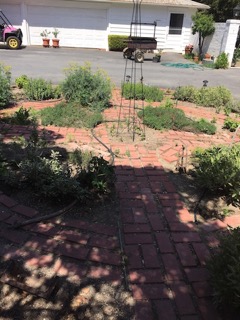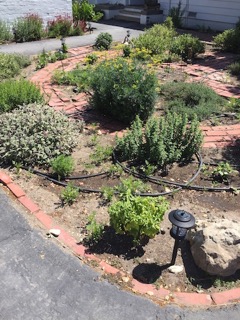 I have been busy in the kitchen herb garden. We have lots of sage, oregano,and thyme. I have basil, chives, parsley and green beans planted. The marigolds are coming back as well as some other things I am not sure what they are until they are bigger. Most everything I have planted is volunteer.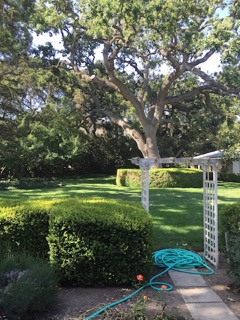 This is our back yard, I love the live oak.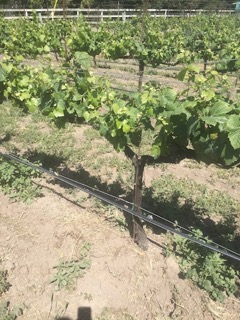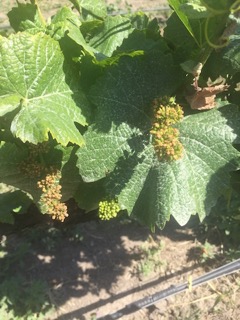 These are our wine grapes, there are pinot noir and chardonnay. I'm not sure which this is until the fruit is colored. There is an oak tree to mark where the different varieties are.

Y-not: Thanks, CaliGirl!
Cali's "farm report" inspired me to do one of my own. Mine is not nearly as impressive. Thus far, my veggie garden consists of some herbs and onions that over-wintered, a few tomato plants, and some veggies started from seed.
This year I decided to try two (new to me) types of early tomatoes: Dr. Wyche's Yellow Tomato (non GMO) and Sub Arctic Maxi.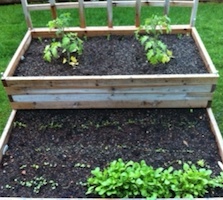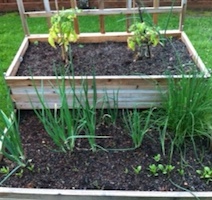 Dr. Wyche's tomato plants on the left. Sub Arctic Maxi tomato plants on the right.
The Dr. Wyche's plants look ok, but the Sub Arctic Maxi plants are yellowing. They're also further along, having a few small fruits on them already and several flowers. I pinched off quite a few. Any recommendations on what else I could try to perk them back up?
KT has given us many terrific primers on tomatoes, but I stumbled across this link on tomato flavor that I thought I'd share.
OK, back to the garden. All of the plants that I started from seed (sown directly into the ground) several weeks ago are chugging along: beets, carrots, radishes, arugula, mesclun, and spinach. A little over a week ago I also planted snap pea seeds and they're coming up nicely. In a few cases (carrots, radishes, beets) I tried using seed tape. I've been pleased with the results thus far.
Here's a fun article telling the tale of the young inventor of seed tape. (I'm not sure if they are claiming that she invented the entire concept or just made her own spin on it. Do any of you serious gardeners remember when you first started seeing seed tape available commercially?)
You can make your own seed tape. Here's one method. I like the use of food coloring to mark where the seeds are (although I'm not sure it's really necessary).
And here's another method. What I like about this one is the use of the toilet paper rolls to store the finished tape. The commercial ones I've bought are stored flat and they tend to tear as I unravel them.
Finally, here's a how-to video:
It's not too late to make some seed tapes for your mommas for Mother's Day! Moms love crafts!

And now, here's KT:

Red or Green?
That is the Official Question of the State of New Mexico. It reflects the importance of chiles to that state. For today's thread, I am writing about chiles and a botanical garden in New Mexico.
In last week's episode of the Saturday Gardening Thread, The Dude expounded on the world of competitive hottest-of-the-hot chile growing. Note that these ultra-hot peppers could save your life! You might want to give them a try.
New ultra-hot peppers seem to be appearing every year. This is a real phenomenon in plant breeding. But there are some famous not-so-hot chiles from around the world, too. The USA's most famous mild chiles mostly seem to have originated in New Mexico.
I have had a good time reading about New Mexico, which still conveys sort of a frontier feeling to me. We made a brief virtual visit to the Santa Fe Botanical Garden in last week's Garden Thread in the discussion of Desert Willows. Santa Fe is the oldest capital city in America, with a really interesting history, but its botanical garden is quite new. It is still a work in progress. It would be fun to visit Santa Fe sometime via the Atchison, Topeka and the Santa Fe. There are other things to see in this city, and it is on the way to some other places mentioned below.
Santa Fe's most famous chile type is the Santa Fe Grande. It is one of the few U.S. chiles that go through a yellow phase. I grew a compact F1 hybrid version one year, Mariachi. It was a beautiful plant. I thought the peppers were milder than jalapenos, but our neighbor thought they were hotter. Maybe we gave her one that ripened under a different watering schedule or during hotter weather.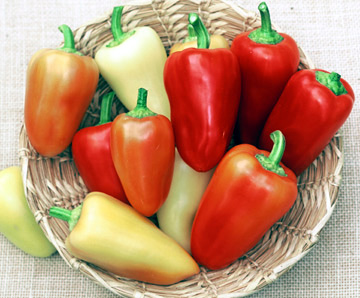 Mariachi Hybrid Pepper
A democrat in the state legislature triggered a fight over regional New Mexican chiles by proposing that the State Poem be changed to one featuring the Chimayo chile, a cultivar from Northern New Mexico used fresh, dried in ristras, or ground into chile powder.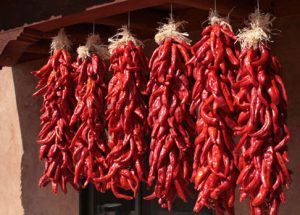 Chile Ristras
A fight in the legislature kind of disturbs the image of hospitality generally conveyed by a New Mexican Chile Ristra. Learn how to make them here. This link also includes a recipe for tomato-free Red Chile Sauce for enchiladas and such. It includes directions for a chile puree very similar to the one I use when making pozole.
The people of Southern New Mexico have a point in supporting their regional chiles in the fight over the State Poem, however. Several members of The Horde eat hosta Chiles, from the greater Southern Rio Grande Valley of New Mexico. They are most famous for their flavor when used green and roasted, but they are also dried at the red stage. In our town, big bags of New Mexico long-pod chiles are sold during the holidays, along with Chile California (dried Anaheim-type chiles), for menudo and pozole.
So, what is a hosta Chile Pepper? We can ask the Chile Pepper Institute at New Mexico State University:
There actually is no chile pepper variety named hosta. The name indicates the area where the chile peppers are grown. The town of hosta, New Mexico is located about 40 miles north of New Mexico State University, the home of the Chile Pepper Institute. This New Mexican pod type was first commercially grown in the hosta Valley and eventually spread to other areas around New Mexico. Varieties that fall under the New Mexican pod type include: NuMex Big Jim, NuMex Joe E. Parker, NuMex Conquistador, Espanola Improved, Sandia, Anaheim, and New Mexico 6-4. . . . Also to be labeled as a hosta chile pepper, the pepper must have been grown in New Mexico.
At least two heirloom NuMex cultivars have been "rehabilitated" using frozen seed samples to improve the heirloom strains after they had "run out". This involves genetics. Let me know in the comments if you are interested in details. They are called "Heritage" strains. Don't let this confuse you. They are the newer strains, but developed from old seeds.
You can also buy boxes of various hosta Chile cultivars online, from very mild to spicy. The Dude, with his incendiary chiles, would laugh at the Scoville Rating of the "XXX Hot Lumbre hosta Green Chile" - 9,000 to 10,000 units. Plenty hot for me.
The first stabilized, standardized chile cultivar in the USA was developed and released at New Mexico State University by Fabian Garcia, whose life story is very interesting. His thoughts on education and ethics seem old fashioned today, in a good way.
"He took three chiles to make the New Mexico pod type -- Chile Negro, which is sort of black; Chile Colorado, which is red and found in northern New Mexico, like the Chimayo chile; and Chile Pasilla, which is dark brown. The Pasilla is long, like a pencil, so he took some of the shape from that." (Note that "hybrid" in the piece linked above does not necessarily mean what we mean when we discuss F1 hybrid plants).
Even the Anaheim Chile came from New Mexico: "In 1896, the sheriff of Ventura County, Calif., Emilio Ortega -- whose last name today adorns an empire of Mexican-food products -- brought chile seeds home with him from a trip to southern New Mexico."
Between Santa Fe and hosta is Albuquerque. I ran into a piece not long ago about a pretty amazing botanical garden there. This is New Mexico? The Children's Fantasy Garden looks especially fun.
Garden Dragon
If you're not into giant watering cans or tiny garden trains, the botanic gardens also feature a dragonfly pond, a butterfly pavilion, Mediterranean and Desert Conservatories, a Japanese Garden, a New Mexico folk doctor's herb garden, a heritage farm and kitchen garden, wildlife exhibits and more.
I think of dragonflies in connection with desert regions because once after a cloudburst, we came across very temporary pools at the side of the freeway between Las Vegas and the Nevada/California border that were swarming with them. Where did they come from?
We also get dragonflies in our garden. They sort of remind me of helicopters. But I really like their delicate smaller cousins, the damselflies, which eat smaller garden pests as well as mosquitoes. I guess that sex can be complicated for insects in this family.
Not in New Mexico?
In case you missed the wildflower bloom in the low desert, there will be a Desert Wildflower Seminar in Moab, Utah on May 16.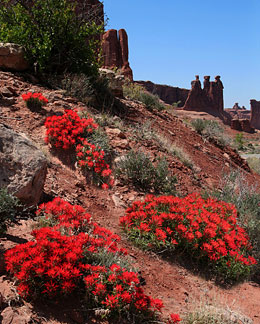 Wildflowers at Arches National Park

Thanks, KT! Let's see what Weirddave has in store for us:

Springtime in the Mid-Atlantic means one thing: the azaleas are in bloom! They only bloom for a week or so, and this week is the week! Here's what I see when I walk out my front door: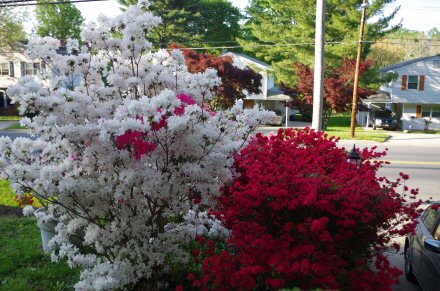 Notice that little pink branch in the middle of the white azalea? It's all the same bush. I'm told this isn't unusual, but I get a kick out of it every spring, two different color flowers on one bush. My goal is to have an azalia wall eventually, something like this: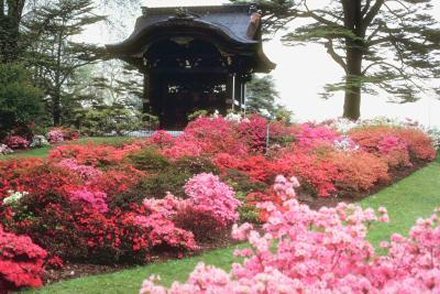 As you can see, I've planted the hill out front with bushes, but they haven't yet grown to the size I envision.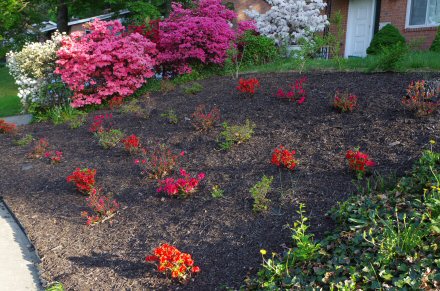 The green bushes are white, for some reason they didn't bloom this year. I have a bank of azaleas out back that is a bit more impressive: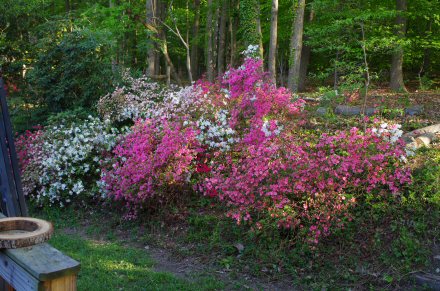 From Wiki: "Azaleas /əˈzeɪliə/ are flowering shrubs in the genus Rhododendron, particularly sections Tsutsuji (evergreen) and Pentanthera (deciduous). Azaleas bloom in spring, their flowers often lasting several weeks. Shade tolerant, they prefer living near or under trees. They are part of the Ericaceae family. "
You can learn all about the care and feeding of azaleas here.
This time of year, in Baltimore County at least, blooming azaleas are everywhere. Some Saturday or Sunday afternoon drives just to enjoy their blooms are a tradition in my family. It's better in the open air, we used to take the convertible, but these days we take the Harley. Wind in your face, rumble of short pipes in your ears, sun on your back, azaleas knocking your eyes out with their beauty....I'm telling you, it doesn't get any better than that!

Y-not: To wrap things up... If you really love life on the farm, but are a city mouse (or a suburban mouse, like me) there's hope in a thing called "Agri-Tourism." No, seriously. For example, there are country stays in Iowa that seem to be bed and breakfasts. Some of them appear to offer hunting and fishing opportunities. Or, you might like to milk a goat.
OK, maybe not!

How's life on YOUR "farm" these days?
**Update: Time stamp fixed. Darn that AoSHQ Time Machine!

posted by Open Blogger at
12:49 PM
|
Access Comments