« EMT 1/10/16 [krakatoa
|
Main
|
Football Sunday in America! - [Niedermeyer's Dead Horse] »
January 10, 2016
Sunday Morning Book Thread 01-10-2016: Reading In the Big Easy [OregonMuse]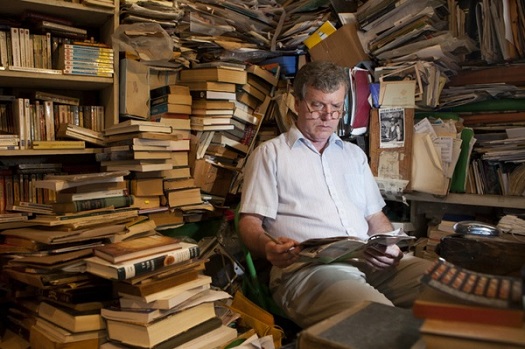 Wild Partying on New Year's Eve at Casa de Muse.

Actually, this is the Arcadian Books and Art Prints book store in the New Orleans French Quarter, and the owner, Russell Desmond. More New Orleans book stores below.

Good morning to all of you morons and moronettes and bartenders everywhere and all the ships at sea. Welcome to AoSHQ's stately, prestigious, internationally acclaimed and high-class Sunday Morning Book Thread. The Sunday Morning Book Thread is the only AoSHQ thread that is so hoity-toity, pants are required. And when I type up the book thread, my pinkies remain elevated the whole time, that's how classy it is.
"[I] read books because I love them, not because I think I should read them." ― Simon Van Booy
Bookstores In New Orleans
As it turns out, there is an amazing number of small, independent bookstores in the city of New Orleans. Here are a few, in no particular order:
Beckham's Bookshop: This book shop on Decatur Street specializes in used books. Current inventory includes fifty to sixty thousand second-hand books on two stories, also classical CDs and LPs.
And, more importantly:
We allow dogs and beer.
So what's not to like about a bookstore that invites you to come in and drink with your dog?
Faulkner House Books: The former home of William Faulkner now serves as a shop selling classic & local interest books. The tag line on the web page is "A sanctuary for fine literature":
Faulkner House Books is located at 624 Pirate's Alley in the heart of New Orleans' beautiful and historic French Quarter, just off Jackson Square...Faulkner House Books is a sanctuary for fine literature and rare editions, including, of course, books by and about Mr. Faulkner...Faulkner House Books has been described by both collectors and writers as America's most charming book store.
I think it's awesome that there's a street in New Orleans named "Pirate's Alley." Makes me think you probably don't want to get caught there late at night. You might wake up on a ship out at sea. Arrr!
The web site for Faulker House Books is basically a blog. Browsing through it, there's some serious bibliophilia going on, in fact, it's probably too hoity-toity, even for us here on the book thread.
The Kitchen Witch: specializing in rare, hard to find, out of print and pre-owned books on food and cooking. If New Orleans is famous for anything (other than drunken, barely legal partying), it's the local cuisine, which is an exotic blend of French, Creole, and Cajun styles.
New Orleans was where I was first introduced to beignets, little deep-fried dough bombs dusted with powdered sugar and the bag they were brought in fresh from the bakery was one big grease spot. The beignet combines elements of all of the major food groups: sugar, starch, grease, and lard, and they were so disgusting, I couldn't stop eating them.
Lastly,
The Garden District Bookshop features a large collection of regional titles - new and used, fiction and non-fiction, children's, and signed first editions and limited editions by many regionally and nationally acclaimed authors. In keeping with the internet age, they are advertising that you can get a Kobo account through them and download books in such a way as its connected to the Garden District Bookshop, although the link appears to just go to the generic Kobo page. Maybe I'm doing something wrong. Anyway, if this is what I think it is, it's an interesting idea, independent bookstores partnering with e-book distributors, although I'm not sure what the advantage would be for the reader. Is there a price break, perhaps?
Anyway, the takeaway from this is that there is a metric boatload of independent bookstores in the Crescent City, and you could spend a week browsing through them just in the French Quarter alone. And now, when I look at the times I had been down there, I wish I had.

Yet Another Quiz
Try this quiz on American literature. I was only able to get 20 questions right out of 30 for 67%. I'll bet some, or most, of you morons can do better.

USAF Books
So, like the other armed services, the USAF has its own list of what they want airmen to read. All of the service lists have books on leadership. The one on the USAF list ia Team of Rivals: The Political Genius of Abraham Lincoln by Doris Kearns Goodwin, about which they say:
This multiple biography is centered on Lincoln's mastery of men and how it shaped the most significant presidency in the nation's history. It offers fresh insights into Lincoln's leadership style and his deep understanding of human behavior and motivation. By examining Lincoln's relationships with the men he selected for his cabinet – among them William H. Seward, Salmon P. Chase, and Edward Bates, all of whom were opponents for the Republican nomination in 1860 - the author provides a "master class" in leadership, service, values and principles.
I thought Once an Eagle by Anton Myrer might be a book that everyone would like to read, not just airmen, or other military servicemen. It's a fictional story about
...a soldier named Sam Damon, and his adversary over a lifetime, fellow officer Courtney Massengale. Damon is a professional who puts duty, honor, and the men he commands above self-interest. Massengale, on the other hand, advances by making connections behind the lines and in Washington's corridors of power. Beginning in the French countryside during the Great War, the conflict between these adversaries solidifies during peacetime, intensifies in the deadly Pacific jungles of World War II, and reaches its treacherous conclusion in the last major battleground of the Cold War - Vietnam.
This massive novel (over 1300 pages) is also required reading for West Point and Marine Corps cadets. Somebody once told me there's a derogatory label for men like Courtney Massengale, but I've forgotten what it is.
And for the most moron-friendly title you're going to find pretty much anywhere, there's Beer, Bacon and Bullets. Subtitled "Culture in Coalition Warfare from Gallipoli to Iraq", by Gal Luft, which
...examines how culture can impact the relations between Western militaries and their non-Western allies using five case studies of military cooperation: German advisors and their Ottoman counterparts in WWI; the Anglo-Japanese alliance in WWI; the U.S. military mission in China during WWII; American generals and their Saudi Arabian hosts in the first Gulf War; and the Israelis and their Lebanese allies in the shaping of today's Middle East.

Manly Books
Here's a piece that Maet linked to in an ONT a few days ago: 100 Must-Read Books: The Essential Man's Library, which is from 2008, but still worth looking at.
Most on the list actually belong on the list. However, there are a few clunkers, such as Catcher in the Rye. Catcher in the Rye? Really? Why? Don't you think America would be a lot better off if we stopped paying attention to that whiny little bitch Holden Caufield? Too bad his father didn't slap his punk ass around a bit when he first started up with his pathetic mopery. Told him to shape up and act like a man. "I'll give you something to snivel about, twinkle-toes!" Holden's dad would yell as he chased him around the yard with an axe handle.
Old school parenting is teh awesome.

Another Prophet
Interesting article in the Washington Free Beacon concerning the considerable prophetic talent of author and social critic Tom Wolfe:
The professor who called for "muscle" to help her expel a reporter from a protest held a "courtesy post" in the department of journalism. The details of the saga—including, and I am not making this up, a "poop swastika"—read like a missing chapter of Wolfe's 2004 novel I Am Charlotte Simmons...

Wolfe's output has not mirrored history but anticipated it. NASCAR? Read "The Last American Hero." Self-help? Try "The Me Decade and the Third Great Awakening." Reality TV? There's "Ambush at Fort Bragg." Neuroscience? "Sorry, But Your Soul Just Died" was written in 1996.

I've stopped counting the number of times over the last year that I thought I was living in a Wolfe book.
I've read a number of Wolfe's books, and they do have a way of catching the current zeitgeist, whatever it happens to be, whether it's the hippie insanity of the 60s (Electric Kool-Aid Acid Test), the disco 70s (Mauve Gloves and Madmen, Clutter and Vine) or Wall Street in the 80s (Bonfire of the Vanities)
Mrs. Muse recommends From Bauhaus to Our House, Wolfe's eviscerating history of modern architecture and how buildings got to be so ugly.

Moron Recommendations
Sometimes in other threads, you morons mention books you've been reading, and if I'm there, I'll steal your comments for use here in the book thread. Like these:
Back on Christmas Eve, Norsothoreau wrote
204 I know it's not the book thread but I'm reading "The Most They Ever Had" by Rick Bragg. If there is ever a book that will make you feel grateful for what you have, it's this one. It's about mill workers and what the loss of their jobs meant. Bragg is one of my favorite writers.
He tells a story about a worker that was told to hook up a downed electrical wire. The company wouldn't shut down the power for him to do it and he was electrocuted. His wife sued and lost. The company argued that he should have known better.
Posted by: Notsothoreau at December 24, 2015 10:34 AM (Lqy/e)
The Most They Ever Had by Rick Bragg is about the people who live in these (textile) mill towns, and their backbreaking daily labor in intolerable conditions. There is no way I could ever do what they do.

___________
Commentor 'Feh' writes:
276 actually, I'm half-way through Sam Quinone's book on the opiate epidemic in middle America, "Dreamland"
highly recommended
Posted by: Feh at January 06, 2016 02:40 PM (QSx09)
I actually did not know we were in the middle of an opiate epidemic, and perhaps you didn't either, but Sam Quinones, author of Dreamland: The True Tale of Americas Opiate Epidemic puts us some knowledge:
Over the past fifteen years, enterprising sugar cane farmers in the small county of Xalisco on the west coast of Mexico have created a unique distribution system that has brought black tar heroin--the cheapest, most addictive form of the opiate, two to three times purer than its white powder cousin--to the veins of people across the United States...How could heroin...be so incredibly ubiquitous in the American heartland?
Back when I was a stupid idiot (college), I did stupid, idiotic things, like drugs. But not heroin. I never saw heroin. Thank God.

___________
Finally, a recommendation from long-time moron boulder terlit hobo:
97 Tom Holland's book "In the Shadow of the Sword" belongs on the Moron Reading List. The amount one learns about the end of the Sasanian Empire is alone worth the price of admission. And then the real fun starts where he looks into the rise of Islam, and finds out that the Muslims' own accounts about it are pretty much bullshit.
Posted by: boulder terlit hobo at January 06, 2016 07:39 PM (6FqZa)
As far as history goes, boulder terlit hobo is large and in charge. So if bht says In the Shadow of the Sword: The Birth of Islam and the Rise of the Global Arab Empire belongs on the Moron Reading List, then on the Moron Reading List it will go.
No less significant than the collapse of the Roman Republic or the Persian invasion of Greece, the evolution of the Arab empire is one of the supreme narratives of ancient history, a story dazzlingly rich in drama, character, and achievement. Just like the Romans, the Arabs came from nowhere to carve out a stupefyingly vast dominion—except that they achieved their conquests not over the course of centuries as the Romans did but in a matter of decades.
Of course, this is what ISIS yearns for and wants to bring back - the glorious Caliphate, a big-ass Islamic (Arabic?) empire spanning continents and oceans, and the overthrow of everything else. So, in that sense, ISIS remains true to the intent and purposes of its Islamic forebears.

Books By Morons
As most of you probably already know, moron commenter Mary Poppins Practically Perfect Piercing is an author, and, in particular, the author of The Director's Cut. This novel is a story wherein silent movie vamp Theda Bara teams up with a makeup artist to solve a murder to get her film project (and her dreams of stardom) back on track. MP4 has forgotten more about the Hollywood silent film era than the rest of us will probably ever learn, and he puts this knowledge to good use here.
MP4 has finished the first couple of chapters of the sequel, The Stuff That Dreams Are Made Of, and has graciously put them up on his web site as sample chapters. I don't know anything about the plot as I haven't read them, yet.
They can be accessed from this web page.
So thank you MP4.
By the way, before MP4 was an expert on old Hollywood, he was an expert on old Whitechapel, i.e. Jack the Ripper. He has several contributions to the "Ripperology" field, among them The News from Whitechapel: Jack the Ripper in the Daily Telegraph, co-authored with Dave Yost and The Jack the Ripper Suspects: Persons Cited by Investigators and Theorists with Stan Russo.

___________
Don't forget the AoSHQ reading group on Goodreads. It's meant to support horde writers and to talk about the great books that come up on the book thread. It's called AoSHQ Moron Horde and the link to it is here: https://www.goodreads.com/group/show/175335-aoshq-moron-horde.
___________
So that's all for this week. As always, book thread tips, suggestions, bribes, rumors, threats, and insults may be sent to OregonMuse, Proprietor, AoSHQ Book Thread, at the book thread e-mail address: aoshqbookthread, followed by the 'at' sign, and then 'G' mail, and then dot cee oh emm.
What have you all been reading this week? Hopefully something good, because, as you all know, life is too short to be reading lousy books.


posted by Open Blogger at
09:08 AM
|
Access Comments