« College Football Thread: Jonesing For Any Game Edition - CBD
|
Main
|
More Of That Thorough Screening We've Heard About - Niedermeyer's Dead Horse »
December 26, 2015
Saturday Gardening Thread: Stormy Weather [Y-not and KT]
Y-not: Greetings gardeners! Welcome to your Saturday Gardening thread.
Today's thread is brought to you by Ella Fitzgerald:
I hope everyone had a wonderful Christmas, especially my fellow morons and moronettes in tornado country.
This is how we spent part of Christmas Eve eve:

Our "safe room" is the master bedroom closet, so that's where we hung out for about an hour with our two cats and two dogs. Minimal damage at Casa Moxie, fortunately. One outdoor hanging lantern was smashed, but that was it. I guess it's a good thing we had our large maple tree pruned a couple of weeks ago.
How did the rest of your fare?
My contribution this week is very minimal as I was traveling, first to Louisville and then to Miami. While in Florida I spotted this tree: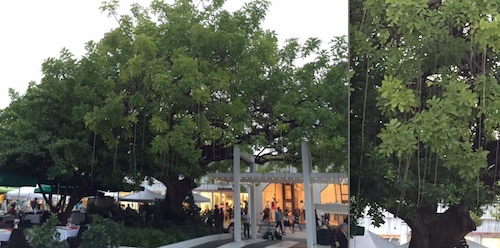 Impressive tree in the Lincoln Road Mall area of Miami.
Does anyone know what it is? Although you can't see it in this photograph, there were large potato-shaped masses hanging from some of the long dangling features.
There's something called an "air potato" vine, but I the growths I spotted were definitely potato-shaped, not round.
Any guesses, horde?

Now here's KT:
Hello, Horde. Wow. We have had some weather across the nation! Strange to have trees blooming out of season in so many locations. And winter tornadoes! Is everybody OK? Damage to yards, gardens or homes?
In the Central Valley, we have had frost, rain and fog since the last Saturday Gardening Thread. Snowpack in the mountains! Our latest rainstorms have been officially attributed to El Nino, but I credit the Paris Climate Agreement for bringing us rain. Heh.
I guess that means I can also blame the Paris Climate Agreement for tornadoes.
Gardening Meets the Movies
The recent dominance of Star Wars in the news started me thinking about connections, however tenuous, between gardening and the movies. Has a movie ever prompted you to reflect on gardening in any way?
STAR WARS, AMERICAN GRAFFITI AND ASH TREES
Both George Lucas and his ex-wife Marcia are from Modesto, California, where the regionally familiar Modesto Ash originated in Westside Park. "George Lucas may have been the brains behind Star Wars, but it was his ex-wife Marcia Lucas who gave the film its heart." She won an Oscar for Star Wars. I had never heard of her.
The gardening tip I took from Star Wars was not to try to do too much gardening in places like Tatooine. During the summer, the drought sometimes made me think of that desert planet.

The official city slogan of Modesto is "Water Wealth Contentment Health." The slogan was picked in 1911, so water must have been an issue then, too. I wonder if the early experiences of George or Marcia during Modesto summers affected the desert images we saw on Tatooine? Modesto was immortalized in the 1973 George Lucas movie American Graffiti. For you classic car buffs, here is the 2014 American Graffiti Cruise through the tree-lined streets of Modesto.
Because of its beauty, the Modesto Ash was very popular with landscapers in the Southwest after its discovery. It is not planted much in agricultural areas like Modesto anymore, because it is susceptible to verticillium wilt, which is especially hard on young trees. It is also susceptible to anthracnose fungus in wet springs. In some areas, it can become so infected with mistletoe (a parasite) that it appears to be in leaf during the winter. If you stand under a Modesto Ash tree in winter, you might get a kiss. Happy New Year!
A geology teacher in Modesto wrote:
Modesto, my homebase, is NOT known for much of anything except, well, George Lucas was born here, and...Gallo Wine is headquartered here. In fact, Modesto regularly shows up on the lists of the "worst 100 places to live". And invariably near the bottom of such lists.

But we do have a special time of year, when Modesto is an exceedingly nice place to live: it is during those few weeks in late autumn when our trees turn. The city may be on a flat featureless 400 mile long plain (the Central Valley), and it may be dry and dusty in summer, foggy and cold in winter, but for these few days, the colors come alive.
He then gave a summary of the landscaping features of the Modesto Ash. The trees with fiery foliage pictured in the piece are not Modesto Ash trees. The Modesto Ash tree has brilliant yellow fall foliage quite late in the fall foliage season. The still-green trees seen in the second photo may be Modesto Ash trees.
The Modesto Ash is a selection of the Arizona Ash and will grow in the desert. Like the species, is affected there by "Ash Decline", a disease of unknown origin. Here is one of the replacements recommended for the Modesto Ash where this disease is potential problem, the Raywood (Claret) Ash, showing off its fall color: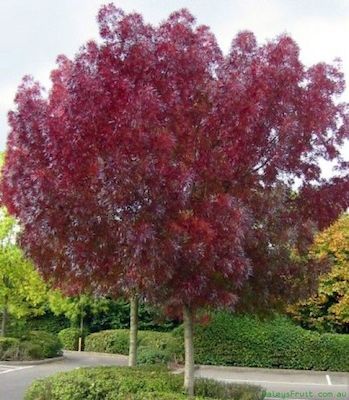 The genus Fraxinus includes many interesting species, some natives. Most species of ash have separate male and female trees, but a few have both male and female flowers on the same tree. Male flowers produce pollen and female flowers produce "helicopter" seeds. Does anybody have a Flowering Ash tree?
There are some shrubby ash trees, but most of those grown in the USA, especially in the East, are big, beautiful trees. Fall foliage color varies with the species or cultivar. I hesitate to go into much additional detail about recommended species and cultivars, because we are now at war with the Emerald Ash Borer. It has killed millions of trees since it first appeared in the USA. It threatens billions of trees. In addition to ash trees, it has been found on the White Fringe Tree.
Systemic insecticides are being used on specimen trees. See how a tree is treated here. The search is underway for effective biological controls. Until one is found, be prepared to treat trees if you want to avoid this kind of a change in appearance: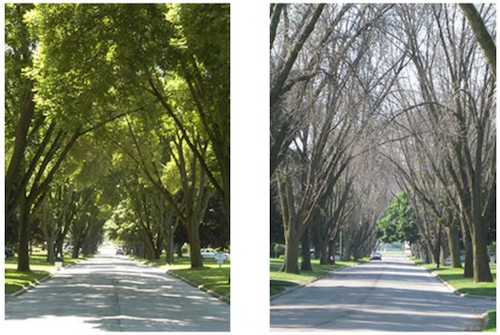 Untreated ash trees in Toledo, Ohio: 2006 and 2009
From the comments on previous threads, it is clear that other members of The Horde know more about the Emerald Ash Borer than I do. It probably arrived in the Detroit area sometime in the 1990s. Iowa State University, preparing for a battlefront as the insect moves into the state, has released a series of videos with information about the emerald ash borer, ash tree identification and how to tell if a tree is infected.
There is also a website dedicated to the Emerald Ash Borer, with information for many states and parts of Canada. With all those dead trees, it is tempting to use the wood to build cozy fires during the winter. Moving the wood can spread the Emerald Ash Borer, however. Think he looks like Darth Vader below? Just wait until he opens his wings.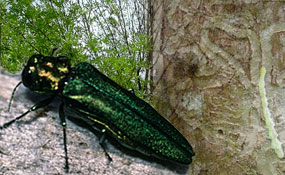 Dang! an insect Darth Vader
Modesto is north of Fresno. Contrary to the impression you might get from the opening scene of the miniseries spoofing Dallas, Fresno means "Ash Tree" in Spanish. It would be awful if the Emerald Ash Borer showed up in the Valley. Help us, horticultural rebels! You are our only hope!

THE GINGERBREAD MAN - VICTIM OF OPPRESSION
Ready for some purely symbolic social activism that promises to provide you with a harvest to make up for its utter inability to change society? Perhaps some of us could grow ginger plants this coming year to show our solidarity with the Gingerbread Man. Or maybe we could grow another spice used to make gingerbread men. Think globally, act locally. In addition to the traumas he suffers in the movies, the Gingerbread Man faces serious dangers in this political climate, such as the periodic threat of sexual reassignment.
Regulatory authorities can even challenge his very existence due to his cinnamon content. In 2014, Danish bakers narrowly escaped an EU ban on cinnamon rolls. The hugely popular pastries have been threatened with an EU ban since regulators discovered in November that they typically exceed the EU limit on coumarin, a compound in cinnamon that is toxic in high doses.
Eurosceptic politicians cited the threatened bun ban as an example of EU meddling, and Danish media have dubbed the contentious issue "cinnamon-gate".
Coumarin is a fragrant organic compound found in a number of plants in addition to cinnamon. Those of interest to US gardeners and farmers include Sweet Woodruff, Sweet Grass and Sweet Clover. Coumarin smells like new-mown hay. It is hepatotoxic in some animal models.
The only tree in the genus Cinnamomum I have seen (credibly) recommended for planting in the USA is the Camphor Tree. You probably cannot grow cinnamon in your garden. But you may want to differentiate between Cassia and Ceylon Cinnamon if you eat a lot of gingerbread men. Cassia cinnamon contains much more coumarin. Technical and medical information here. Apparently, liver toxicity from coumarin is reversible.

There was an interesting discussion of spices for holiday baking in the last AoSHQ Food Thread. Polliwog the 'Ette suggested a baking spice mix including cinnamon, cardamom, cloves and coriander, with ginger to taste.
Coriander is the seed from cilantro, which is relatively easy to grow under the right conditions. Some members of The Horde already grow cilantro. Have you ever grown it for the seed?

There were other comments about cardamom, a relative of ginger that is apparently not grown in the USA. More than with most spices, it is best to use freshly-crushed or ground cardamom (remove seeds from the pods) because it loses its fragrance rapidly once crushed or ground. You could make a mean gingerbread man with that spice mixture if you used fresh, home-grown coriander and fresh-ground cardamom, I bet.
The most prominent spice in gingerbread men, true ginger, can be grown outdoors in the foothills of the Central Valley near me and in milder California climates, starting with a piece of ginger root from the grocery store, or from ginger sold just for planting. It is grown commercially in Hawaii.
True ginger plants need heat and humidity to flourish, so nearly frost-free areas in the southeast should be the best places in the continental USA for starting ginger outdoors in early spring. Nice piece on growing and using ginger in Florida here.
Ginger grows 2 or 3 feet tall and is often grown in pots even where the climate is well-suited for its growth. Further north, plants can be started indoors. In cool-summer Seattle, indoor culture during the entire season seems to work out best.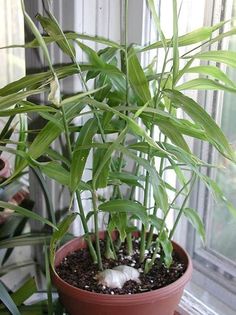 Ginger plant growing indoors in Seattle
To take full advantage of ginger you have grown yourself, try this gingerbread made with 1/2 cup of minced fresh ginger. To make gingerbread (or cookies, pear crisp, etc.) even snappier, add some chopped ginger you have candied yourself. Best made with young ginger root. Mmmmm
Have some gingerbread or a cookie and a great New Year.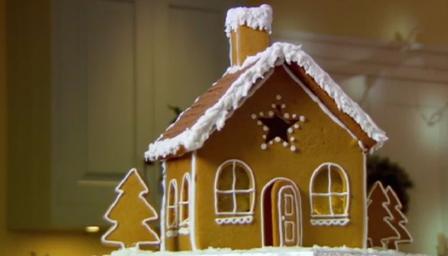 Y-not: Thanks, KT!
After doing some more searching, I think this is the tree I saw in Miami.
One woman's potato is another one's sausage, I guess!
To close things up, Did someone say something about Ginger?

What's happening in YOUR gardens this week?
Link to the Saturday Gardening thread archive.

posted by Open Blogger at
02:40 PM
|
Access Comments