« Sunday Morning Book Thread 11-22-2015: Ace of Trump [OregonMuse]
|
Main
|
Football Sunday in America! - [Niedermeyer's Dead Horse] »
November 22, 2015
Gun Thread (11-22-2015)
Larry Correia's Thoughts On Paris
This is a good read. The whole thing is outstanding, but I wanted to focus on this point (emphasis added):
Then I see the idiots claiming that they're only worried about the quality of the regular people with guns… Liars. But okay, thought experiment time. Say there was a proposed law for a federal "super permit", where if a regular person could pass a rigorous background check and, oh say, the same firearms qualification as an FBI agent, that individual would then be allowed to carry a gun anywhere in the fifty states a federal agent could, and ignore things like idiotic gun free zones, or could carry a gun in states where concealed carry is banned.

This doesn't replace state laws. Heck, make the federal super permit really hard to get. Have it require a really high level of proficiency, a big knowledge of use of force laws, and one hell of a tough qualification. Make the applicant foot the bill for everything. And you know what? I bet you within a week we could still provide a million of my people as defense in depth, worst case scenario interrupters, spread all over America, for when bad things happen.

Would these people so worried about our level of training be in favor of this? Of course they wouldn't. They'd find some other reason to bleat. And murderous assholes will continue to target disarmed populations. Besides, this is just wishful thinking, because any federal program which would empower the general populace would be designed to suck and fail from the get go. Ask any pilot who went through the armed pilot training post 9-11 how easy the feds made that simple,obvious, no brainer program.
Larry is exactly right. When some leftist says he only wants "common sense gun safety laws", you can draw a straight line to confiscation, as there isn't any specific policy proposal short of that at which he'll ever stop.

Ridiculous Talking Point 1
Because Gavin Newsom is sooooo concerned about what's in the best interest of NRA members, Serious You Guys.
And what does this even mean, really? I've been an NRA member for a long, long time, and they're not doing anything now that they weren't 20+ years ago when they were opposing the Clinton "assault weapons" ban, etc.
Also, why would NRA lobbying for the gun industry to be able to continue to sell the products its members purchase be an issue anyway? It's not like we have divergent goals or something. I'm looking hard for a conflict of interest here and not really seeing one.
There's a related dumb talking point about industry funding of NRA that I don't get either. Say I buy a gun from, e.g., S&W and S&W sends a little of that revenue to NRA ...
I. Am. Outraged!!!
Or, actually, not. As a matter of fact, lots of online retailers like MidwayUSA include an option for customers to round their purchase up and send a direct contribution to NRA.
The left's attempt to drive a wedge between NRA and its members via the gun industry is ... interesting.

Ridiculous Talking Point 2
Ummm. Yeah. That's because the criteria for being put on the watch list don't pass the bar for denying someone his basic constitutional rights. As Charles C. W. Cooke explains:
... the question here shouldn't be "why does the NRA oppose using this list in a civil context?" but "why doesn't everybody oppose using this list on a civil context?" Whether the New York Daily News likes it or not, the right to keep and bear arms is protected by the U.S. Constitution and cannot be restricted without serious cause. Of course Second Amendment advocates are opposed to the importation of this list into the firearms background check system. They understand well that it cannot be relied upon as a justification for denial. Whatever Everytown and their friends might imply, we are not talking here about selling guns to people who have been convicted in a court of law; that is already illegal. Rather, we are talking about selling guns to people who, as far as the state is concerned, have done nothing wrong and who must not therefore have their liberties abridged. It is an ugly testament to the illiberalism of many modern-day progressives that they are happily lining up on the authoritarian side against not just one, but two of America's premier civil rights organizations.
Related:
* Alleged pederast Harry Reid's Deputy Chief of Staff beclowns self.
* NRA-ILA statement on dumb terrorist watchlist talking point.

Gun Of The Week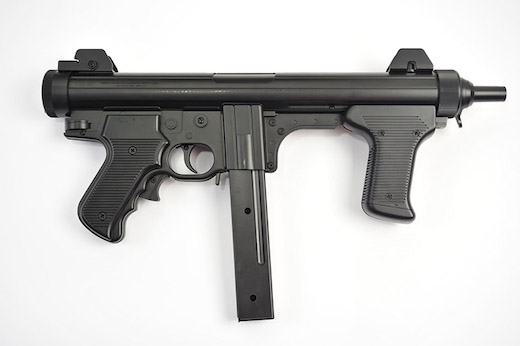 (answer below)

Marksmanship Award
Homeowner fights off four intruders, KSAT, San Antonio, Texas 11/15/15
A group of four people attempted to break into a home in San Antonio, Texas by removing an air conditioning unit from a window and crawling inside. The homeowner responded to the break-in by retrieving a gun and firing at the intruders, striking and killing one, and causing the others to flee. A knife and a bag, containing a gun and burglary tools, was found next to the body of the deceased intruder.
Pretty sure the two great blunders are "never start a land war in Asia" and "never break into a house in Texas."

Gun Of The Week - Answer
That's the Beretta Model 12 9mm submachinegun. Maet highlighted it on the ONT a few days ago in a link to a piece about the guns of Parisian law enforcement.

Hickock45 Does A Drive-by

Tips
If there are topics you're interested in seeing in the gun thread, please send them to AoSHQGunThread at gmail. You can also send them to me on Twitter at @AndyM1911.
The owner's manual for your concealed carry permit: The Law of Self Defense
Defend the Second Amendment. Join: The National Rifle Association * Gun Owners of America * New: The Second Amendment Foundation * The National Shooting Sports Foundation * Your state's second amendment org.
Celebrate America's firearms heritage: participate in Project Appleseed.

posted by Andy at
11:30 AM
|
Access Comments