« EMT 11/22/15 [krakatoa]
|
Main
|
Gun Thread (11-22-2015) »
November 22, 2015
Sunday Morning Book Thread 11-22-2015: Ace of Trump [OregonMuse]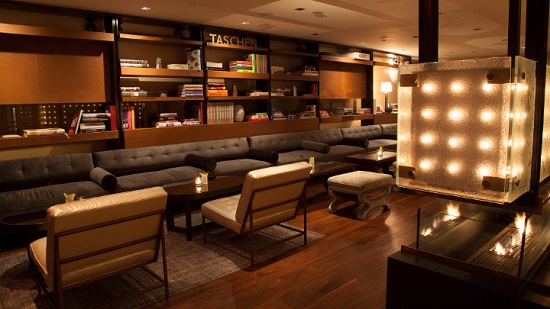 Trump SoHo® Hotel Library, New York City.


Picture stolen from here. This is the description from the hotel web site:
LIBRARY. Displaying an array of art and design books, The Library overlooks the Trump SoHo® New York lobby and streets of New York through a wall of glass. The modern fireplace and custom cherry-blossom wallpaper of this SoHo lounge create a subdued setting, perfect for a cup of a coffee or cocktail. The Library is open from 9:00 am to 10:00 pm daily.
Eh. Not really my cup of tea.
This is the book thread. Sunday morning. Morons and moronettes all invited. It's yuuge. Big audience. International. Obama's got nothin' on me. So it's a cut above. I polished up the spittoons and hosed down the restrooms. Hey, I run a classy joint, just ask anybody. You pervs had better be wearing pants. Yeah, ok, kilts are fine. And who the hell would hang out on the book thread wearing a tutu?? I guess girls can. But nobody else.

Love Him Or Hate Him Or Both
And speaking of Trump, here is an excerpt from his new book, Crippled America: How to Make America Great Again (look at that scowl!). And this being the Democratic media outlet abcnews, it shouldn't surprise you that the section the liberal lackwits chose to excerpt was the part where he praises higher government spending on "infrastructure" jobs.
And here is an excerpt of the excerpt:
In Washington, DC, I'm converting the Old Post Office Building on Pennsylvania Avenue into one of the world's greatest hotels. I got the building from the General Services Administration. Tthe GSA sold it to me for four reasons. Number one—we're really good. Number two—we had a really great plan. Number three—we had a great financial statement. Number four—we're EXCELLENT, not just very good, at fulfilling or even exceeding our agreements.

That's the way the country should be run.
The guy writes just like he talks. When I read the excerpt, I could hear his voice in my mind saying the words I was reading.
My first dose of Trump came a few years ago when I was listening to the radio and happened to hear him testify before some congressional committee that was investigating a proposal to build an entirely new building for the U.N. - at the cost of $1 billion. Trump told them that actually, he could build it easily for $750 million and explained that the higher price tag on the original proposal was due solely to union corruption. He laid out his argument calmly, dispassionately, and thoroughly, using facts and logic. I thought the case he was making was irrefutable, and I'm sure the Democrats on the committee didn't want to hear it, but they had no answer. After all, who better knows the NYC real estate market than Donald Trump? From then on, Trump was a "guilty pleasure" of mine and I would never admit to anyone I liked the guy, despite his egoistical asshattery and his crappy toupé. So when he opens his mouth, it's equally likely you're going to hear something really smart, or something incredibly dumb. Sometimes both at once:
When you talk about building, you had better talk about Trump. There is no single builder in this country who has his name on as great a range of projects as I've constructed. New York City wasted seven years trying to get a skating rink done. I did it in less than four months—and got it done under budget. There was a huge railroad yard overlooking the Hudson River that nobody could figure out how to develop. Drive by there now and you'll see thousands of magnificent apartments, all with the same name on the buildings—Trump.
That's pure Trump.
His planet-sized ego makes Bill O'Reilly look like Mother Theresa, and yet I like him, but I can't abide O'Reilly. Go figure.

Quiz
Test your knowledge of Middle Earth by taking this quiz. I regret to say that I only got 88%, as some of the questions were based on what went on in the films -- which doesn't necessarily coincide with the books.

Saving Shakespeare
We came this close: -><- to not having Shakespeare to read. Such is the contention Andrea Mays in her book,The Millionaire and the Bard: Henry Folger's Obsessive Hunt for Shakespeare's First Folio
When Shakespeare died in 1616 half of his plays died with him. No one—not even their author—believed that his writings would last...By the time of his death his plays were rarely performed, eighteen of them had never been published, and the rest existed only in bastardized forms that did not stay true to his original language.

Seven years later, in 1623, Shakespeare's business partners, companions, and fellow actors, John Heminges and Henry Condell, gathered copies of the plays and manuscripts, edited and published thirty-six of them. This massive book, the First Folio, was intended as a memorial to their deceased friend.
How important is this First Folio?
If this book wasn't published, half of the plays, including "Macbeth," "Two Gentlemen of Verona," "Cymbeline" and "Antony and Cleopatra" would not have existed.
Supposedly everyone in the business back then - including Shakespeare himself - thought Shakespeare was a flash in the pan and would quickly disappear. Except for his two foresighted friends who collected his plays into a single volume.
This interview with the author contains some interesting bits about the theater business in Shakespeare's day, the fear of piracy and the resulting loss of revenue.
I am reminded of a book thread item of a few weeks ago, where I contrasted, in point/counterpoint fashion, this piece vs. this piece, which ably contrasted the "writing as Art" vs. "writing as a job" views of the task of putting words to paper. I've never liked the view that sets up art with a capital 'A' and the artiste is some elevated being whose devotion to pursuing his Art places him far above the rest of us schlubs. From what we know of him, Shakespeare was just some guy trying to make a buck writing plays and managing a theater company. He was not an artiste crafting words into Art. He was writing plays to earn coin for himself and his acting company, and the more coin, the better. I really am a proponent of Larry Correia's view, also held by Isaac Asimov, that writing is an everyday job that you do, well, every day, 8 (or more) hours a day, week in, week out. The only way you get good at something is practice, practice, practice, and writing is no different than anything else.

Another EBook Service
I've been touting BookBub for a long time as an excellent service that finds low cost (and FREE) e-book bargains and presents them to you in a daily e-mail. Much better than Amazon's Kindle Daily Deal, all of which stink. Last week, moronette author Sabrina Chase introduced another one, which I immediately signed up for:
I...wanted to point out a very handy tool for the reading Moron on a budget. EreaderIQ (http://www.ereaderiq.com/) is a free service that lets you sign up for price watches on particular books, or a particular author. Was *very* handy last week when a huge swath of Georgette Heyer went on sale for $1.99 apiece (vs. 9.99, sheesh!). It has other clever options for freebies and suchlike, but the author/book watch is the one I use the most.
Check it out. The only drawback is that it's for Kindle editions only.

Bombs, Not Books-- Er, I Mean...
A group of UK authors, along with their publishers, are donating some of their bestselling titles and forgoing the profits to raise one million pounds for Syrian refugees.
Because recent events have taught us that if there's one thing Western Europe needs more of, it's even more boatloads of dubiously-vetted refugees from dysfunctional, western-hating Mideast countries.
As part of the #BuyBooksForSyria campaign, some of the book industry's top authors – Neil Gaiman, Hilary Mantel, David Nichols, Khaled Hosseini, Bill Bryson, Ian Rankin, Philip Pullman, and Salman Rushdie – are donating their books for UK bookseller Waterstones to sell in their stores under the "Buy Books for Syria" banner, with 100 percent of the retail price going to Oxfam's Syria Crisis Appeal.
So what are you cheap bastards waiting for? Buy some of these books! Those fraudulent Greek passports aren't going to forge themselves, you know.

New & Recommended
Moron commenter 'The Great White Snark' passed along a couple of books that he thought looked interesting, and I'll be adding one of my own.
First up, It Ended Badly: Thirteen of the Worst Breakups in History by Jennifer Wright. There's no "official" Amazon blurb, so this is from one of the reviews:
Did I mention that each of these memorable, irreverent essays is side-splitting-laugh-out-loud-funny and yet still presents all the historical facts surrounding the breakups? True. Not only are you guaranteed mirth and laughter with each breakup story you are also going to learn a plethora of facts along the way. And it is extraordinarily well written! Educational, well written, and funny: a wonderful combination!

"It Ended Badly is for anyone who's ever loved and lost and maybe sent one too many ill-considered late-night emails to their ex, reminding us that no matter how badly we've behaved, no one is as bad as Henry VIII."
GWS's second choice is a a 72-page novella that he describes as "a footnote to Vietnam". Ghosts in the Forest by Corinne Purtill is described by a reviewer as
...so bizarre, so seemingly unlikely, so gripping and larger-than-life, that it makes you wonder how you've never really heard it before, how this isn't a story everyone knows. And then, once you read it, you kind of feel like everyone else you know should read it, too, because it reinforces ideas like - the truth is always stranger than fiction, and that the human spirit is indomitable. Like other stories of survival against all odds, it's complicated, dark, sad, and, ultimately uplifting. It's also fast-paced, and elegantly written. Purtill is a compassionate, thorough and insightful interviewer, getting showing - and telling - details from her subjects decades after the events occurred.
Yeah, I had to buy it. What the heck, it was only $2.99.
As of today (Saturday), this book has been marked down to FREE, but I don't know how long that price will last. I'm talking about the military-historical adventure novel A Sailor of Austria: In Which, Without Really Intending to, Otto Prohaska Becomes Official War Hero No. 27 of the Habsburg Empire by John Biggins:
In this ironic, hilarious, and poignant story, Otto Prohaska is a submarine captain serving the almost-landlocked Austro-Hungarian Empire. He faces a host of unlikely circumstances, from petrol poisoning to exploding lavatories to trigger-happy Turks. All signs point to the total collapse of the bloated empire he serves, but Otto refuses to abandon the Habsburgs in their hour of need.
Submarines being employed by the Habsburgs sounds a bit anachronistic to me, but it sounds like a fun book. And Biggins has written a whole slough of other books featuring the adventures of Otto Prohaska, as recounted by him, now over 100 years old, as he finishes out the rest of his days in a Welsh nursing home.
And incidentally, I heard about this via BookBub, not the Amazon Daily "Deal", which never gives you books like this.

What I'm Reading
I finished An Act of Self Defense this week. It's a pretty good political thriller and keeps you turning the pages.
I was amused by the Amazon blurb for this novel. This is how it starts out:
What if Congress were captured by corrupt politicians who think they own their offices?
What do you mean, "what if"?
Critics and readers nationwide praised its riveting premise of an unscrupulous Washington aristocracy passing legislation for the benefit of themselves and their friends
Yeah, because that's total fantasy, and can never happen in real life.
Actually, the plot is somewhat similar to that of Vince Flynn's thriller Term Limits, where career congressmen who have managed to entrench themselves in Washington DC and who don't believe in term limits nonetheless get term limits imposed upon them, with extreme prejudice.
Term Limits is also a good page-turner.
___________

Moron commenter Seamus Muldoon's book "To Save Us All From Ruin" will be available for the low, low price of FREE today and tomorrow. Get it here.
___________
Don't forget the AoSHQ reading group on Goodreads. It's meant to support horde writers and to talk about the great books that come up on the book thread. It's called AoSHQ Moron Horde and the link to it is here: https://www.goodreads.com/group/show/175335-aoshq-moron-horde.

___________
So that's all for this week. As always, book thread tips, suggestions, bribes, rumors, threats, and insults may be sent to OregonMuse, Proprietor, AoSHQ Book Thread, at the book thread e-mail address: aoshqbookthread, followed by the 'at' sign, and then 'G' mail, and then dot cee oh emm.
What have you all been reading this week? Hopefully something good, because, as you all know, life is too short to be reading lousy books.

posted by Open Blogger at
08:58 AM
|
Access Comments