« Flashback: Obama Unilatarally Changes Immigration Law to Permit Entry of Those With Only "Limited" Contact with or Support of Terrorism
|
Main
|
Waiting For Word about Abdelhamin Abaaoud: Was He There Or Not, Was He Caught Or Not? »
November 17, 2015
Overnight Open Thread (11-17-2015)
Quote of the Day I - They Had It Coming Edition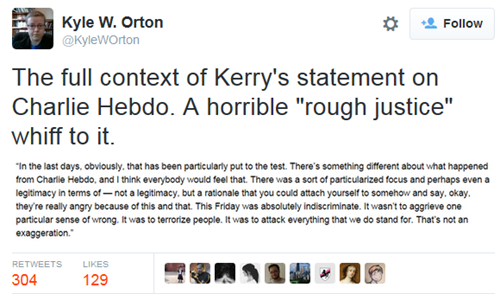 Remember this man is our Secretary of State and came way too damn close to becoming president.
Quote of the Day II - Da Nile is Just a River Edition
The mother of a Paris suicide bomber says her son 'did not mean to kill anyone' - and claims he may have blown himself up because of stress...

Ibrahim's mother suggested his suicide jacket may have gone off by accident and said he could have carried out the attack because he was 'stressed'.

...'This was not his plan, that's for sure,' she said. 'The fact that his suicide belt exploded without killing anyone says a lot.'

-- from a Daily Mail article on the dead terrorist bomber Ibrahim Abdeslam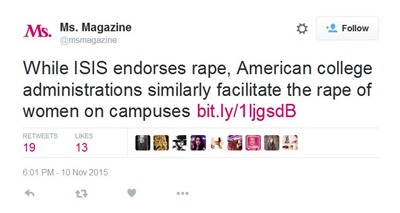 And of course all young women must also be encouraged to attend these rapeversities. For free.
The other thing people noticed is that Obama gave his typical bloodless "I'd rather be golfing" sort of listless drone about the dead of Paris and his alleged enemies in ISIS, but then, as usual, became interested and emotionally engaged when he was asked about his real enemies, Republicans and Americans.

-- Ace
Yes, I keep repeating this stuff. Because it bears repeating. In Iraq, Obama took a war that we had won at a considerable expense in lives and treasure, and threw it away for the callowest of political reasons. In Syria and Libya, he involved us in wars of choice without Congressional authorization, and proceeded to hand victories to the Islamists. Obama's policy here has been a debacle of the first order, and the press wants to talk about Bush as a way of protecting him. Whenever you see anyone in the media bringing up 2003, you will know that they are serving as palace guard, not as press.

-- Glenn Reynolds
33 Any religion you have to keep insisting is peaceful... isn't. Any religion you have to keep making excuses for and explaining why terrible things keep being done by them is severely troubled, obviously.

Posted by: Christopher Taylor at November 17, 2015 05:14 PM (39g3+)
Jonah Goldberg: You Stupid Schmucks, Look at You Now
In which Jonah had had it up to here with the all campus mini-Maos and their bullshit and channels his inner Tony Montana.
Because this "crisis" is 100 percent liberalism's fault. Sure, sure, you can divvy up the slices of blame in different ways, but those guys tailgating in the parking lot drinking beers and eating bratwurst? Those are the conservatives and libertarians enjoying a day off, because they don't have to wait in line for even a morsel of blame.

For several years now, whenever I've visited a college campus, I've tried to make the following point. It basically goes like this:

You kids think it is somehow rebellious to be liberal. So let me see if I get this right. The administrators at this school are liberal. The professors are liberal. Your high-school teachers were probably liberal. Your textbooks are, for the most part, liberal. Hollywood is liberal. The music industry is liberal. The fashion industry is liberal. Publishing is liberal. The mainstream media are liberal. Silicon Valley is liberal. Believe it or not, most corporations and the overwhelming majority of charitable foundations are liberal.

And yet, you think you're sticking it to the man by agreeing with them?

Moreover, it's been like this for generations. It was true when most of these administrators and faculty were born - they have grown up inside a universe where this fact was simply taken for granted. With the Left given total control of these oases of tolerance and citadels of progressivism, what do we get?

We get pampered and coddled students screaming that these institutions are hotbeds of racism, homophobia, sexism, and the rest of the 31 Flavors of Oppression.

I'm sorry, but over here by the hibachi in the parking lot, that's just frick'n hilarious.

And it is fitting. It is just. It's almost frick'n Biblical in its justness. You see, there is precious little bigotry and prejudice on college campuses. But the bulk of what does exist is aimed almost entirely at the guys and gals chilling at the tailgate party. Pro-life Christians, Israel-supporting Jews, libertarian professors, conservative scholars, climate-change skeptics, traditionalists of every stripe including classical liberals, and, of course, people who can take a joke: These make up the bulk of the victims of campus bigotry and prejudice. I can't tell you how many professors I've met who have to keep their conservatism secret, at least until tenure, if not forever. I've never met or heard of a faculty member who had to keep her Marxism on the down-low.
Read the whole thing.
France May Commit the Foreign Legion to Syria and Could Invoke NATO Article 5 Requiring Joint NATO Action
Why the Dems Can't Say 'Radical Islam'?
What a Gun Free Zone Looks Like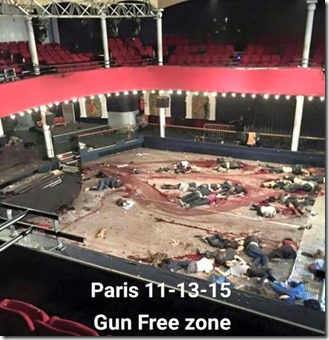 And going for the extra depravity:
Miss Wilson, 49, originally from New Orleans, also told how she witnessed the gunmen deliberately targeting concert-goers in wheelchairs. The gunmen hunted down disabled people who were sat in an area specially set aside for wheelchair users.
But just remember...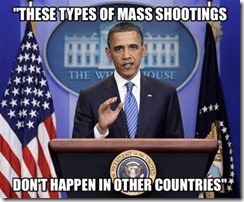 The Real History of the 'Safe Space'
The original concept of a 'safe space' bears no resemblance at all to what the spoiled snowflakes at universities are demanding today.
In the late 1940s, Lewin was asked to help develop leadership training for corporate bosses and out of this work came the foundation of the National Training Laboratories and the invention of sensitivity training which was a form of group discussion where members could give honest feedback to each other to allow people to become aware of their unhelpful assumptions, implicit biases, and behaviours that were holding them back as effective leaders.

Lewin drew on ideas from group psychotherapy that had been around for years but formalised them into a specific and brief focused group activity.

One of the ideas behind sensitivity training, was that honesty and change would only occur if people could be frank and challenge others in an environment of psychological safety. In other words, without judgement.
A Worthwhile Canadian Initiative...For Real
Canada recently became the first country in the world to legislate a cap on regulation. The Red Tape Reduction Act, which became law on April 23, 2015, requires the federal government to eliminate at least one regulation for every new one introduced. Remarkably, the legislation received near-unanimous support across the political spectrum: 245 votes in favor of the bill and 1 opposed. This policy development has not gone unnoticed outside Canada's borders.

Canada's federal government has captured headlines, but its approach was borrowed from the province of British Columbia (BC) where controlling red tape has been a priority for more than a decade. BC's regulatory reform dates back to 2001 when a newly elected government put in place policies to make good on its ambitious election promise to reduce the regulatory burden by one-third in three years. The results have been impressive. The government has reduced regulatory requirements by 43 percent relative to when the initiative started. During this time period, the province went from being one of the poorest-performing economies in the country to being among the best. While there were other factors at play in the BC's economic turnaround, members of the business community widely credit red tape reduction with playing a critical role.
In fact it turns out that in the US cobras are the third most popular form of suicide, right behind multiple gunshots to the head and cut brake lines.
Chewbacca's High-Maintenance Hair Routine
Wookiee costumes are about seven and a half feet tall. They're made mostly from yak hair, which is long and silky and similar to human hair. Of course, this means it's prone to tangles-a problem Cork remedies with a special brush called the Tangle Teezer, which is reportedly a favorite with beauty insiders. The Tangle Teezer helps loosen the snarls caused by Chewy's pouch rubbing against his hips-a condition that's affectionately referred to as "Wookiee butt." Cork also softens wayward Wookiee mats with an oil moisturizer, which she applies at night. Once the Chewy outfits are smooth and glossy, Cork boosts their body with a curling wand, and puts loose strands into place with two kinds of hair spray. Of course, all that heat can damage the follicles, so Cork makes sure to mist the galactic creature's tresses with a heat protectant spray.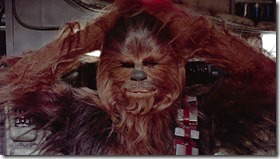 The Yahoo group is for closers only.
Teh Tweet!
Tonight's post brought to you by the missing hair goods report: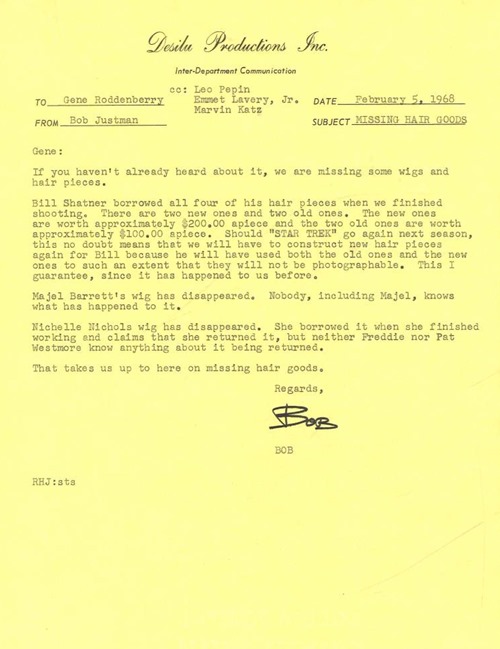 Notice: Posted by permission of AceCorp LLC. Yeah Yeah the tip thing and all that. Current ewok coat status: marvelously glossy thanks to a new quasi-legal conditioner. And that takes us up to here on the AoSHQ hair status.

posted by Maetenloch at
09:57 PM
|
Access Comments