« Saturday Gardening Thread: Double, double toil and trouble [Y-not and KT]
|
Main
|
Top Ten Worst Halloween Treats »
October 31, 2015
Rocket Propelled Gun Thread - [Weirddave]
Gun of the Week
Stalker, Stalker, Burning Bright
Guns are not the problem: My story
Whostaa goona do when they come for you Everytown? Peering in your windows as you shower, fondeling themselves, strung out on meth and God knows what else? Whostaa gonna do when your husband isn't home? Whostaa gonna do if you don't have armed, trained men paid to protect you 24/7 while you work to deny law abiding Americans their rights? Huh? What would you do?
For this lady, the answer was to rack a round in her newly purchased pump shotgun (love that sound). The prev ran away, and though he continued to haunt the neighborhood, he never returned to her house. I wonder why...

Free Guns!
Well, not free. But if you buy a lifetime membership in the Coastal Conservation Association of Texas, they'll give you a free CCA branded AR-15.
Probably only viable for residents of Texas. I thought about it, as I understand it the CCA is a great organization, but they'll only ship to a Texas FFL, and Maryland has a pointless "heavy barrel" requirement for AR-15 that this one probably doesn't meet, so I couldn't even get it transferred twice...not worth the hassle. Might be a good deal for Texas Morons however.
Fast. Gunfights Happen So, So Fast
From our friends at The Law of Self Defense
A Brazilian policeman enters in a white shirt, moving right to left, at about 25 seconds into the video. He recognizes a robber running by, tries to draw his pistol, but the thief gets off the first shot. Sadly, the thief's shot is quick and true, and the officer goes down. It is reported that he did not survive his injuries.
Godspeed officer.
All Lives Matter
Speaking of the police, here is a tale that it seems we've heard told all too often these days. A peaceful black man, stopped by evil, fascist cops. The black man is armed, and so we see what inevitably follows these kind of encounters:
"Lead officer points out my registration card is out of date but he knows my registration is up to date," Mr. Hildreth wrote. "Officers return with my Glock in an evidence back, locked and cleared. 'Because you were cool with us and didn't give us grief, I'm just going to leave it at a verbal warning. Get that headlight fixed as soon as possible.' I smile. 'Thank you, sir.'"

"I'm a black man wearing a hoodie and strapped. According to certain social movements, I shouldn't be alive right now because the police are allegedly out to kill minorities," Mr. Hildreth argued. "Maybe...just maybe...that notion is bunk. Maybe if you treat police officers with respect, they will do the same to you."
I got called a bad name on Twitter this week because I opined that if it had been my daughter caught on video mouthing off to a cop in class and then punching him in the head, being dragged out of class would seem like paradise compared to what I would have done to her. I did not mean that I would beat her (which seemed to be the level that the insulter was operation on), but that discipline would have been immediate, severe and extensive. Society is a contract allowing 330 million people to interact. Contracts, unless enforced by a superior outside force, require mutual respect to work. My kids know that. The mouthy girl in South Carolina seems not to.
Christmas in Austria
Just in case you were wondering what to get any Austrian friends for Christmas, this year the hot gift seems to be a shotgun.
Shotguns have 'virtually sold out' in Austria as citizens rush to buy arms
Huh. Seems you can't keep shotguns in stock in Austria anymore, and women are leading the charge. Odd, that, that a long established country and culture should suddenly change their established buying habits so suddenly. It doesn't make sense unless there's been some kind of sudden, outside change to their idyllic little country, but a disruption of that scale would have made the news you would think. All I can find in news reports is how Europe is being blessed with millions of hard working (sorry Melissa Harris-Perry) new immigrants, eager to forge for themselves a new life as free Europeans. I dunno, it's a real mystery.
Oh, and I love this part of the first article linked:
There are now thought to be estimated 900,000 firearms in Austrian homes Police say around 70,000 guns have been sold this year alone in Austria



Or as we here in America call it, "Tuesday".
President Obama was asked for comment on this developing story and he replied "Austria? Didn't they have a forced buyback of all their guns? How is this possible?"*

Gun of the Week Answer
That is a Gyrojet Mark1, an pistol that shoots rockets. It's pretty weird.
the hammer goes backwards, striking the head of the bullet, which then pushes the round back onto a fixed firing pin, which initiates a cap which then ignites the rocket. The rocket sits there for a bit as it develops sufficient thrust to overcome the hammer spring tension, then moves forward, pushing down the hammer and re-cocking the pistol, and then enters the barrel and heads on downrange. You notice in the picture that the barrel starts *after* the space for the hammer - and the ports in the side of the weapon are open - that is so that the exhaust gases have a place to go.
Link goes to an article by a guy who picked one up for $25 at a yard sale.
Here's a story from a guy who carried a Gyrojet in combat in Vietnam and generally liked it, and here is a link to a group that's trying to perfect the technology.
Gunhinged
I should just call this section "What did Sally Kohn say this week?"
Bob Owens fisks her lies to pieces.
I had a different take on it:
You're Not Crazy
Kurt Schlichter Liberals Are 'Gunlighting' When They Say They Don't Want Your Guns.
I like Kurt. He helped me get published at Townhall. Here he's spot on, as usual.

Today's thread brought to you by chicks with guns. Tips and stories to @Weirddave0 on Twitter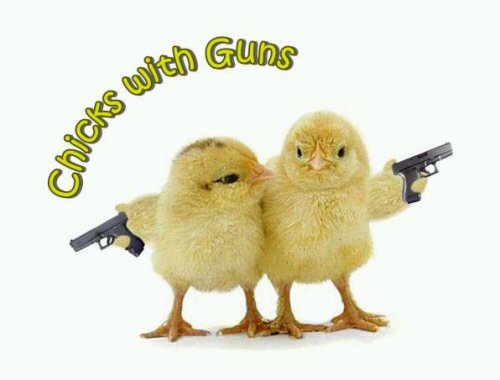 *satire

posted by Open Blogger at
04:16 PM
|
Access Comments