« Archive of the Saturday Gardening Thread: Updated October 2015 [Y-not]
|
Main
|
Rocket Propelled Gun Thread - [Weirddave] »
October 31, 2015
Saturday Gardening Thread: Double, double toil and trouble [Y-not and KT]
Y-not: Greetings, gardeners!
1 WITCH. Thrice the brinded cat hath mew'd.
2 WITCH. Thrice and once, the hedge-pig whin'd.
3 WITCH. Harpier cries:--'tis time! 'tis time!
1 WITCH. Round about the caldron go;
In the poison'd entrails throw.--
Toad, that under cold stone,
Days and nights has thirty-one;
Swelter'd venom sleeping got,
Boil thou first i' the charmed pot!
ALL. Double, double toil and trouble;
Fire burn, and caldron bubble.
--W. Shakespeare,
Macbeth
In honor of the day, how about some Smashing Pumpkins?
Where were you in 1979?
My contribution this week is a CONTEST. (In other words, I'm copping out and not giving you much content!) Winner gets an all-expense paid* trip to the dumpster in the alley behind Ace's apartment.
*Send your check paying for this glorious trip payable to me at Acme Hobo Vacations in Schenectady, New York.
Now, for the contest. Identify this tree which I spotted during a walk last week.
Here's the bark: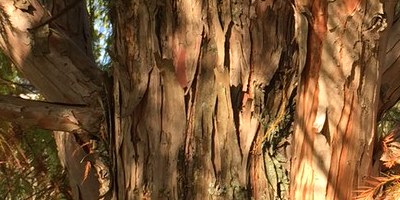 Here are the leaves: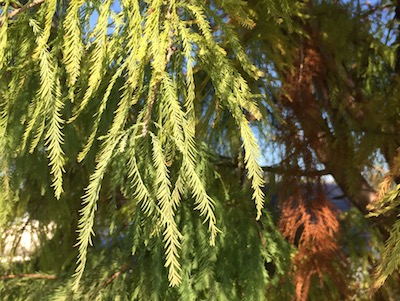 Here is another structure (a flower perhaps?):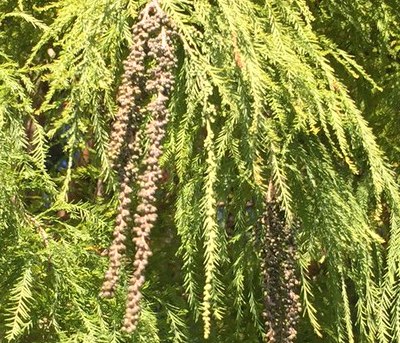 Here is a fruit (or pod, perhaps?). It was about the size of a golf ball:

Finally, here's the whole tree viewed from a distance: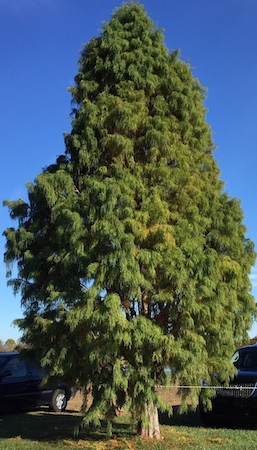 Name the tree.
Answer here: Hey, if I knew the answer, I wouldn't need to hold this contest!
Winners will be announced at midnight tonight.

Now for some actual content, let's hear from KT:
Happy Halloween, Horde! Whether you are getting ready for a festive night or trying to figure out ways to hide from bad witches and kids in costumes, the Old Farmers Almanac has an assortment of Halloween trivia, recipes and crafts that might interest you. There is still time to make your own pumpkin spice mix.
But it is probably too late to turn your dog into a Chia Pet for that big party tonight. None of our dogs is small enough to leave on the windowsill while those little microgreens color up, so I have not tried this myself.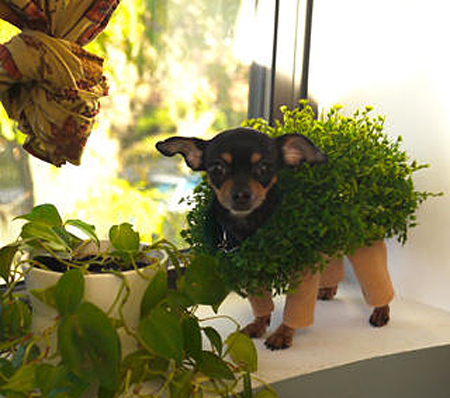 Has anybody tasted Chia Microgreens? I can find growing instructions, but not a description of the flavor. Is there a good reason for this?
Salvia hispanica is the species of sage whose seed is generally sold as Chia. It is suited to making Chia Pets because the seeds form a slimy gel in water. This allows them to stick to the clay figurines. The gel has been used in beverages for centuries and is now used to make things like gluten-free chocolate pudding and slimy concoctions to scare blindfolded kids on Halloween.
The seeds are also eaten dry, often ground with other ingredients. The Tarahumara Indians are famous for running long distances, allegedly fueled by small amounts of such mixtures. You need to be careful to drink fluids along with the dry seeds, so they do not suck moisture from your innards. There is a lot of doubtful information out there about chia as a "superfood". But it has some healthy attributes.
Chia is an annual sage which is short-day flowering, so it may not produce seed in northern climates. It is grown commercially at intermediate elevations, as in Arizona and Kentucky. An early-flowering type was developed in 2012 to improve yields. Eden Brothers sells seed of S. hispanics.
Gardeners should be aware that "Many plants cultivated as S. hispanica are actually Salvia lavandulifolia", a perennial sage native to Spain and southern France. Gardeners in Europe appreciate this small-growing sage in the dry garden. It is closely related to common kitchen sage, but has narrow foliage (more like lavender). It is used as seasoning in Spain and sometimes has overtones of Rosemary. It is also used in the "scent industry".
A few other species of Salvia were also used for edible seed in the past, like S. hispanica. Salvia columbariae is the one identified as "chia" by the USDA. It is sometimes still gathered as "golden chia" or "desert chia". Various tribes in the Southwest used the seeds for disinfecting wounds and for removing foreign objects from the eye. If you are thinking about growing it in the garden, note that "California sage smells distinctly skunky". It is not grown commercially for food.
Well, enough about ancient subsistence foods. This is a holiday. Last week, we discussed two plants for witches who are just learning to garden. I have found the subject of magical gardening to be strange, but fascinating. What is the difference between a hedge witch, a kitchen witch and a green witch? Does the land really appreciate a gift of tobacco tucked into the soil when you harvest?

Today, I thought we could learn about a plant for witches with intermediate garden experience. I would never grow it myself. But since it is naturalized in parts of the country, this plant could show up in some of our gardens uninvited.
Belladonna -- Deadly Nightshade
"In gardens, beauty is a by-product. The main business is sex and death."
Sam Llewellyn, storyteller
Heavy on the "death" aspect, in the case of Atropa belladonna. Considering its deadliness, this plant plays a surprising role in current popular culture. Or maybe it is not so surprising, considering the nihilism abroad in the land.
"For many, the star of the poison plants. Most people have heard of deadly nightshade even if they have never seen it. The combination of its ability to kill with its use to beautify by dilating the pupils gives it a romantic attraction which is hard to beat. Add to that the hallucinations it may also cause and its fascination is complete." This 121-second video provides a nice factual summary on the plant.
Many poisonous berries taste nasty, but not Deadly Nightshade. Unfortunately, the berries are also the most attractive feature of the plant.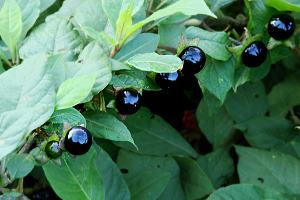 Atropa belladonna has a reputation for springing up unbidden in places like woodlands, old quarries and along cemetery walls. But it can be a challenge to grow where you want it, partly because the seed can take a really, really long time to germinate when not fresh. Slate has growing directions if you want it in your perennial border. A celebrity plant!
I think deadly nightshade flowers look quite mundane, in a depressing color. Yet they are the frequent subject of beautifully exaggerated, stylized illustrations. These are often used as inspiration for tattoos. But if you also feel moved to dance naked in front this plant, you may be a witch.
A. belladonna was widely used medicinally in the past, and is still available in many herbal and homeopathic preparations. Though these terms are often used interchangeably, the safety concerns with herbal preparations of this plant are more important than with true homeopathic preparations, which use extreme dilutions. Among the unapproved homeopathic uses of A. belladonna, according to the NIH, are tantrums and whining, pinching and biting and speech therapy.
Because of the relatively small difference between therapeutic and dangerous doses of the active substances in Deadly Nightshade, I would prefer to use a standardized pharmaceutical product than an herbal product. A true homeopathic product might not help with kicking and screaming, but it would not pose the same potential danger as an herbal product. The latter could contain a real dose of the herb.


The active agents in belladonna; atropine, hyoscine (scopolamine), and hyoscyanime; have anticholinergic properties. Deadly symptoms are caused by atropine disrupting the ability of the parasympathetic nervous system to regulate involuntary activities, such as sweating, breathing, and heart rate. On the other hand, among the many medical uses of atropine is formulation for an autoinjector to counteract nerve poisoning.
(Citation
here
.)
In addition to its use on poison arrows, Deadly Nightshade was once used for assassination because food tasters and others can build up an immunity to its effects. Plus, the berries do not taste bad. Several historically important poisonings are attributed to this plant.
More recently, the Swiss nurse who used it to murder patients had apparently experimented on herself first and built up tolerance. She then experimented on patients to see if she could bring them back from the brink of death before finally killing them.
Years ago, when J.L. Hudson did not even have a telephone, I saw in his seed catalog a note that Macbeth used deadly nightshade to kill an invading army of Danes. There are historical records which relate this story. But historians now seem to believe that it was Duncan I who was responsible for the poisoning. Macbeth, then a general loyal to Duncan, had his army waiting nearby. They participated in the slaughter of the incapacitated Danes.
But back to 2015, when symptoms of overdose with this plant are much too obvious to make it a good murder weapon. A gothic writer has suggested (with an illustration of A. belladonna) that a guide to local plants is one of 5 things you should acquire to prepare for the Zombie Apocalypse. So you can avoid poisoning yourself. Seems like good advice. There are some creepily ambiguous literary vignettes for Halloween at the link if you would like to do a little light reading in preparation for this evening.
The entire belladonna plant is toxic to all carnivores. Watch your pets. Some livestock, including cattle, can eat it safely. So can rabbits. Snails and slugs like it.
Deadly Nightshade is one of several toxic members of this plant family. We have also previously discussed edible berries that resemble Deadly Nightshade. Some members of The Horde grow them. I think it would generally be a good idea to plant Garden Huckleberries, Wonderberries or Jaltomato berries from commercial seed rather than saved seed, to avoid growing any possible hybrids with toxic nightshades growing nearby. Always wait for these berries to ripen before picking them. Flavor may improve when they go from shiny black to dull black.
Accept no Wonderberries, or apples, from strangers tonight. Just to be safe.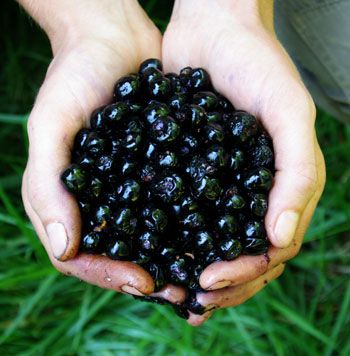 Deadly Nightshade berries. They look luscious.
Y-not: Thanks KT!
OK, I figured it out. I think this is the tree. Unless it's this one!
The picture here sure seems similar to what I saw. This side-by-side comparison of the bark from the two trees in question also makes me think my first guess is correct. Interesting story about that tree here.
There's even an appearance in song:

What's happening in YOUR gardens this week?

posted by Open Blogger at
02:31 PM
|
Access Comments