« Coolege Football Thread...Week Four [CBD]
|
Main
|
Chuck Berry: Rock Reviewer [CBD] »
September 26, 2015
Saturday Gardening Thread: Blue Moons (and Hyacinths) [Y-not and KT]
Y-not: Good afternoon, gardening morons and moronettes! Welcome to your Saturday Gardening Thread.
Today's thread is brought to you by The Blue Moon of Kentucky written by Bill Monroe in 1946.
There are a lot of great versions of this song, for example by Elvis and Brian Seltzer, but I like this version by Mark Knopfler:
This song seems especially appropriate this weekend given the upcoming lunar eclipse.
I'll be at a football game this afternoon so I won't be around in the comments much, but I'd like to use my section of the Gardening Thread to ask for some input on what to do with our new yard. We are located in SoKY (southern Kentucky). The climate hardiness zone is 6b. First frost is in early November. Here are the average temperatures and precipitation: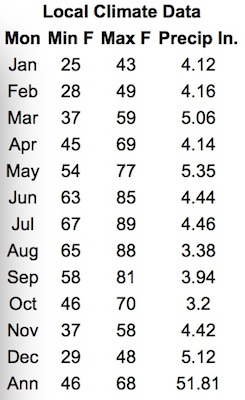 I also learned that we're in "ecoregion" 8.3.3. (Ecoregions are areas that are relatively uniform in soils, vegetation, climate, geology, and wildlife... Plants within your ecoregion are most likely to grow well in your garden.")
Ours is called the "Interior Plateau:"
Ecoregion-wide, climate conditions are humid temperate and average about 1,200 mm (47.2 in) of annual precipitation. Oak-hickory stands are the most common forest type, although mixed stands of red cedar and hardwoods grow on many of the rockier sites and limestone glades. Blue-stem prairie is the most common grassland. Historically, fire was an important natural process for maintaining open-canopied, savannah-like conditions on the plateaus.
(You can learn more about "ecoregions" here.)
The soil is an orange clay. We haven't gotten it tested yet so I don't know it's acidic or alkaline or what.
Here's a little tour of our yard, which is about 1/2 an acre. The prior owners have left a fair amount of green space so as to not obstruct the view, but they did a nice job setting up some screening plants in the back yard and there are also a couple of large shade trees in the front yard.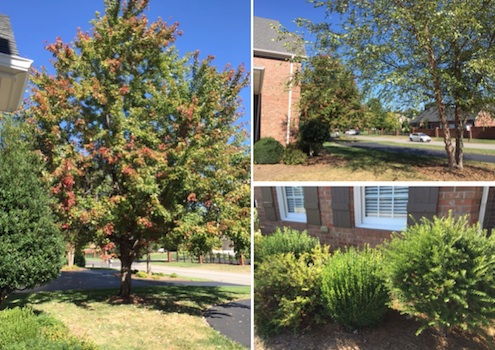 Front yard faces northeast. Clockwise from left: One of several hollies (perhaps American holly?) as well as large maple tree (may be a red maple, I'm not sure); river birch; front bed with a number of yews, boxwoods, and gold mound spirea. Also some unhappy-looking hostas and several more crepe myrtles, one of which is a bit out of control and near some our cable service box (not show).
As an aside, I have some sort of pathological aversion to spirea. They always seem to have a lot of dead branches and fail to impress me in either their foliage or flowers. My immediate inclination is to dig up every spirea bush I see. Don't worry. I'm getting professional help for this impulse.
Which plants do you love to hate?
On the plus side, I'm very excited about having hollies again, something I didn't see in out West. I'm also digging the cedars (I think they're red cedars), because they smell so good. I guess they can be problematic, so some people have a love-hate relationship with them.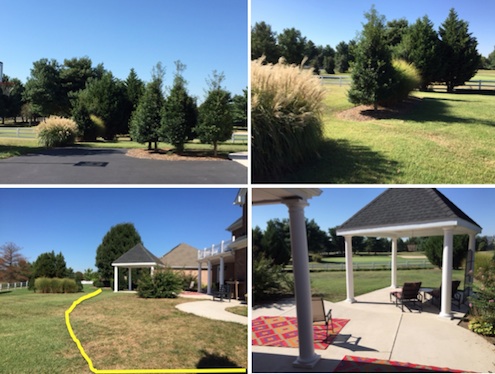 Back yard faces southwest. Clockwise from upper left: Looking from driveway into our backyard -- ornamental grasses, hollies, and cedars help define the property line; closer view; patio area on the other more westerly side of the backyard is flanked by grasses, hollies, and some crepe myrtle; looking across the backyard - line delineates (roughly) where we are thinking of installing a low fence or wall, into which we hope to incorporate large planters.
We would like to add to the plantings, including making sure that there is good winter interest plants as well as plants that attract birds and butterflies. (In terms of the former, a water feature would also be nice.) Ideally, we'd like to move toward a more natural look. I'm not a big fan of pruning, although I will try to maintain the boxwoods, yews, and hollies in their current shape -- for now. (They all need pruning already!)
In a perfect world, I would love to include native plants. A big shade tree in that southwest corner of our back yard would be nice, too, as that would provide some relief to our patio areas in the hot summer months. I tend to gravitate toward plants with interesting texture, unusual bark, and that smell good. I'm a big fan of hemlock, cedar, pine, etc. I also love magnolias owing in large part to the great big magnolia we had in our front yard when I was a little girl.
Although the crepe myrtles in our yard are doing quite well (and blooming, which I gather from my neighbors is not always an easy thing to achieve), I don't like the way their flowers die off. Too messy. I went ahead and deadheaded the most prominent crepe myrtle, despite knowing Fall is not the time of year to prune these plants. I hope I didn't damage the plant, but it was so ungainly and unsightly, I did a light prune.
My lawn is a whole other matter. I learned from my neighbor that living on a golf course means there's a constant battle to fend off the Bermuda grass, which goes brown in the winter. Although having a perfectly green lawn is not the most important thing in my life, I'd like to be a good neighbor so we'll try to tackle this issue next year.
Do any of our Southern gardeners have recommendations of flowering shrubs or trees that do well in this region? How about suggestions on how to get that beautiful green lawn?
Thanks, in advance! I'll read the comments tonight.
Now let's see what KT has in store for us this week:
Fall Classics
Happy Fall! It doesn't feel quite like fall here yet, even though night temperatures are getting cooler. We had some triple digit highs this week. Our early pomegranates and our jujubes are on. There is not much else going on the garden.
I have been caught a little off guard by images of pumpkins and winter squashes from other parts of the country. I remembered the "enticing" pumpkin-themed photo from a previous Saturday Gardening Thread. I have found nothing to compete with it. Pumpkin seed crafts and snacks were covered in another thread. I thought that this week it would be fun to learn a little more about a species of squash I have never grown. Cushaw squashes are often sold in fall with other decorative and/or edible squashes and gourds in the regions where they are popular. Many people eat them, but I think that a lot of people buy them just to admire their looks.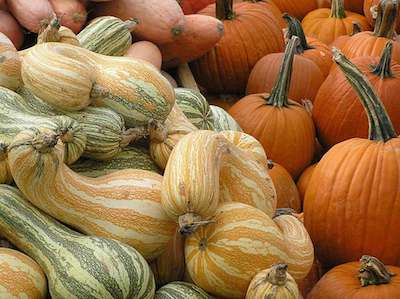 Cushaw squashes with more typical pumpkins
A food historian who is really in love with his subject writes in Saveur about the attractions of collecting and growing unusual squashes "beyond the pumpkin patch". He note that Glenn Drowns of Sandhill Preservation has collected some 250 kinds of squash. As a seedaholic, I have bought many more kinds of squash seeds from Sandhill than I have planted. They just sounded so intriguing...
I have discovered that two of the three most commonly grown species of squash do not do well in our yard. Cushaw squashes are from the fourth species of squash grown for food in the USA. It is known in the trade as Cucurbita mixta, though it has a really long new botanical name. According to all reports I have seen, these squashes should do well here. Maybe someone in The Horde has tried them and could share some impressions.

Glenn Drowns starts the squash section of the Sandhill catalog with a recipe for fried cumshaw squash featuring onions and garlic: "For years I have grown cushaw squash for their beauty and for livestock feed. But for table quality I never found a baked cushaw squash to be much more than bland..."
The 2015 catalog lists 12 kinds of C. mixta squash: Black Sweet Potato, Gila Cliff Dweller, Gold Striped Cushaw, Green Striped Cushaw, Hindu, Hopi Cushaw, Japanese Pie, Jonathan, San Fernando Feral, Tennessee Sweet Potato and Winter Vining. Even the names make me curious. Drowns says about Japanese Pie: "Seeds have distinct markings (like Japanese caricatures). Flesh is excellent when fried (see above recipe)."
People who do not care for the pronounced flavor of other baked winter squashes may prefer the "more delicate" flavor of cushaw squash roasted with rosemary, garlic and parmesan. Here is a video showing how to cut up a cumshaw from the hills of Kentucky. (Note: It is not a gourd even though it looks like one.)
The Slow Food USA "Ark of Taste" features Green Striped Cushaw. The profile of this squash notes its heat tolerance and resistance to squash vine borers. "The green-striped cushaw is not necessarily in imminent danger of extinction. It remains a central ingredient to the culinary cultures of peoples beyond the southwestern Native Americans. Making cushaw butter is a family tradition in Tennessee, and all around Appalachia cooks prefer to use cushaws in their pumpkin pies." One store brand of canned pumpkin I have bought seemed to have been made from cumshaw squash -- paler, milder and less moist than other canned pumpkin.
The Wikipedia entry for this species notes that the Tohono O'odham especially prize cushaw squash when immature as a summer squash. Might be worth a try where squash vine borers or heat limit zucchini production. Heat is a problem here. Vine borers are a problem in much of the East. I think that cushaws all grow on vining plants, much bigger than the typical zucchini plant. But you could trellis them if you wanted to pick them small. I might try it. Is anybody else planning to grow squash next year?
Jonathan -- for White Pumpkin Pie
The Hyacinth
"If thou of fortune be bereft,
and in thy store there be but left
two loaves, sell one, and with the dole,
buy hyacinths to feed thy soul."
--John Greenleaf Whittier
Some of our favorite people here at the Saturday Gardening Thread have already planted their fall bulbs. This is a subtle reminder to others not to wait too long. Hyacinths, for example, should be planted in September or October in cold-winter climates. In warm-winter areas, plant them in October -- December.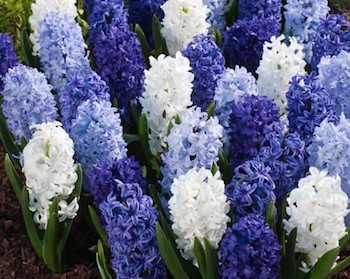 Hyacinth Blue Mix
For today, I am writing only about the fragrant true hyacinth -- a single species. Grape hyacinths and wood hyacinths will have to wait. The true hyacinth is related to asparagus, but the bulbs are poisonous. The bulbs are also sometimes covered with invisible, irritating barbs. Wear gloves when planting and wash your hands before touching your face or eyes.
The Dutch Hybrid type pictured above is not my favorite, but you have to admit that the Dutch have refined these flowers to produce a big, uniform, full flower head. They produce just one flowering stem per bulb. Sunset advises choosing the largest grade of bulb for exhibition, for forcing or for containers. The next largest size is impressive in borders. They generally look best when massed as single or monochromatic colors.
Smaller bulbs can be used for a more natural look. They have smaller, looser flower heads and are sometimes called "miniature hyacinths". Dutch hyacinths can persist from year to year where there is pronounced winter cold, but the flowers may get smaller. They will still maintain their fragrance and color. Hyacinths do not have a reputation for pest-resistance.
To plant in pots, place the tops of the bulbs just below the surface of the potting mixture and cover with a thick mulch or with sawdust. Place in the shade until roots are well-formed. Remove the mulch. Bring them into the light when tops show. You can also force hyacinths in special hyacinth glasses or vases filled with water and sometimes pebbles. These are cheery and fragrant on a windowsill in winter.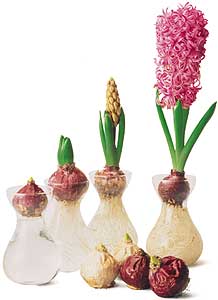 Forcing hyacinths for successive bloom
There is a wilder form of hyacinth that can be naturalized where winters are warmer. The flowers of the multi-stemmed Roman or French Roman hyacinth from the south of France are spaced much further apart than those of the Dutch hybrids. They may be hard to find in the USA now. This blog post gives a very thorough and interesting history of this subspecies and its cultivation. The author describes himself as obsessed with "all things hyacinth". He writes well. You might want to check out the post on antique hyacinth vases and hyacinth cultivation, as well.
My favorite type of hyacinth is sort of intermediate between the fat Dutch hybrids and the spare French Roman type. They are called "festival hyacinths". I prefer the looser flower heads and the multiple stems per bulb over the fat Dutch hybrids.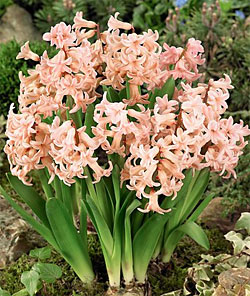 Pink Festival Multiflora Hyacinth
I might like the French Roman ones, too, if I could find them. They do not need winter chilling, so they should grow well here. Their fragrance is sometimes used in French perfume.
The Southern Bulb Company apparently sells them sometimes, but they are "not currently available". This company is developing stocks from U.S. sources that may be available in a few years (!). They have some other nice things for members of The Horde outside prime bulb territory. They list their Blue Roman Hyacinth as suitable for USDA zones 6 - 9. Sunset lists Roman hyacinths as suitable for naturalizing in their zones 4 - 24.
The Saturday Gardening Thread will never be as hoity-toity as the Sunday Book Thread, but we do not ignore culture. The word "hyacinth" is derived from the name of a mythological young man who was killed (either accidentally or on purpose, depending on the version of the myth) while throwing a discus with Apollo. Those Greek gods are so jealous and emotional. From his blood sprang a flower, "the petals of which were marked with the mournful exclamation AI, AI ("Alas")." The myth may have referred to a type of fritillaria or iris rather than to the modern hyacinth.
"Symbolizing sport or play in the language of flowers, hyacinth represent constancy, while blue hyacinth expresses sincerity." The thought of sending someone a sports flower based on a myth about someone who died playing a sport seems a little strange to me.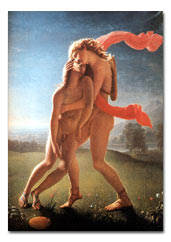 Hyacinth dying in the arms of Apollo
Mozart wrote an opera about Hyacinth and Apollo. I love much of the music Mozart wrote, but this opera is a little too classical for me. I think I would need the NPR opera announcer guy providing a running commentary in order to appreciate at least something about this performance. I would rather stick with the flowers. There are classic hyacinths, too. You can readily buy some of them. Growers in the UK could once choose from 2000 cultivars. The guy in the photo below grows 200,000 bulbs, including rare Russian hyacinths. Forcing a few in a window or a pot is more my style. Are you planting bulbs this fall?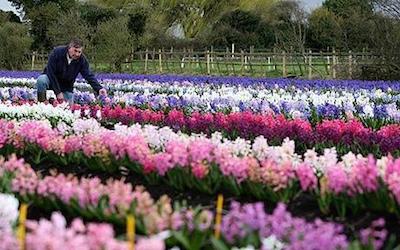 Rare, classic hyacinths

Y-not: Thanks, KT!
To close things up, how about a song?
You could say that Daniel Boone was a BFD around here. He has a forest named after him and everything! (Fall foliage is just around the corner for many of us. Here's a state-by-state prediction of the peak dates.)

What's happening in YOUR neck of the woods this week?

posted by Open Blogger at
01:10 PM
|
Access Comments