« NYTs Asks 75 High Ranking Democratic Insiders About Hillary; They're Officially Getting Ready to Dump Grandmonster Hillary
|
Main
|
Overnight Open Thread (8-27-2015) »
August 27, 2015
Tropical Storm Erika (tmi3rd) 8/27/15
Hello from the AoSHQ Weather Desk, Morons and Moronettes. Though Erika isn't likely to become a major hurricane, it's still likely at this point to strike the continental United States as a hurricane, and that merits a post from us.

If you're along the Atlantic coast of Florida, it's a good bet that you're going to see at least tropical storm conditions (high winds, high surf, torrential rain, and perhaps a weak tornado here or there) starting Sunday into Monday, and if you're along the Georgia, South Carolina, or North Carolina coast, it's time to make sure you've got your hurricane gear ready to go *if* it comes your way.

If you're along the Gulf Coast, wait until it turns north before you start letting your guard down.

Details below the fold...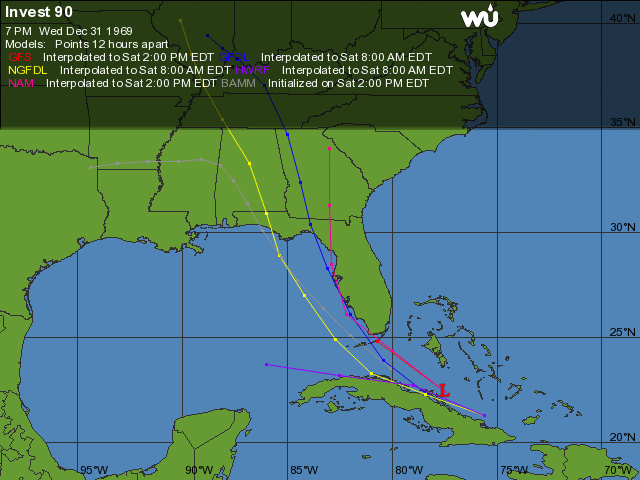 Modeling is pretty uniform for the next three days (through late Saturday), taking Erika west-northwest through Puerto Rico, the northeast side of the Dominican Republic, and through the Bahamas before it becomes a total mess in terms of guidance. Given the presence of the subtropical ridge (a high-pressure area), the official thinking pushes it up the East Coast of Florida.

Historically, the more East Coast-centric track is how this goes, but where specifically it decides to go ashore is anyone's guess just yet. It's going to be going over enough small landmasses to keep it from really stepping on the gas in terms of intensification, so it shouldn't turn into a major hurricane. That doesn't take into account the heavy rainfall, however- the island of Dominica has received over a foot of rainfall, and there are reports of fatalities. Flooding is usually the major cause of death in tropical storms.

We're going to keep an eye on this here at the AoSHQ Weather Desk. Even if it doesn't hit your area, if you're in hurricane country, this is a good time to make sure you've got your hurricane kit together. It isn't time to start boarding up or anything just yet; just start making sure you're not running out of anything essential.

I want to re-emphasize that this shouldn't be anything extraordinary as far as hurricanes go, but the usual precautions are advisable under the circumstances.

Have a drama-free evening, and we'll see you tomorrow night sometime.

Thanks for reading, and I'm on Twitter if you need to reach me.

-tmi3rd

posted by Open Blogger at
09:16 PM
|
Access Comments