ę So, Lois Lerner Had a Second Secret Email, Using the Name "Toby Miles," With Which She Conducted Official, But Secret, IRS Business
|
Main
|
College Suspends Fraternity For Expressing Heterosexual Interest in Women Ľ
August 25, 2015
Frank Luntz on the Hatred of the Establishment Revealed by a Pro-Trump Focus Group: "This is real. I'm having trouble processing it. Like, my legs are shaking."
I'm shocked that he's shocked, and I do not mean that as a joke.
He is a professional. He is a focus-grouper and high consultant. I imagine he reads a lot of polls too, and probably runs some.
And yet he didn't know the anger brewing at the Establishment.
I am truly shocked.
No matter how low my estimations of our political class, they keep failing to meet my expectations.
I complained on Friday that the vaunted consultant class does not know the most elemental things about the "constituency" they're paid to advise clients about. I put "constituency" in quotes because it's quite plain they do not consider the actual grassroots voter as their constituency. In fact, they do not consider them at all.
I have previously said -- and I've said this a dozen times before, especially in the 2007 amnesty fight -- that the Establishment in DC, paid millions and feted as gurus of the political pulse of the nation -- knows far, far less than the base than the average low-level blogger who bothers to read his comments and talk with them.
By the way, of course: That's expressly the reason Andrew Breitbart read the comments, especially here. Well, one reason was that he simply enjoyed them. But the other reason, he told me, was to figure out where people, as a mass, were on issues, where their passion was, where they were going.
You would think that these well-paid consultants, claiming the ability to channel the sentiments of the party, would do this very most basic sort of research into the national mood.
It's all open source, assholes. You don't have to pay a dime to do what Breitbart used to, which is to use some program to suck up all comments into a file so he could read them when he didn't have the internet (on a plane, etc.)
But no -- High Guru Frank Luntz is shocked to the point of his legs shaking as the world reels beneath his feet to discover the grassroots really, really despises the Establishment, and no longer trusts them, and in fact considers them political enemies in the same way they consider the Democrats to be political enemies.
This is news to them.
Good work, assholes.
You're the Smart Ones, right? The "political elite" who employ all sorts of sophisticated and cunning techniques to divine the national mood, huh?
Did you ever think to ask them, Geniuses?
"You guys understand how significant this is?" Luntz asked the press breathlessly when he came back into the room behind the glass. "This is real. I'm having trouble processing it. Like, my legs are shaking."

"I want to put the Republican leadership behind this mirror and let them see. They need to wake up. They donít realize how the grassroots have abandoned them," Luntz continued. "Donald Trump is punishment to a Republican elite that wasn't listening to their grassroots."
He's shocked to learn this! This is only said 50 times in any thread about Trump!
The group said Trump has their best interests in mind, while other Republicans are looking out for themselves. "We've got to show the Republicans that we've had it with them, that we will not be there every single time. They treat us like crap and they lie to us and promise us things and then they expect us to vote again," said a Republican woman....


Much of Trumpís support in the room seemed to stem from a weakness in the Republican party. The 2014 midterms did not usher in the conservative renaissance Republicans expected. Obamacare has still not been repealed, Congress is looking less likely to override a veto on the Iran deal, and there are still 11 million illegal immigrants in the United States.

The group of 29 went around the room, each supplying a single adjective for the legislative body that let them down after the 2014 elections. Congress "does nothing." It's "too old." "Useless." "Lame." "Inept." "Wrong party." "Cocktail party." "Gridlock." "Costly. "Sold out." "Sucks." "Douchebags."
The political class is useless and must be swept away, completely. Not only do they have an agenda contrary to most of the voters' interests, but even when it comes to the thing they're supposed to be good at, be experts at, they're totally incompetent and in fact absolutely pathetic.
I'll give Trump this much: He is right to call them "morons." They should be called what they are. They are failures, they are incompetent, and they're a disaster.
I'm sure they'll "hit all their numbers," though.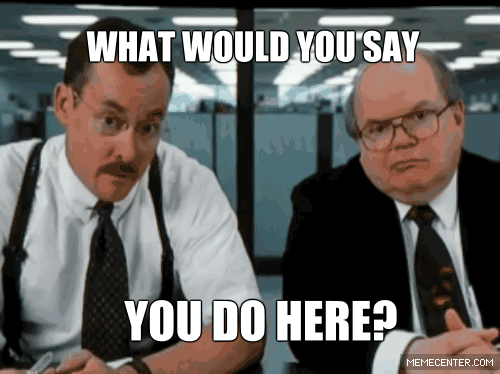 posted by Ace at
04:28 PM
|
Access Comments