« "My first reaction was to sit down and hide. Then I heard an American say 'go get him'."
|
Main
|
Silly Thread: Bad Jokes About Other States [Y-not] »
August 22, 2015
First Person: Alek Skarlatos Narrates What Happened In His Own Video
"I grabbed the AK at his feet, and began muzzlethumping him in the head with it."
He confirms the AK jammed. The terrorist's handgun also had no magazine in it -- guy might have hit the wrong button and quick-released the mag, in his own terror. (It amuses me to think the terrorist was in turn terrorized by the advancing Americans.)
As a commenter said, this guy better get some martial arts training to dodge all the pussy that's going to be flying at his face.
He does not mention this idea of "hearing the AK being racked in the bathroom." I am beginning to think that is entirely apocryphal.
More Video, More Pics, and Spencer Stone Discharged From Hospital, Walking On His Own Feet: His hand is in a cast to let his thumb heal, but he looks okay.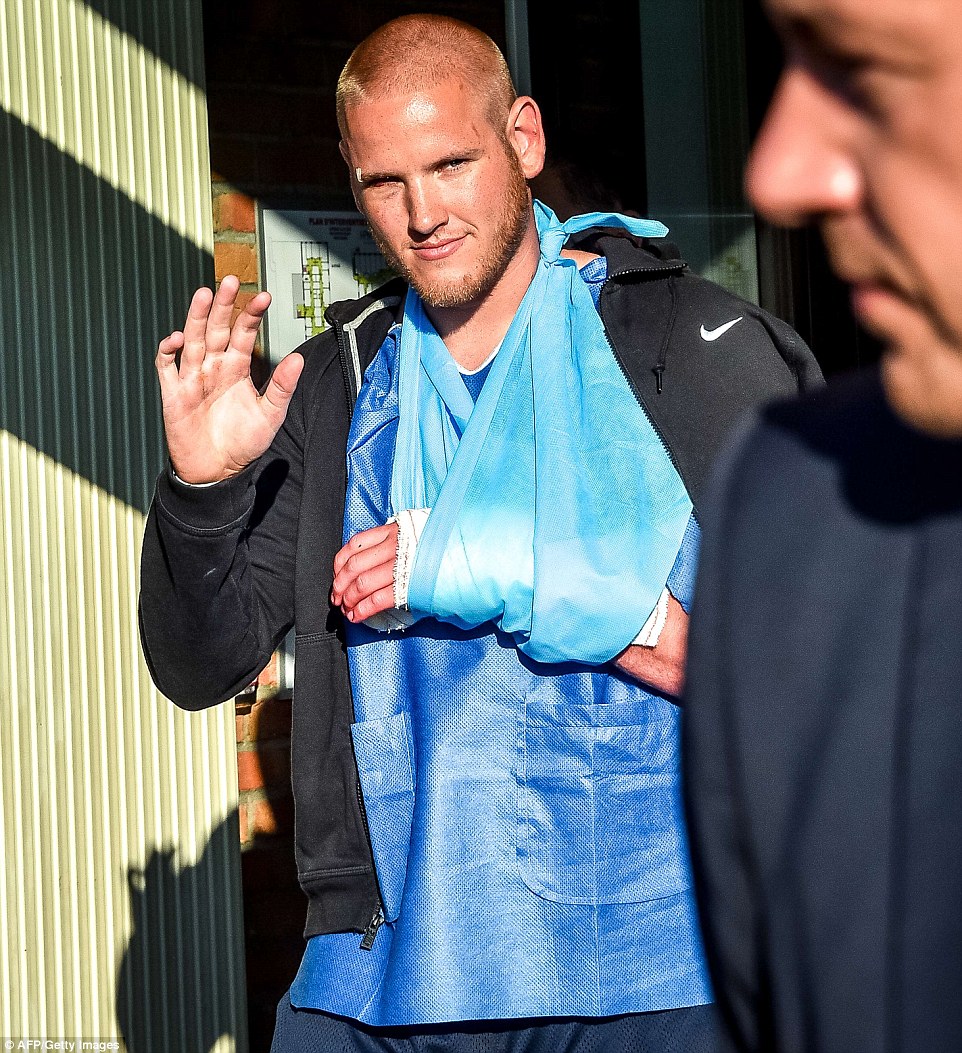 From the Daily Mail; First-into-the-Fire Spencer Stone looks like he'll be fine
Also confirmation of this shameful act:
The actor told Paris Match: 'We heard screaming passengers in English, 'He shoots! He shoots! He has a Kalashnikov!''

The actor, who was travelling with his two children and his girlfriend, said: 'Suddenly, members of the crew ran into the hallway and their faces were pale.'

He said the staff hurried towards their own car on the train and opened it 'with a special key' before they locked themselves inside.

Mr Anglade claims he and other passengers banged on the door and shouted at staff to open up, but their cries for help were ignored.

He said: 'Nobody replied, there was radio silence. It was terrible and unbearable, it was inhumane.

'The minutes seemed like hours and protected my children with my whole body, telling them everything was fine.'
The story repeats the "heard the AK being racked in the bathroom" thing.
Not sure about that. Eh.
It looks like the main heroes were Stone and Skarlatos, with assists from Sadler and Norman, and maybe this French trainman I've seen mentioned in some reports but not others. (And also, I haven't seen his name -- strange.)
Thanks to Nip Sip.
Below, video of the hogtied terrorist moaning on the ground, with the Americans still sort of in command, with Skarlatos (I think) giving orders to the cops to search under the seats for the terrorist's missing handgun.

posted by Ace at
03:38 PM
|
Access Comments