« Totes the Dotes (Gaming Thread) [Zakn]
|
Main
|
Stepping Outside Your Comfort Zone[Weirddave] »
August 09, 2015
Food Thread: Eat Your Vegetables! [CBD]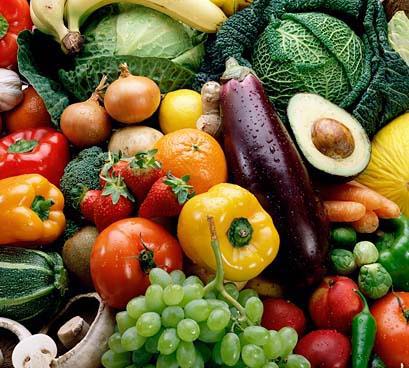 I am all for protein, and lots of it. One of the joys of living in the 1st World is that protein is inexpensive. We don't have to eat rice and beans because we need all of those amino acids; we eat rice and beans because it tastes really good.
But.....vegetables can be damned good. Certainly one of the issues (at least for me) is that they are not uniform throughout the year. When I buy a steak or a chicken in February, I can confidently expect it to be pretty much the same as the stuff I buy in August.
Vegetables are....different. The zucchini that I just bought a few hours ago is going to be thin-skinned, tender, juicy and almost sweet. The crap I buy in February is thick-skinned, tough, bland, and often not worth the winter premium. I have a great Ratatouille recipe that will turn winter vegetables into a magnificent dish that I could cheerfully eat every day once a week, but it is labor and time intensive. And that's what's so nice about the summer; in a few hours I will cut the zucchini and squash into bite-sized chunks, toss them into a pan with some olive oil, butter, fresh thyme, salt and pepper, and saute the whole mess for about 10 minutes. Easy and good.

*******
Blue Bell just got the OK from Alabama
to sell ice cream made in their Sylacauga, AL plant.
And there was much rejoicing! And that gets me thinking about regional brands that people swear by. Blue Bell, Dukes.....any others?
*******
Six summer scone recipes
, but they are too hipsterish for me. Chia seeds and whole-wheat flour and gluten-free and agave nectar (that's for Margaritas you fools!). I am getting tired of this kind of cooking.
*******
Sous Vide 48 Hour Baby Back Ribs
. I would normally skip over this kind of recipe because first, baby back ribs are not as good as the larger and tastier spare-rib or St. Louis rib, and B, 48 hours? and third, sous-vide is a pain in the ass. But this cook is a serious dude. Don't be fooled by his casual and friendly writing style; he knows what he is doing.
*******
The Ugly American: Field Guide to the 5 Foreign Foods I Warned You About
. Yes. Exactly. Just because it is from a foreign country does not mean that it tastes great. I love American cooking because we rarely cook disgusting shit and pretend that it is a culinary triumph (France, I am looking at you). Okay....Scrapple and Rocky Mountain Oysters and a few other things....but in general, we have respect for the tender culinary sensibilities of most normal people.
Tripe is cow stomach, but usually just the first three chambers of the stomach. Any further and you'd be into the cow colon, I guess, and further still you'd just be eating its asshole, and the French are not Philistines, you know. But then again they think a delicious sauce will "elevate" anything, so don't be surprised if you see Cow Ass Confit on a menu in Lyon soon. Anyway, regarding tripe, it stinks like a lonely suicide victim whose body had been left inside to rot in record heat until the neighbors complain to the police about the smell. In short, no amount of bechamel sauce is gonna elevate that rank stank.
*******
Yeah.....kale. What can I say, it's a nice salad.
KALE SALAD
Ingredients
2 Bunches of Kale (stems removed sliced thin)
1 Large Golden Beet (peeled and sliced paper thin)
1 Large Red Beet (peeled and sliced paper thin)
1/2 cup Almonds (toasted)
1/2 cup Crumbled Goat Cheese
1/2 Clove Garlic (minced)
1 Red Onion (peeled and sliced paper thin)
3 oz Red Wine Vinegar
6 oz Extra Virgin Olive Oil
Kosher Salt
Place kale, beets and onion in a large mixing bowl and season liberally with salt. Mix and top with the vinegar.
Set aside, tossing occasionally (This should be done at least a couple of hours in advance to allow the kale to soften*).
Whisk together the oil and garlic. Toss the oil mixture with the kale, beets and onion.
Add cheese and almonds.
Mix and serve.
*If it doesn't look like the kale is softening and becoming tender, add the olive oil and toss. Then, just before serving, add the cheese and almonds.

posted by Open Blogger at
04:00 PM
|
Access Comments