« Norman Lear: Patriot [CBD]
|
Main
|
A Baseball Thread: Midway through Already? Pt. 2 [BCochran] »
August 02, 2015
Food Thread: The Tastes of Summer [CBD]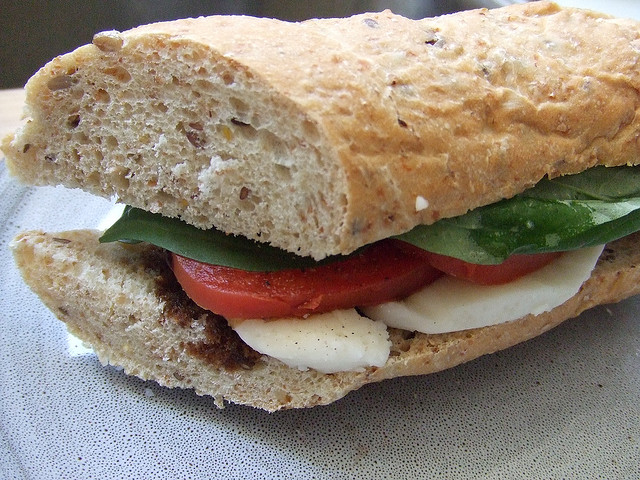 Great tomatoes and fresh mozzarella are a fantastic combination; one that is distressingly difficult to find. I won't rant about the dearth of great tomatoes, except to say that the reputation of New Jersey as the mecca of great tomatoes is pure, unadulterated hype. Okay, the mozzarella is a different story....there are many wonderful sources all over the state. Just don't slice it thin and lose the fantastic texture and mouth feel. I drizzle some olive oil over everything, a few sprinkles of kosher salt, and a few drops of balsamic vinegar. Simple and satisfying. Some people like artfully scattered basil leaves on top, but I prefer to chiffonade them so each bite gets some basil.
If you can get good crusty bread, then the sandwich route is the way to go. Soft breads will get mushy and soggy very quickly from the moisture from the cheese and tomatoes, especially after salting, so be warned.
*******
Finnan Haddie is a traditional Scottish dish; it's just lightly smoked haddock that is then prepared several different ways, although I have only tried it sauteed, or poached in cream. Even if you are not a fan of smoked fish it is a very nice preparation. The haddock is cold smoked so it isn't particularly strongly flavored, and haddock is a mild fish to begin with.
*******
Grilled Spareribs With A Maple-Chipotle Glaze
sounds way too sweet, but strangely appealing. I have been using maple syrup and honey in my cooking recently, and chipotle is a great addition to pretty much everything. So I'll give this a shot....
*******
The relationship between quality and price is at least in part subjective, no more so than with wine and beer and liquor. One of my favorite mixing bourbons is Evan Williams, which runs about $13/bottle around here. And there are lots of wonderful wines for very little money, and many expensive wines focus on specific flavors that may be difficult to create, but certainly aren't better than a run-of-the-mill Aussie Shiraz for $10.
However, occasionally I come across booze that does justify what to some is an inflated price. $60/bottle for Stranahan's Colorado Whiskey sounds ridiculous, and for many people it simply is not worth the money. I was given a bottle as a gift, and it sat untouched for a few months, until I got bored and opened it. Wow. Damn! Fantastic stuff. I hate that it is so expensive, and I will drink it rarely if ever, but at least in this case, the stuff is worth the money. One of the frustrating things about American whiskey and bourbon is that it is easy to drink, so polishing off a bottle of this in one sitting with a friend or two is not out of the question.

*******
Roasted Split Chicken with Mustard Crust
Ingredients
2 tablespoons chopped garlic
2 tablespoons Dijon mustard
2 tablespoons dry white wine
1 tablespoon soy sauce
2 tablespoons olive oil
1 teaspoon Tabasco hot pepper sauce
1 teaspoon herbes de Provence
1/2 teaspoon salt
1 chicken (about 3 1/2 pounds)
For the crust: Mix all the ingredients (except the chicken....duh) in a small bowl.
Preheat the oven to 450 degrees. Using kitchen shears or a sharp knife, cut out the backbone of the chicken to split it open (Spatchcock!). Spread and press on the chicken with your hands to flatten it. Using a sharp paring knife, cut halfway through both sides of the joints connecting the thighs and drumsticks and cut through the joints of the shoulder under the wings as well. (This will help the heat penetrate these joints and accelerate the cooking process.)
Put the chicken skin side down on a cutting board and spread it with about half the mustard mixture. Place the chicken flat in a large skillet, mustard side down. Spread the remaining mustard on the skin side of the chicken. Cook over high heat for about 5 minutes, then place the skillet in the oven and cook the chicken for about 30 minutes. It should be well browned and dark on top.
Let the chicken rest in the skillet at room temperature for a few minutes, then cut it into 8 pieces with clean kitchen shears and serve with mashed potatoes.
The mustard crust can be made ahead and even spread on the chicken a day ahead, if you like.

posted by Open Blogger at
04:00 PM
|
Access Comments