« Food Thread: [CBD]
|
Main
|
A Baseball Thread: Midway through Already?! [BCochran] »
July 26, 2015
Chess On A Sunday Evening [OregonMuse]
Howdy, folks. This is an open thread, but in memory of the late, unlamented Saturday afternoon chess thread from a couple of years ago, I have some chess content I've been sitting on for awhile. First up, is the upcoming Bobby Fischer biopic, Pawn Sacrifice, due out in September. My comments follow.
There have been some other movies about Fischer I've watched on Netflix, and all of them have been uniformly bad. This one looks like it might be good, so I think I'd like to see it. However:
1. I wish they'd stop portraying Fischer as a child prodigy. ("Who taught him to move like this?" "He taught himself."). Fischer was not a child prodigy, plain and simple. When Bobby started playng serious chess, certainly he rapidly got to the point was a strong player with potential, but I don't think he was all that different than any number of other young, strong players with potential. He didn't start getting really good until about age 12, and he didn't start getting scary good until age 14-15. Up to that point, he was the youngest ever to earn a Grandmaster title, and while that's certainly a remarkable achievement, that doesn't make him a child prodigy.
A real child prodigy would be someone like the great Cuban champion Jose Capablanca, who learned the moves at age 3 by watching his father play. Or Sammy Reshevsky, who was doing simultaneous exhibitions against adult competition when he was 6 or 7.
2, What was up with Fischer walking around Reykjavik with a paper bag on his head? And trash talking Boris Spassky on the beach? I remember the shenanigans at the 1972 world championship, but not those incidents. I hate it when they make stuff up; Bobby was nutty enough so they didn't have to embellish
it.
3. Another thing that worries me about that "he taught himself" line is, are they going to claim that Fischer achieved what he did without any teachers whatsoever? Because if they are, that's flat out wrong, Bobby had more than one coach, albeit early on in his career
But, despite these potential flaws, I think I would like to see this movie.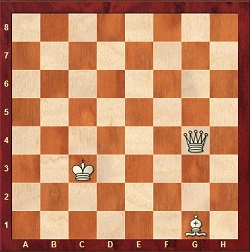 The second item here is a chess puzzle. Here you see three White pieces on the board, but no Black pieces. To solve this puzzle, you need to provide 3 different possible locations for the Black King. That is, on what squares do you place the Black King such that:
1. The position is a stalemate for Black. That is, it is Black's move, but there's no safe square to move to.
2. Black has just been checkmated
3. It's White's move and it's mate in one.
So there are three answers, and they're all different. And, as far as I can tell, there's only one possibility for each solution. Personally, I found the first two fairly quickly. The 3rd one took me awhile, not sure why.
So, have at it. As I said, it's an open thread.


posted by Open Blogger at
06:30 PM
|
Access Comments