« Happy Independence Day - [BCochran]
|
Main
|
A Reading of the Declaration of Independence »
July 04, 2015
Saturday Gardening Thread: Hot as a Firecracker, Cool as a Cucumber [Y-not, KT, and Weirddave]
Please use the Open Thread below this one for political discussions and whatnot. Thanks.
Y-not: Happy Independence Day, gardening morons and moronettes!
Today's thread is brought to you by patriotic gardens: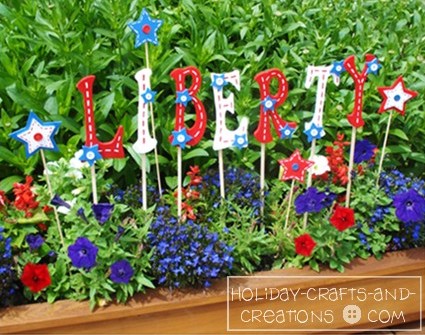 (Here are some ideas if you'd like to make your garden more patriotic.)
Now, how a timely video to get us started?
Fred Astaire in Holiday Inn
by diaperbiscuits
That number is from one of my favorite movies, "Holiday Inn." Here's something you might not know about that performance:
Fred Astaire's firecracker dance was a "high spot" of Astaire's career, film historian Ken Barnes said in the movie's commentary, and is said "to be the fastest-moving and most intricate dance routine ever filmed." Astaire's taps were recorded live, as were the firecrackers and explosions, although Paramount added a few more explosions later. Bing Crosby said Astaire did the number 38 times before he was satisfied, and Astaire said crew members had to wear goggles during filming because the sand from the firecrackers flew into their faces.
Now, here's KT:
Happy Independence Day! Stay Cool!
All week, the neighbors have been setting off fireworks in the evenings. This sets off our dogs in a sustained chorus of alarm. The noise is especially hard on the biggest one. Some of those fireworks do not sound legal in this jurisdiction. I wish they would limit their rebellion to the Fourth of July. There are quieter firecrackers available. They can be grown indoors with enough light. And space.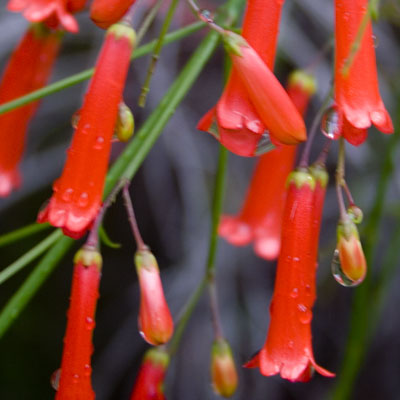 Firecracker Plant
My aunt tells a story about the challenges of finding ingredients to make traditional American hamburgers for the Fourth of July while living in France one summer, maybe 30 years ago. Even the pickles were different -- cornichons, "tart French pickles made from small gherkins pickled in vinegar and tarragon". Cornichons are not the typical Fourth of July pickle.
That story, along with a comment on cucumbers in last week's episode of the Saturday Gardening Thread, reminded me that we had not done much on cucumber varieties. We have had a nice segment on Getting Pickled. Country Singer linked a nice video refresher on canning last week, too. I even saw an old pickle story Ace put up. Eeewww.
But today I want to focus on fresh cucumbers. I am going to skip the more unusual cucumbers (and pickling cucumbers, too) for now. I don't want anybody going cross-eyed from too much information. Some may already think that Ace's story was "too much information". The unusual cucumbers (the kind that grow on plants) are fun, though. We can cover them in a future episode.
American Slicers
These are the cucumbers you see piled up in the produce aisle in the supermarket, often coated with a thin film of soft wax to help them retain moisture. I generally eat American Slicers peeled, as the skins tend to be tough and sometimes bitter. Even cukes from the garden are sometimes best peeled. One of my mother's favorite things is sliced cucumbers and red onions, soaked in half vinegar and half water with a little salt. The cucumbers turn pink eventually. The marinated cucumbers and onions are great added to a tomato sandwich, on buttered bread to prevent sogginess, eaten over the kitchen sink immediately after slapping it together.
My favorite cucumber salad for picnics is made with sliced cucumber, red onion and bite-sized pieces of green bell pepper (or Ancho/Poblano chiles) and tomatoes, in A LOT of Good Seasons Italian Salad Dressing (the kind you make with the little packets) with extra fresh ground pepper. Make the dressing using cider vinegar. This marinated salad is safe to serve at room (or outdoor) temperatures if you don't push the storage time too much. You don't have to use your most precious garden tomatoes for this salad. Romas will do. Home-grown or from the Farmers Market, if possible. They are best blanched and peeled. The soupy leftovers are wonderful with some nice French or Italian bread. Here is a similar but less liquid-y salad, with dill and basil instead of peppers.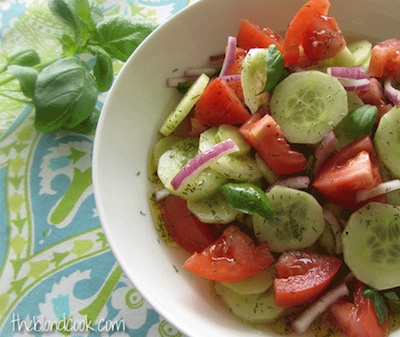 Garden Cucumber and Tomato Salad
I cannot grow edible American Slicers in our hot-summer valley, because they get too bitter. Even if you live in a more reasonable cucumber climate, you will need to supply your plants with regular moisture to prevent bitterness. American slicers generally have light-colored spines. The ones near the stem are especially sharp. You might want to wear thin, flexible gloves when picking these cucumbers.
A representative non-hybrid cultivar is Marketmore 76. It has some disease resistance. There are also some bush cultivars that can be grown in containers, if you can keep the moisture level in the potting mix from fluctuating too much. One is Spacemaster 80, developed at Cornell University.
European (AKA Dutch or English) Greenhouse Cucumbers
These are the long, spineless cucumbers you see sold in shrink-wrap. They are often used to make the famous symbol of oppression known as the English Cucumber Sandwich. There seem to be a lot of rules for making a proper one. Has anybody in The Horde ever made them for high tea or for your palace garden party?
Now I am going to get a little science-y. Greenhouse cucumbers are generally parthenocarpic, meaning that they do not need pollination in order to produce fruit. Some may also be gynoecious, meaning that they have mostly or only female flowers. Johnny's has a nice pdf on cucumber terminology, to help you keep these terms straight.
Seed prices for greenhouse cultivars are often very high. Some parthenocarpic cultivars are not suitable for growing outdoors in the presence of bees, because pollination produces undesirable characteristics. Some can be grown either in the greenhouse or outdoors. If you have the room, you might be able to grow a late-season crop in high tunnels.
If you are leery about high seed prices for greenhouse cucumbers, you might try Heike.
Beit Alpha Cucumbers
This is a Middle Eastern or Lebanese type, sold by street vendors as a cooling snack in summer. These cucumbers have thin skin and are often smooth and spineless. They are shorter and more productive than the European greenhouse types. Diva is an AAS winner, gynoecious and parthenocarpic. It is seedless if grown away from other cucumbers. Because it is bitter-free, it is less attractive to cucumber beetles than some other cultivars.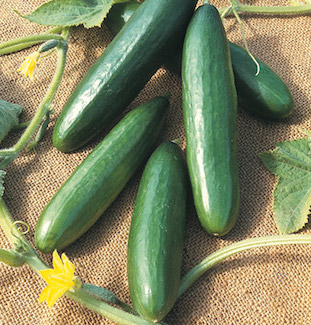 Diva cucumber
I have not been able to grow Beit Alpha cucumbers successfully. "Bitter-free" is sometimes a relative term. I may try again someday.
Cocktail or Snack Cucumbers
These are similar to the Beit Alpha cucumbers, but smaller. They are often sold in clamshells or bags. I am not sure which kinds of cocktails they work best in.
Commercially, they are usually grown in greenhouses. Rocky is an early one (46 days) that can be grown outdoors. Rocky gets good reviews at Dave's Garden. I have never tried growing this type.
Asian and Bitter-Free Cucumbers
I did not grow cucumbers this year because of the drought. But we love them fresh from the garden. This is the only category of true cucumber I have been able to grow successfully here.
In Mexico, they grow cucumbers under corn, sort of like Americans sometimes grow pumpkins under corn. But it has always seemed awkward to me to try to pick cucumbers from a corn patch. One sweet old gardening enthusiast in town grew cucumbers in the shade of a tree. I have had the most success growing them on a fence or trellis. The plants cook if left on the ground.
The traditional Asian cucumber (at least in the American market) is a bumpy, spiny one like Suyo Long. My all-time favorite, Summer Dance, is less spiny and bumpy. It is a beautiful fruit with great flavor -- sweet and never bitter even in our climate. It is on the late side.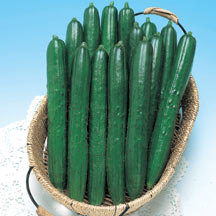 Summer Dance Asian Cucumber
There are now many "burp less" or "bitter-free" types with an appearance somewhere between the Asian and the American Slicer types. Sweet Suceess is a big cucumber, parthocarpic and gynoecious. It produces seedless fruit if grown away from other cucumbers, even outdoors. Sweeter Yet is slimmer, gynoecious but not parthenocarpic. It needs a pollinator. I wish they would color the pollinator seeds so you could tell which ones they were. But enough about cucumber sex.
Other Garden News
We got a touch of rain this week, with hot, muggy air. But we will take any rain we can get. Three hundredths of an inch set a record for rain on this date in Fresno. Climate Change! Heh.
Our Tomato of the Week is Neves Azorean Red. It is a beefsteak that I have been picking with green shoulders in the heat. It is firmer and less lush or sweet than Stump of the World, my best pink beefsteak this year. Neves Azorean Red has a tangy, unusually mouth-watering flavor. It truly does make your mouth water. It is good match for bacon. It would be a great choice for people who want a less sweet, zingy open-pollinated tomato.
I have picked the season's last Geo Pride Pluot. Other than the ones the birds have pecked. The birds can keep pecking on them for a while. The fruits hang well on the tree. This cultivar has small, very sweet freestone fruit. It is a good pollenizer for other early-blooming Japanese plums and Pluots. The fruit is not as flavorful as some of them, though. But it is a good companion for the ones with more distinctive flavor.
We are managing to keep most of our more permanent plants alive. This is about as much as we can expect right now.
Hope everybody has a good gardening week.
Y-not: Thanks KT! Now let's see what Weirddave has for us this week:
Hugelkultur

Gesundheit.

Someone mentioned this to me a couple of weeks ago, and I thought I'd look into it. Basically, hugelkultur is a method of planting in raised beds built over a core of rotting wood.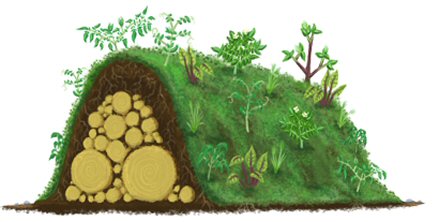 Here's how it works: You can either dig a trench or just stack a bunch of logs on the ground. Logs that have already started to rot a little are to be preferred because if you use fresh logs they are going to pull a lot of nitrogen out of the soil initially. It seems to me that last year's deadfalls would be ideal.
Anyhow, you create your pile of logs, then fill in the gaps with branches and twigs, and then cover the entire thing with compost - grass clippings are perfect. Some people suggest adding urine for the nitrogen at this point, but I think they were just drunk and needed a place to take a leak. Mound top soil over all of that, put your plants in the soil and viola! You've got hugelkulture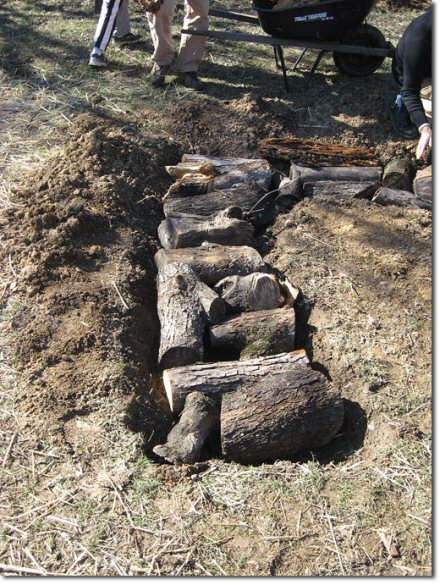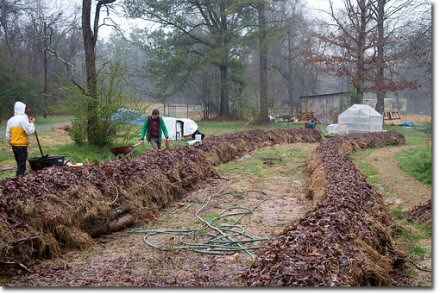 There are supposed to be a lot of advantages to using this method of gardening. For the first few years, the decomposing wood heats the earth of your garden, extending the growing season by as much as a month in the spring and fall. The spongy mass that the wood becomes as it rots holds on to water like, well, a sponge, meaning that large hugelkulture beds may never need to be watered at all, even in arid climes! Of course, the decomposition going on at the heart of your beds means that plants have a very rich source of nutrients for their roots to tap. If you build your mounds high enough, you can even eliminate the need to bend over to harvest your veggies.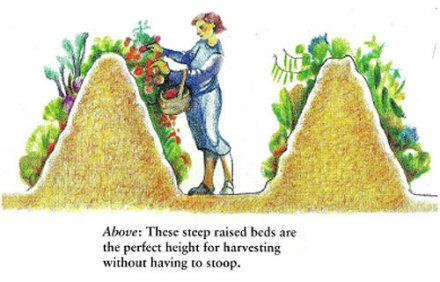 It's an intriguing concept in gardening, and all things considered, I'd like to give it a try sometime. I'm told that beds such as these, depending on their size, can bear fruitfully for twenty years or more. I'm picturing a long mound like this, with fruit trees along the top, crops at easy harvesting height along the sides and flowers down along the bottom.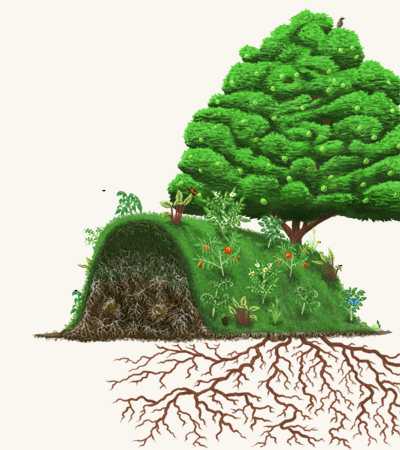 Do any of you gardeners out there in Horde land have any experience with hugelkulture?
Illustrations 1 and 5 come from Richsoil.com, their page oh hugelkulture (linked) is extremely thorough. The middle three images came from The Permaculture Research Institute.

Y-not: To wrap things up, "Thar she blows!"*
I had not heard of rubbing cucumbers with salt to remove some of their bitterness. Does anyone know if it works?
(*By the way, you do NOT want to "Google" that phrase without taking care when following links. Definitely NSFW!)
Speaking of whales, I believe the Ace of Spades book club has postponed reading Moby Dick for a little while. Next week's book will be Poe's The Fall of the House of Usher.
Just to be more "on topic," do you know about Melville's Berkshire (Massachusetts, not England) home, Arrowhead? Avid gardeners might enjoy visiting his small farm as well.
'Hope you're having a whale of a time in YOUR gardens!

Link to the Archive of the Saturday Gardening Thread (through May 2015).

posted by Open Blogger at
12:00 PM
|
Access Comments