« OT Thread-Fixing healthcare (Long, Wonky) [WeirdDave]
|
Main
|
Crazy Rightwing Nutjob Says Perry Indictment "Seems Pretty Sketchy" »
August 16, 2014
Saturday Gardening Thread: Getting Pickled Edition: Dedicated to Travis County DA Rosemary Lehmberg [Y-not and WeirdDave]
Today's thread is brought to you by the okra flower: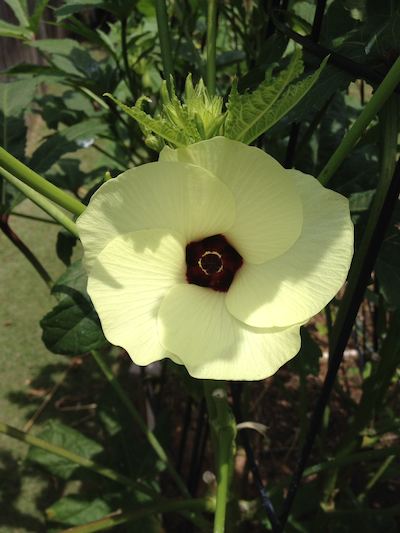 Picture provided by a moronette lindafell.
This will be an abbreviated Gardening Thread. I confess that after this week's horrible news, which appears to be on-going, my heart just wasn't in it. Fortunately, WeirdDave stepped up to the plate and I still have a few contributions from our gardening horde, so there is some content, at least.
Take it away, WeirdDave:

It's come to that time of year when many gardeners across the nation cry out in anguish to their cucumber vines "For God's sake! Stop bearing". You've had cucumber salads ad nauseum, eaten raw cucumbers until vines sprout out of your ears and even made enough tzatziki to supply every Greek Heritage Festival between here and Athens. You've given cukes to your neighbors, your friends, and you've started going over that list you have of people you hate, you know, the one you take out late at night and read over and over and over? Maybe some of these folks aren't so bad, maybe you can be friends again if you give them some nice, fresh veggies.
And still the cucumbers come, reducing you to tears. What on earth are you going to do with them all? The answer is easy: make pickles, of course. Start by laying out your mise en place. As always, sterilize everything with steam or by boiling.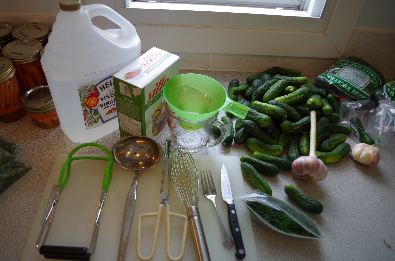 Then take your cucumbers, cut the ends off, then cut them into wedges.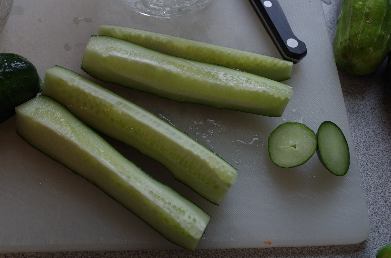 Put the wedges in a canning jar, packed loosely, along with dill and garlic.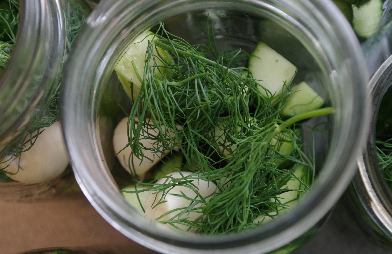 Fill the jar with your brine solution. What, you don't have an old family recipe for brine? Fine, you can have mine. It comes from the good folks at Purity Flour. From their cookbook: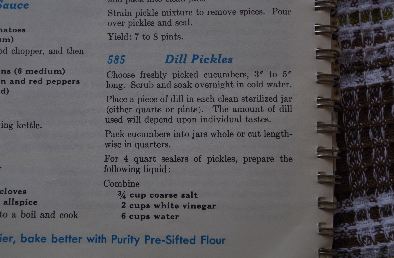 Put your lids and rings on the jars. Bring the water in your canner to a boil, submerge the jars , bring the water back to a boil and boil the jars for one minute. All you're doing here is ensuring that the jars seal, the brine does the actual preserving. Any longer than a minute and your pickles will be limp. Nothing is more embarrassing that whipping out your pickle, expecting it to be nice and firm with good mouth feel, and standing there sadly with a limp pickle drooping in your hand. It's never happened to me, of course, but that's what I hear anyway. Put the jars in a cool, dark room for 6 weeks and voila! Pickles.
More on pickles:
The exact same method works for carrots.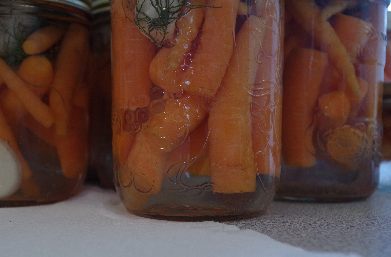 And now from your co-hostess, Y-not:
From our long-time regular, KT, who knows a thing or two about gardening - and, as it turns out, canning - we have this cautionary tale. (She sent this in after an earlier thread about spaghetti sauce canning, but I think it's worthwhile to include it here given that there's another canning process being shown.)
Commenters recommended using only approved recipes, but I thought it might be a good idea to explain WHY they recommended such precautions.

The rare-but-dreaded risk from improperly canned foods is botulism. C. botulinum survives boiling in spore form and multiplies in low acid foods under anaerobic conditions, as in canned foods. Meanwhile, it produces botulinum toxin, one of the deadliest substances in the world. Think: FULL BODY BOTOX.

WeirdDave's beautifully illustrated canning method is called "cold-pack canning" even though it uses boiling water, because it's "cold" compared to temperatures with pressure canning. "Cold Pack" canning is suitable for high-acid fruits, pickles, jelly and jam, etc. Even some tomatoes are now not considered safe for cold pack. And if you add onions, garlic, mushrooms, meat, etc. it's REALLY not safe for long term storage. Botulinum toxin (not the organism) is denatured by boiling, which is why "the experts" recommend boiling home-canned low acid foods for 10 minutes BEFORE TASTING. Even if the foods were canned under pressure. Don't lick the spoon.

Some good sources of safety information for canning were provided in the comment thread: USDA extension services (I think they may have a website, too), the books put out by manufacturers of canning jars, etc. You can also ask a question here and the food safety mavens will answer you:

http://forums.gardenweb.com/forums/harvest/



I made some "refrigerator pickles" last year using my green tomatoes. They only keep for a couple of weeks, but are a nice way to use some of your unripened tomatoes. To make things easy on myself, I grabbed some pre-made pickling spices from Williams-Sonoma (out of their bargain bins, which I love) and followed the instructions. No one died and they tasted good.
I *may* try to do "real" canning some year, so I've started looking for easy how-to guides about the process. Here's a link from Real Simple for beginners.
And this web page from the National Center for Home Food Preservation also seems useful.

In light of the week of terrible news, how about something nice? (**LINK FIXED. SORRY ABOUT THAT.**)
Pit bulls tend to get a bad rap in popular culture, usually being portrayed as ferocious and aggressive beasts. Sophie Gamand, a U.S.-based French photographer, has set out to change all that by photographing pitbulls posed with beautiful hippie flower crowns.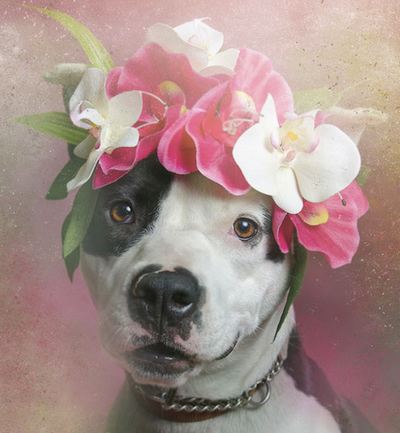 **Note: I know pitbullls (American Staffordshire Terriers) can be wonderful pets. But I do firmly believe that they, like any dog, need the right owner. And, sadly, that is not always the case. Even people with extremely good intentions might not be equipped to own one. So if you are considering adopting one, please do your research. Just my two cents.**

To close things up, this is the Democrats' idea of a public servant:
This video cannot be disseminated widely enough.
#IStandWithRickPerry

posted by Open Blogger at
11:22 AM
|
Access Comments