« EMT 6/21/15 [krakatoa]
|
Main
|
Fundamental Concepts - E pluribus unum [Weirddave] »
June 21, 2015
Sunday Morning Book Thread 06-21-2015: The Evil That Men Do [OregonMuse]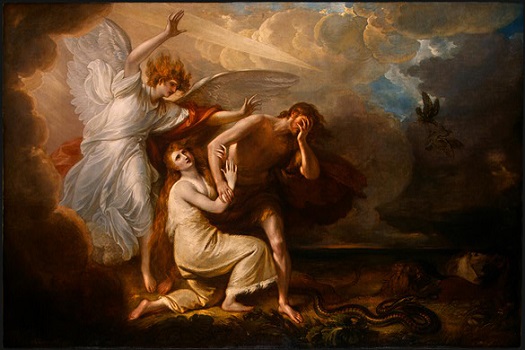 The Fall of Man

Good morning to all of you morons and moronettes and bartenders everywhere and all the ships at sea. Welcome to AoSHQ's stately, prestigious, internationally acclaimed and high-class Sunday Morning Book Thread. The only AoSHQ thread that is so hoity-toity, pants are required. Or kilts. Serious you guys. Kilts are OK, too. But not tutus. Unless you're a girl.

Book thread TRIGGER WARNINGS for the celebration of cisnormative family life, and for holding the following truths: that the personal is NOT the political, that the 2nd amendment was not put there for duck hunters, that Bruce Jenner is still a man, that Lena Dunham is still a pervert, and that progressive narratives are established by fraud, propagated by ignorance, and maintained by force.
It's not just the books under fire now that worry me. It is the books that will never be written. The books that will never be read.

-Judy Blume

I put up these book quotes because I like them, but this week's quote I put up because I don't like it. My question to Ms. Blume is, drama queen much? What books are "under fire"? What books "will never be read"? I understand that she's an author whose books have, in the past, been deemed inappropriate for young children and removed from schools, but the quote makes it sound like the Stasi is about to start confiscating and burning private libraries. Give me a break. There hasn't been a book that's actually been 'banned' in this country since the 1960s. Any adult n this country can read any book they want, and yet the progs are still caterwauling about 'censorship'.

Adam To Eve: 'Thanks To You, We're Boned'
Back in the day, the schools used to teach microaggressive stuff like this:
In Adam's fall
We sinned all
There is a whole boatload of theology packed into that one short sentence. But it's not from a catechism theology textbook. This is the first line in the New England Primer, a widely-published and oft-republished book (starting in the late 1600s) by which generations of early Americans were taught to read. And thus Americans learned from their earliest years that all men are sinners in need of grace.
Having said that, though, some people appear to be more in need of grace than others. And while that doesn't mean they are evil and we are not, the question is, how best to deal with them. And I'm not talking about obvious and egregious sinners such as murderers, rapists, thugs and Christians who won't bake cakes for gay weddings, but rather those curiously toxic personalities that seem to be in many families and work places.
For example, most relationships involve a lot of what you might call give-and-take. You get benefits from the other person as they do from you. But some people are all take and no give. They just suck you dry. They're not fun to be with, everything's a problem, it's always about them, and there's usually tons of drama that just never stops.
You can't live with 'em, and can't shoot 'em.
After awhile you start to whether they're really incompetent at relationships, or if they're deliberately, maliciously evil.
It is for these types of people that the book Emotional Vampires: Dealing with People Who Drain You Dry, Revised and Expanded 2nd Edition by Albert Bernstein was written. He divides the emotional vampires into basic types: antisocial, histrionic, narcissistic, obsessive-compulsive, and paranoid, and tells you how to deal with them effectively.
Also,
In response to the daily calls and emails he got about the previous edition of this book, Dr. Al Bernstein has added his advice for dealing with those emotional vampires who come in the shape of spouses and lovers, relatives, and children. Dr. Bernstein shows you how to deal with each vampire type and what you need to do to keep from getting drained.
Some think they just are evil, that there's no other good way to describe such people.
Evil Genes: Why Rome Fell, Hitler Rose, Enron Failed and My Sister Stole My Mother's Boyfriend by Barbara Oakley tries to pin it down to abnormal physiology:
Have you ever heard of a person who left you wondering, "How could someone be so twisted? So evil?" Prompted by clues in her sister's diary after her mysterious death, author Barbara Oakley takes the reader inside the head of the kinds of malevolent people you know, perhaps all too well, but could never understand.
This book is an exploration of the neurologic and genetic basis for evil, manipulative behavior, using examples from history and providing clues from scientific studies on brain function.
And then there's The Sociopath Next Door by Martha Stout, a clinical psychologist who holds that perhaps as many as 4% of the population are conscienceless sociopaths who have no empathy or affectionate feelings for humans, or, for that matter, animals (I've heard that mass murders frequently start out as children by torturing and killing small animals).
The fact is, we all almost certainly know at least one or more sociopaths already. Part of the urgency...is the moment when we suddenly recognize that someone we know—someone we worked for, or were involved with, or voted for—is a sociopath. But what do we do with that knowledge? To arm us against the sociopath, Dr. Stout teaches us to question authority, suspect flattery, and beware the pity play. Above all, she writes, when a sociopath is beckoning, do not join the game.

It is the ruthless versus the rest of us, and The Sociopath Next Door will show you how to recognize and defeat the devil you know.
I find it helpful to remember, when dealing with these toxic individuals, is that there, but for the grace of God, go I.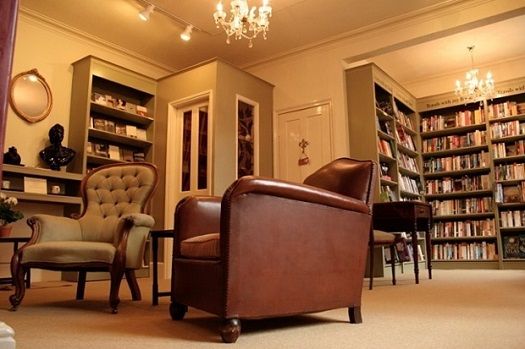 Mr. B's Emporium of Reading Delights, Bath, UK


World's Best Independent Bookstores
From the Guardian, their readers pick out their favorite bookstores. Spoiler: Number 1 is Powell's in Portland, OR. Yay, home team!
I kind of like #8, and I grabbed the photo because it made the bookstore look very inviting.
8. Mr B's Emporium of Reading Delights, Bath (UK)

This indie bookshop in central Bath not only has a great selection of books, a cosy atmosphere and comfy armchairs – it also offers services like bibliotherapy and "reading spas", during which staff engage in one-on-one conversations with readers over a mug of coffee and recommend books they think are especially suited to that person.
I think I'd like to go there.

How Obama All But Gave Nuclear Weapons To The Mad Mullahs of Iran, Screwed Over Israel, Set Back Middle East Progress By A Generation, And Sill Found Time To Get 9 Holes of Golf In Before Lunch.
A book that should shortly be making waves is Ally: My Journey Across the American-Israeli Divide by former Israeli ambassador to the U.S. Michael Oren.
Michael Oren served as the Israeli ambassador to the United States from 2009 to 2013. An American by birth and a historian by training, Oren arrived at his diplomatic post just as Benjamin Netanyahu, Barack Obama, and Hillary Clinton assumed office. During Oren's tenure in office, Israel and America grappled with the Palestinian peace process, the Arab Spring, and existential threats to Israel posed by international terrorism and the Iranian nuclear program.
I guess this Amazon blurb is accurate if "grappled with the Palestinian peace process" actually means "destroyed the United States' decades-old alliance with Israel":
Oren provides an inside account of relations between the administration of Barack Obama and the government of Bibi Netanyahu, and his thesis is overwhelming, authoritative, and damning: For the last six and a half years the president of the United States has treated the home of the Jewish people more like a rogue nation standing in the way of peace than a longtime democratic ally. Now the alliance is "in tatters."
My only question is, is Obama merely incompetent, or is this by design?
A number of items discussed in Ally are listed in this Times of Israel article. Here's one that will surprise no-one:
4. Oren stunned by Obama's attitude to the United States: Reading the president's memoir "Dreams From My Father," the ambassador says he scoured the book in vain "for some expression of reverence, even respect, for the country its author would someday lead" but finds none.
Yeah, Mike, that's pretty much par for the course. And don't forget: we elected this clown twice. One wonders why no reporter has ever asked Obama to explain the fundamental lack of respect for America that is evident in all of his writings and statements prior to his becoming a national figure.
And while looking at Ally, I happened to see this one, Catch The Jew! by Tuvia Tenenbom, a gonzo journalists who wanders around Israel and the Palestinian Authority asking embarrassing questions:
From the self-hating leftists in Tel Aviv to the self-promoting PLO execs in Ramallah, from the black-clad Haredim of Bet Shemesh to the glowing foreign human rights activists in Beit Hanina, from Jewish settlers and the Christians who come from abroad to toil with them to ardent Jerusalem monks and Bedouins in surprisingly glorious shacks, Tenenbom takes on the people of the land, getting to know them and disarming them as he breaks bread and mingles with anyone and everyone.

Does Palestinian wife number one hate the Jews more than she hates wife number two? Who finances cash-rich NGOs pursuing a Judenrein Israel? Who sets Palestinian olive groves on fire and why? What is the emotional gravity that pulls idealistic human rights activists from other countries to Israel and only to Israel? Who are the flaming feminists who sacrifice their lives for the rights of polygamists? Whose land is this, anyway?
This looks like it might be fun.

Turn Off Your TV This Summer
I've been amazed, since I got back into doing some actual reading a few years back, how many books are actually part of a larger series. Especially the self-published and indie published e-books. When you get a Kindle or Bookbub $1.99 deal, the book they're offering is, more often than not, the first in a series, whether it be a trilogy, tetralogy, or something like the Game Of Thrones, which is apparently never going to end. But, no matter. Here are some classic book series you should consider turning off the boob tube this summer and spending some time with.
Me, I've been been meaning to get to Ursula K. Le Guin's Earthsea trilogy for some time now, this may be a good time to do it.

Books By Morons
The mailbag was light this week, so the following is a repeat from an earlier book thread.
Moron Sean Gleeson wants you to read and review his new book. Well, actually, it's not his book, it's his late father's book. I'll let him explain it:
Paul F. Gleeson was a successful Chicago lawyer who died in 2012, at the age of 70. He was also my father. Among his belongings we found a boxful of typed manuscripts from the 1970s and 80s. It turned out they were short stories he had written...

Also in the box were rejection letters from publishers. Dad was unable to get past the literary gatekeepers of those days. Discouraged, he stuck to his day job, and gave up his dream of entertaining the readers of America. The stories sat, unread, for three decades in a dusty heap.
How cool is that? I mean, finding the stories after all these years, it's like discovering buried treasure. So Sean and his siblings bundled them up and published them as Screams from My Father: Stories by Paul F. Gleeson. Sean describes his father's stories as
Rip-roaring pulp-fiction tales, with ironic twist endings, like Alfred Hitchcock or Twilight Zone stories.
More information on each of the 10 stories is at the Amazon link.

___________
So that's all for this week. As always, book thread tips, suggestions, bribes, rumors, threats, and insults may be sent to OregonMuse, Proprietor, AoSHQ Book Thread, at the book thread e-mail address: aoshqbookthread, followed by the 'at' sign, and then 'G' mail, and then dot cee oh emm.
What have you all been reading this week? Hopefully something good, because, as you all know, life is too short to be reading lousy books.

posted by Open Blogger at
08:56 AM
|
Access Comments