« Your Japanese Schoolgirl Waifu Is At A Better Game Tradeshow
|
Main
|
The Pope's Encyclical on AGW; A Different Perspective [Sean Bannion] »
June 21, 2015
Food Thread: Ironworker Edition [CBD]
Commenter (mostly lurker) Lando034 has done something wonderful with his new cast-iron pans after his vintage pans were "lost" by the movers. But first some background on cast iron cookware.
100 years ago there were several manufacturers of cast-iron cookware, but with the advent of Teflon and other non-stick cookware, and the attractiveness and utility of lighter pots and pans, we are left with just one major manufacturer of cast-iron cookware...The Lodge Manufacturing Company of East Pittsburgh Tennessee. Camp Chef is still around, but they seem to be marketing for outdoor cooking.
And they make fine stuff. I love my big Lodge skillet -- all 40 pounds of it. It holds heat, the non-stick quality is fine, and I can heat it to my favorite temperature -- surface-of-the-sun -- for searing steaks.
But....I also have a small Griswold pan for making an egg or two, and there is absolutely no comparison. The surface of the Griswold pan is like a mirror, with no pits or indentations or even the barest hint of granular irregularities; something that is common among current Lodge cookware. It's just better made, and a better pan. Of course, I paid more for my tiny little one-egg Griswold skillet than I did for my big Lodge pan. It's almost as if there is some relationship between supply, demand and price.
Why the old pans are better is a good question, and one that I cannot answer authoritatively. I have read that the casting sand was finer, that the alloys used were higher quality, that the technique itself was better (I am suspicious of that one), that the polishing was simply better. My bet is that it is a combination of all of them.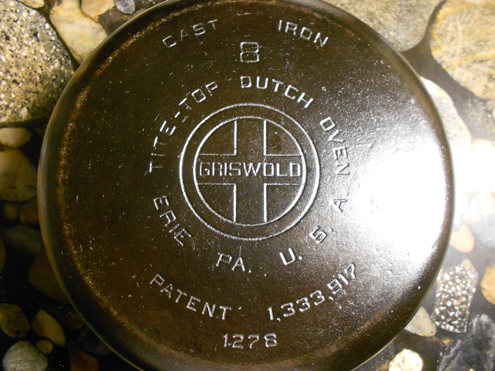 The good news is that there are companies entering the market for quality cast-iron stuff. The bad news is that they charge a fortune for their products. For instance, this beautiful Finex 12" skillet is about $200.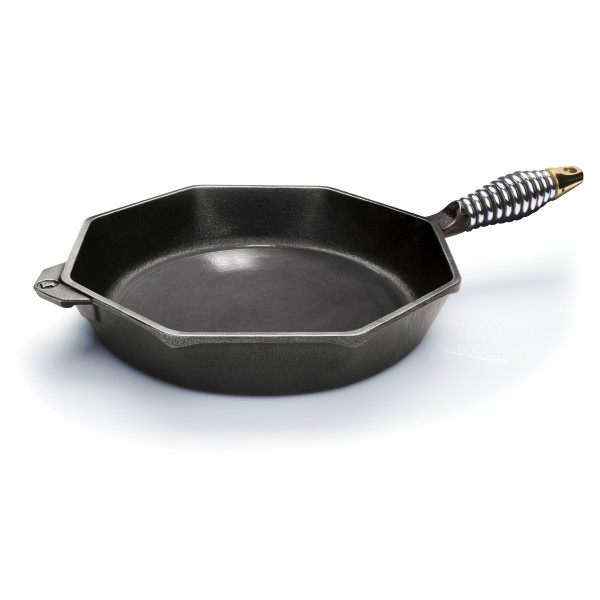 Ouch!
And Borough Furnace, a small place in Syracuse NY charges even more for their skillets....about 50% more!
So what's a Moron to do? Sell the kids into slavery to pay for great cookware, or do what Lando034 did; refinish run-of-the-mill Lodge stuff so that it approximates the stuff our grandparents used.
I'm cheap. I'm going the refinish route.
Take it away Lando034.....
So what I did was replace the pieces we used the most with Lodge pans. As a side note, I also used a very large crock-pot on a regular basis. Lodge doesn't make that size anymore, and the only thing I could find in the right size was Chinese made. The Chinese made cast iron was coated in a factory "seasoning", which I am pretty sure was plastic. It smelled pretty terrible when I burnt it off. Also, the interior surface didn't mill well. There were too many pits and valleys. Which is a long way to say I don't recommend the Chinese made cast iron. It is a lot cheaper, but all cast iron is pretty cheap, especially for how long it should last. Stick with Lodge.

I do not have a mill, so I bought something similar to this sanding kit. I used sandpaper for metal and progressively finer grit. I think I started with 60, then 100, and ended with 120. If I were to do it over again, I would have gone deeper with the 60 and gone to a higher grit after 120. I had read somewhere if the cast iron was too smooth, you couldn't get a seasoning to stick. I found that not to be the case, and after further thinking, I am not sure it would matter... If you can't get a seasoning to stick, nothing else is going to stick either. Also, I still have some pitting that I could have gotten rid of if I had spent more time with the 60 grit. It took about an hour per pan.
Here's the end result: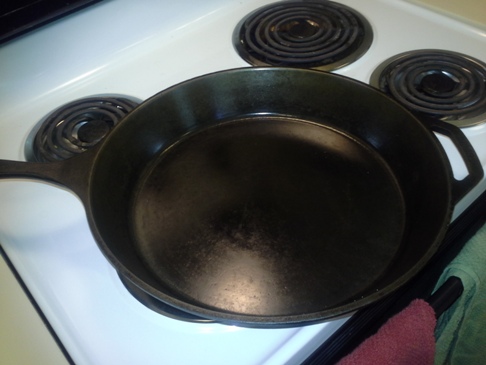 Not bad!
And now I have seared steak on an endless loop in my head.....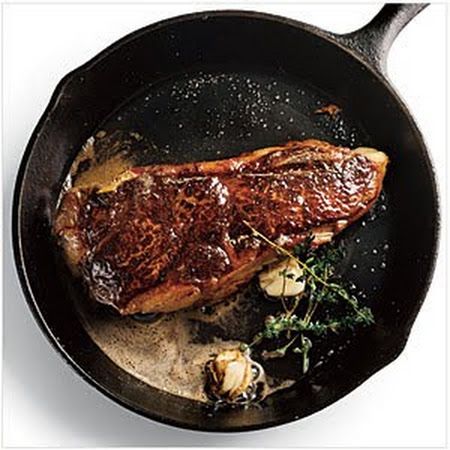 Seared New York Strip Steak With Pan Sauce
2" strip steak or Porterhouse
Butter
Kosher salt
Brandy (or any liquor with a fair amount of sweetness. Hell, bourbon would work)
one sprig of fresh thyme
Remove steak from refrigerator one hour before cooking.
Salt liberally on both sides.
Preheat oven to 400° F.
Place seasoned cast-iron skillet on large burner over medium-high heat for about ten minutes. The goal is to heat the skillet thoroughly and evenly. If you have an infrared thermometer, shoot for 500° F. in the center of the pan. If the pan is smoking, it's too hot.
Turn on vent fan to high, or open the windows.
Place the steak (or two, but don't crowd the pan) in the middle of the pan and press down gently so that the entire surface touches the hot pan. Sear for about two minutes, then flip over and press down gently again. The goal is just to get a nice crust and not to cook the steak.
Using a pair of tongs, sear the edges of the steak for a few seconds, then place on a small cookie sheet to rest. If you are cooking more steaks, repeat the process.
Turn the burner under the skillet to its lowest setting, Then place the cookie sheet into the oven and reduce heat to 300° F. Cook for 6-10 minutes for a finish temperature of about 125°. The best way to judge this is to use a meat thermometer. And of course adjust the cooking time based on your preferred doneness.
Remove the steaks from the oven and allow to rest for several minutes.
While the steak is resting, deglaze the pan with a few ounces of the brandy. Be careful, as the alcohol will evaporate almost instantly and ignite over the skillet. This can be an exciting several seconds. When the alcohol is burned off, add two tablespoons of butter and the sprig of thyme to the pan and swirl to mix and pick up all of the lovely flavors from the seared meat. Scrape with a wooden spoon if necessary. This does not yield very much sauce...it's really just a bit of additional flavor. If you prefer you can then add cream to the pan and make a thicker, richer pan sauce.
Just before serving, pour any accumulated juices from the resting steaks into the pan, swirl a few times to incorporate, and serve on the side.

posted by Open Blogger at
04:00 PM
|
Access Comments