« Saturday Politics Thread: The More Things Change... [Y-not]
|
Main
|
An Interesting Approach To Combat Our Burgeoning Regulatory Leviathan [CBD] »
June 13, 2015
Fundamental Concepts - Time And Tide Wait For No Man[Weirddave]
They Might Be Giants:
"TIME! Is marching on.
And TIME! Is still marching on.
This day will soon be at an end
And now it's even sooner
And now it's even sooner
And now it's even sooner
This day will soon be at an end
And now it's even sooner
And now it's sooner still"
What's the lesson here? The lesson is that Saturday's Fundamental Concepts thread won't write itself.

Pity. I could use that today.
In the last week:
Gingy and I made an offer on a house. It was accepted. Now we're running around like chickens with our internet cut off getting our house ready to list. In the past week we've taken out a wall downstairs, installed hardwood floors, painted much of the house and had the basement waterproofed.
On top of that Gingy just got one of her knitting patterns listed in a MAJOR publication in the knitting world and has to get it perfect for publishing including a fashion shoot, I got promoted at work and am now training a half dozen new people, and Big lost his job.
PLUS Gingy and I are leaving Monday morning very early in the AM for a long scheduled vacation in Cabo San Lucas, my mother is flying in tomorrow and Little finished school for the year and is now a 24/7 responsibility.
AND last week was a "push week" at work, where everyone was asked to work extra hard.
Friday night, 11 PM, just dozing off to sleep......OH SHIT I GOTTA WRITE THE FUNDAMENTAL CONCEPTS THREAD FOR TOMORROW MORNING!!
I gave it a shot. I'm actually quite happy with what I have so far, but I'm in no way finished. I don't want to half ass it and end with a half dozen perfunctory sentences, but it's 2 AM and I'm fried. Normally I'd finish in the morning, but tomorrow I have to be up at 7 because we're taking Little to a kid's .22 shooting event at the local rifle range. Long story short (too late -Jonah Goldberg), I didn't finish the Fundamental Concepts thread.
* hangs head in shame *
I'll have the fundamental concepts thread tomorrow after the book thread, I promise, but in the meantime I leave you with this picture. This gentleman lives right next to the airport, and planes pass over his house all day long, so he decided to be welcoming and he painted this on his roof: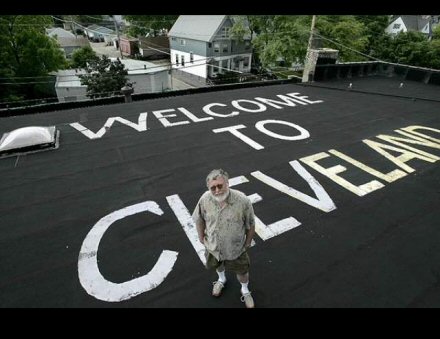 That's nice. Friendly, even. What a nice man, welcoming folks to Cleveland
as they fly over his house. That's kinda cool.
Except this gentleman lives right at the end of the runway in Milwaukee.
Troll Level: Expert.
Open Thread.

posted by Open Blogger at
10:39 AM
|
Access Comments