« EMT 6/13/15 [krakatoa]
|
Main
|
Fundamental Concepts - Time And Tide Wait For No Man[Weirddave] »
June 13, 2015
Saturday Politics Thread: The More Things Change... [Y-not]
Good morning horde!
I hate to do this after taking last week off, but I'm not ready to post the next installment of the immigration series. I got completely side-tracked by the trade bill news yesterday. The ensuing rage-stroke led to some "behaviors" that necessitated "chemical treatment." Sadly, that led to further "behaviors" requiring a visit to the local drunk tank, followed by transfer to Bellevue. Fortunately, I was able to gnaw through my restraints in time to slap together a post.
I'm taking the lazy woman's way out, however, which can only mean one thing:

POLLS!
It's been a little while and one of the morons suggested I poll the horde to see who's on -- and who's off -- our lists.
For simplicity, let's use the NYT's list of who is running or is likely to run: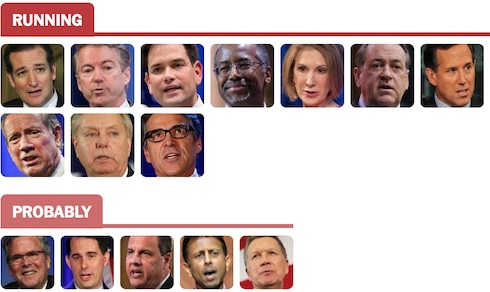 First, thinking of the GOP Primary, tell us your current top choice:
Now, thinking of the GOP primary, tell us anyone and everyone who is currently acceptable to you (choose as many as you like):
**POLL UPDATED: I inadvertently left off Walker. I've reset results (I think) so vote again.**
Now, thinking about the general election, are there any GOP candidates for whom you could not possibly imagine voting?

My primary list has shifted recently. Ted Cruz has dropped out of my top three, in large part because of how he mishandled his TPA vote. To be frank, I find his vote less objectionable than the ham-fisted way he explained it. Cruz's main appeal is supposed to be his connection with the base and he really blew that last week. I'm conflicted about whom to slide in Cruz's place on my top three list, but am leaning Walker. That makes my top three for the nomination (in order): Perry, Jindal, and Walker.
By the way, I've pretty much written Rubio off of my list of acceptable candidates (in the primary). He's just too unaccomplished and too cozy with the GOPe for my tastes. As disappointed as I am in Cruz's handling of TPA, at least he's back-peddling some. Rubio hasn't even been apologetic about it.
My list of people whom I would be happy to support in the primary is getting distressingly small. It's a shame Nikki Haley isn't running. Heck, I'd even take Susana Martinez, despite her "centrism" on some issues.
My list of acceptable candidates in the general is larger, but there are some people who would cause me to sit out (or write-in), including Jeb Bush, Lindsey Graham, and Rand Paul.

How about you?

posted by Open Blogger at
08:35 AM
|
Access Comments