« "...now eventually you do plan to have new AAA 1st Party IPs on your, on you new videogame console, right?"
|
Main
|
Musical Interlude for a Sunday [Y-not] »
June 07, 2015
Food Thread: Stock: Keep It Simple Stupid [CBD]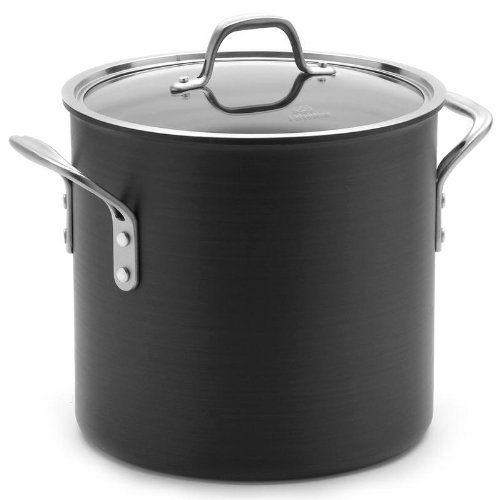 Commercial stock is crappy. There is no way around that fact, so make your own and get a much better quality product while saving some money. And while you make your homemade stock you can also make something called "Glace de Viande" in the case of beef or meat stock, and its equivalent chicken version called Glace de Poulet (I made that up. I have no idea what it is called). These are concentrated stocks that are intensely flavored, so a little goes a long, long way. It's like liquid bouillon cubes, only not chemically tasting and over-salted.
For chicken stock I use the backbones I cut out of the chickens I spatchcock with whatever chicken bones and scraps I can save from plain roast chicken. I try to keep highly seasoned chicken out of the mix, because my goal is to make a simple stock, and flavor it later. Sometimes I will buy chicken backs and necks from our local poultry farm, or, if chicken is on sale at a supermarket, maybe a whole one.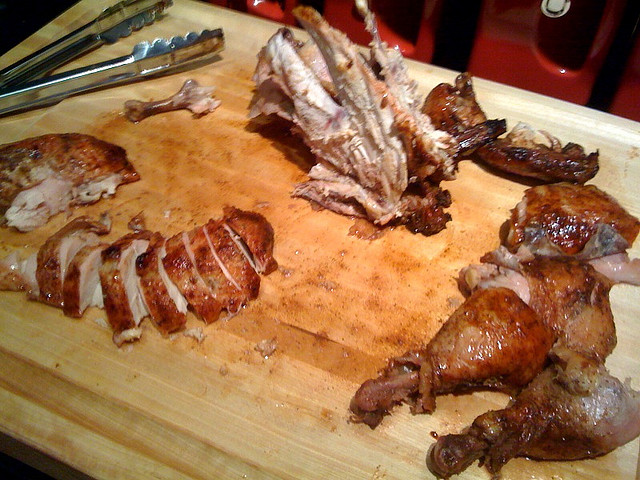 The next step is to harvest those vegetables from the back of the refrigerator. You know, the ones that are a little long in the tooth? Onions, carrots, celery, a bit of parsley, and that is it! Throw the chicken into a hot oven (425-450) until it is browned (30-45 minutes), then dump the chicken into the pot and roast the vegetables for a bit in the same pan...just until they get a bit of color.
For about 1.5 gallons of stock I use about five pounds of chicken scraps, a couple of onions (cut them in half but don't peel them), three or four stalks of celery, three of four carrots, a couple of sprigs of parsley and a teaspoon or so of peppercorns. Notice...there is no salt. Trust me....it's the best way.
Add the water and bring to a rapid boil, skimming the scum occasionally. Then add the vegetables, cover and let simmer (barely bubbling) for three or four hours.
I use a big stock pot with a pasta insert, so after it is done cooking I lift out the insert and it brings 99% of the solids with it. Then I pass the stock through a chinois to filter the rest, and I am almost done. If you don't have a chinois -- and most people don't because they are of limited utility -- just use cheese cloth or a clean t-shirt.
The next step is optional, but I think it is important. I allow the stock to cool covered, almost to room temperature and then refrigerate it for a full day. That allows all of the fat to separate and rise to the top. Then I skim it, bring it to another boil, let it cool, and put half the stock in quart containers and half into pints. Everything goes into the freezer.
At this point take a quart or so and put it into a small saucepan, and reduce the hell out of it. 32 ounces down to four ounces is a nice beginning. One tablespoon of that will be a great blast of chicken flavor in pan sauces or wherever you need more oomph.
Beef stock is the same technique...just collect all of those bones you would normally toss out or give to the dog. If you can find some cheap cuts of beef on sale, especially with marrow bones, then grab 'em.
This can be scaled up or down depending on your needs, and the size of your pot. Use the biggest, heaviest pot you have. The better the pot, the more even heat distribution you will get.
So...what's the big deal? Why go to all of this trouble for something so simple? Well, having several quarts of stock ready to go at a moment's notice is convenient, frugal, and good for your palate. A big steaming mug of stock with a pinch of salt is a wonderful change of pace from a cup of tea or a can of crappy commercial soup. And on a cold winter's evening when nothing will hit the spot like a bowl of something hot, thick and filling (get your minds out of the gutter), having the base for practically every soup known to man is a wonderful thing.
Oh, and in case you thought that I couldn't include something boozy....
BLOODY BULL
3 ounces vodka of choice
3 ounces beef broth
3 ounces tomato juice
4 dashes Worcestershire sauce
4 dashes celery salt
2 dash Tabasco sauce
Light sprinkling of freshly ground black pepper
Lemon wedge, lime wedge or celery stalk, for garnish.
Fill a big highball glass with ice cubes and add vodka, beef broth, tomato juice, Worcestershire sauce, celery salt, Tabasco and black pepper. Stir gently. Garnish with lemon or lime wedge or celery stalk.
******
TUSCAN LEEK SOUP
(Courtesy of Kirby G.)
8 large leeks, whites only, sliced and well-washed
1/4 C olive oil
2 oz. unsalted butter
1/2 C Arborio rice
3 quarts low-sodium chicken broth
salt
pepper
Italian bread, cut into 8 large (1") slices, crust removed
1 C fresh shaved Parmesan
olive oil
Heat the oil and butter in a large stock pot over medium heat. Add the leeks and saute until tender and golden. Add the rice and broth and simmer until rice is very tender. With the aid of an immersion blender or food processor, puree the soup. Season with salt and pepper.
Heat 1/4 inch of olive oil in a skillet and sauté both sides of the bread slices until they become golden mocha brown. Place them on a paper towel, where they will release the excess olive oil. when cooled, put a crouton in the bottom of each bowl and sprinkle with a generous portion of Parmesan. Ladle soup over the crouton and serve immediately.
******
FRENCH ONION SOUP
Recipe courtesy of Tyler Florence
Ingredients
1/2 cup unsalted butter
4 onions, sliced
2 garlic cloves, chopped
2 bay leaves
2 fresh thyme sprigs
Kosher salt and freshly ground black pepper
1 cup red wine, about 1/2 bottle
3 heaping tablespoons all-purpose flour
2 quarts beef broth
1 baguette, sliced
1/2 pound grated Gruyere
Directions
Melt the stick of butter in a large pot over medium heat. Add the onions, garlic, bay leaves, thyme, and salt and pepper and cook until the onions are very soft and caramelized, about 25 minutes. Add the wine, bring to a boil, reduce the heat and simmer until the wine has evaporated and the onions are dry, about 5 minutes. Discard the bay leaves and thyme sprigs. Dust the onions with the flour and give them a stir. Turn the heat down to medium low so the flour doesn't burn, and cook for 10 minutes to cook out the raw flour taste. Now add the beef broth, bring the soup back to a simmer, and cook for 10 minutes. Season, to taste, with salt and pepper.
When you're ready to eat, preheat the broiler. Arrange the baguette slices on a baking sheet in a single layer. Sprinkle the slices with the Gruyere and broil until bubbly and golden brown, 3 to 5 minutes.
Ladle the soup in bowls and float several of the Gruyere croutons on top.
Alternative method: Ladle the soup into bowls, top each with 2 slices of bread and top with cheese. Put the bowls into the oven to toast the bread and melt the cheese.

******

[addendum]

I did some experiments with beef stock, and I found that there's almost no such thing as browning either the beef or the veggies too much, short of char. By far the most flavorful stocks came from beef that had spent so long in the 350 degree oven that it looked almost like dark beef jerky, and from veggies that likewise looked pitifully dried out and excessively browned. This made sense to me in retrospect, because you can't get caramelization until you get rid of the water content first.
-- Splunge


posted by Open Blogger at
04:00 PM
|
Access Comments