« Fundamental Concepts - Money is Fungible [Weirddave]
|
Main
|
Irrational gun purchases are some of the best gun purchases you can make [CBD] »
June 06, 2015
Saturday Gardening Thread: Fiddling Around [Y-not, KT, Weirddave]
Y-not: Good afternoon, gardening morons and moronettes! Welcome to your Saturday Gardening Thread.
Today's thread is brought to you by the Carter Family:
No, not THAT Carter family!
(That clip was from a TV show called Bizzare! starring John Byner, by the way.)
THIS Carter Family:

Ferns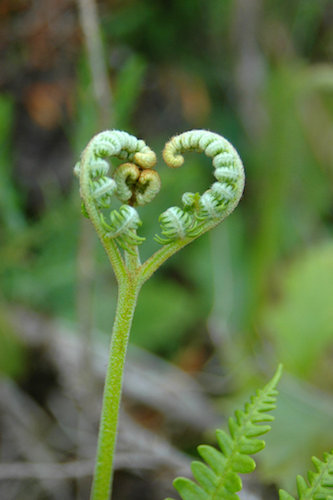 My contributions this week are inspired by edible - and inedible - things.
First, the edible. Fiddleheads. Our Whole Foods (I denounce myself) was offering a couple of Spring delicacies in their produce section: morel mushrooms and fiddleheads. I hadn't cooked either before, but we're pretty adventurous in the kitchen so we went ahead and grabbed some. We wound up using them in several dishes -- on pizza, with pasta, and in an Israeli couscous salad.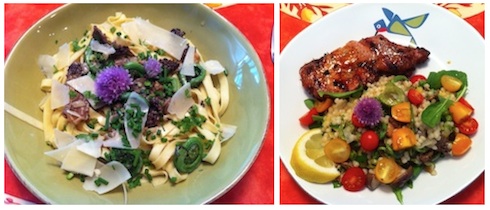 (L) Morels and fiddleheads tossed with fettuccine based on this recipe and (R) Warm Israeli couscous salad with wild mushrooms and fiddleheads based on this recipe.
Perhaps we can convince our friend CharlieBrown's Di to do a Sunday food thread on these delicacies sometime.
In the meantime, let's learn a little bit about ferns.
When I was a student in biology class (back during the Cretaceous Period!), I recall spending a lot of time learning about ferns. The reason? They were THE dominant plant life form several hundred million years ago. Last year, The Economist reported on research into just how ferns competed for dominancy and on the evolutionary accident that allowed them to continue to this day:
WHY do ferns still exist? That may sound an odd question, but it isn't. Ferns dominated the botanical world for hundreds of millions of years, between the Devonian, about 360m years ago, and the rise, about 120m years ago in the Cretaceous, of the flowering plants familiar today. When that happened, though, most ferns could not stand the competition and were driven to extinction. One group alone prospered and diversified. Almost all ferns now alive are its descendants.
Follow the link to learn about the protein that gives ferns their competitive edge.
Today, there are roughly 13,000 species of Pteridophytes (ferns and fern allies), including a new Genus that has been named after a celebrity:
Pop music megastar Lady Gaga is being honored with the name of a new genus of ferns found in Central and South America, Mexico, Arizona and Texas. A genus is a group of closely related species; in this case, 19 species of ferns will carry the name Gaga.

At one stage of its life, the new genus Gaga has somewhat fluid definitions of gender and bears a striking resemblance to one of Gaga's famous costumes. Members of the new genus also bear a distinct DNA sequence spelling GAGA.
Can a Bruce Jenner fern be far behind?
If you want to really "dig in" to the natural history of ferns, the American Fern Society is a good resource.
Aside from beautifying your garden, some ferns are edible:
What types of fiddlehead ferns are good to eat?

If you look into a local field guide on plants of your region, chances are you have several species of ferns that show up in your region. The term "fiddlehead ferns" is a general description of any number of species, which might include Lady fern (Athyrium filix-femina), Ostricth fern (Matteuccia struthiopteris), shield fern (Dryopteris dilatata), and Bracken fern (Pteridium aquilinum).

Some scientists believe that Bracken fern (Pteridium aquilinum) may be linked to higher incidences of stomach cancer, especially in some areas where large quantities of this plant are consumed. Although this is one of the most widespread and common species throughout the northern hemisphere, it should be consumed with caution, if at all.

No evidence of carcinogens is currently known in other edible fern species. As with all wild foods, however, it is best to eat them in moderation, especially initially.
Here's another how-to guide on finding, identifying, and cooking fiddleheads.
Or, if you're not into foraging, here are some resources on how to grow your own courtesy of the Gardening Blog and SF Gate.
Oh, and if you fail at foraging or growing them, you might want to check out this place.
Out of a complete abundance of caution (heh), let's learn a little more about bracken fern toxicity from Forager's Harvest:
There is a great deal of debate about the edibility of bracken fern. On one hand, there is an enormous body of ethnographic evidence that it is edible. It is regularly eaten by hundreds of millions of people today, and in North America was a traditional food for many Native American cultures. Compare this to ostrich fern, which is consumed by far fewer people today and for which there is virtually no evidence that Native Americans traditionally consumed it anywhere. Despite this, a search on the internet will turn up hundreds of sources telling you that this plant is poisonous, even deadly, and should never be eaten. This is due to the presence of a very potent carcinogen called ptaquiloside. However, ptaquiloside is not heat-stable and is apparently destroyed by cooking. Interestingly, Americans don't seem too worried about the equally well-established facts that bread crust and grilled meats contain potent carcinogens. And orientals don't seem to worried about bracken fern.

While it is advisable to eat all fiddleheads cooked, bracken fern fiddleheads should definitely be cooked to destroy the ptaquiloside.
One of KT's favorite bloggers, the Eat the Weeds guy, takes this view:
Phrases like "fiddlehead greens can significantly increase ones chances of cancer" are surprisingly unqualified. That is because science, that wonderful tool, is reductionist. It does not and cannot have a Gestalt view.

What if I ate just a few fiddleheads in a few meals just in spring, when they are in season? Can I expect cancer from them 20 or 30 years down the road? What if I can them, and eat a whole lot of them throughout the year for 20 or 30 years? Might that be the cause of cancer in the time to come? Research has shown that you can get cancer by drinking the local water where fiddleheads grow. But the again, we drink water everyday, not just a few times every spring.
As for my own view about the dangers of eating fiddleheads, I think Joe Jackson put it best:
Sago Palms
Earlier this week I was alarmed to see this on my Twitter feed:
Fortunately, Maisie is fine now. But I thought it would be good to alert all of you to the dangers of the Sago Palm:
A chemical in the plant called cycasin is toxic and often causes permanent liver damage as well as neurological damage if enough of the poison is absorbed by the body. The seeds are the most poisonous part of the plant and the effects on humans are seizures, coma and death.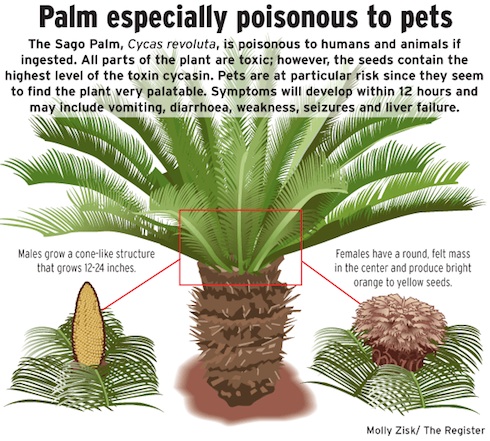 (Sago "Palms" are not actually palms, by the way. You can read more about them here.)
Lourae informs me that they'll be removing their Sago Palms and doing a thorough cleanup of their landscape, which is a very good thing given Maisie's habits of stashing the palm nuts:
So, a heads up to any of you who have one of these attractive, but deadly, plants.
Maisie says: "Keep your pets and small children away from Sago Palm nuts!"
Now, let's hear from KT:
Moonlight Madness
There was a full moon this week. Some strange things happened that night around here. At twilight, as I was returning from the supermarket, I punched up the closest "nostalgia station" on the truck radio. I heard Andy Williams singing a sappy pop version of "I Heard the Bells on Christmas Day".
Later that evening, there were fearsome cat screeches outside. Two men shouted at each other on the road to town for quite a long time, in a hostile manner. The moon was lovely when I finally took the dogs outside. But in the morning, Mr. Bar-the-Door found that the full moon had apparently killed the computer. At least I am blaming the moon. So in recognition of the moon's power, I am writing about two vines that bloom at night. I have grown them both, but I have been more successful with one than with the other.
The first is the Lagenaria gourd. Round specimens are called Calabash gourds. I grew this plant in order to produce long, skinny Italian-style gourds to cook. But there are many, many ancient non-food uses for the gourds, too. In Hawaii, for example, it is used to make large serving bowls to feed "calabash cousins" and to make a percussion instrument called an ipu heke. We could get sort of multicultural by watching a hula from Oakland accompanied by this instrument:
O.K. A link for those who had hoped to see female dancers, here.
There may be an association with that old devil moon in Costa Rica, where calabash gourds are associated with the baile de los diablitos (dance of the little fiends). In Haiti they are used to make the sacred rattle emblematic of the Vodoo priesthood. On a somewhat less-religious note, the calabash gourd was used to make fun of advice to the people on taking showers from Hugo Chavez. We are getting similar advice from government officials in California now.
Small Lagenaria gourds are used in South America to hold yerba mate. Metal containers for the drink are also called "gourds". There is a photo of Che Guevara in the jungle with his gourd. This photo is suitable for sharing with your romance-filled Marxists friends.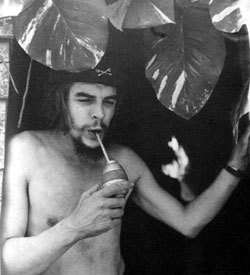 Che sucking on his gourd
You might refrain from directing your Marxist friends to a subversive who has abandoned the True Way for filthy lucre, though: "I stopped using my gourd a few years back because I got a fancy consulting job where I had to wear slacks and stuff every day, and they didn't appreciate the international flavor of drinking Mate straight out of a gourd in the office."
There are cultural uses for skinny gourds, too. If you live in the Bay Area, you might get to see the Cucuzza Squash Drill Team perform in a parade sometime. They use the term "drill team" very loosely. Italians and Italian-Americans also seem prone to confusing this gourd with squashes. They sometimes use the Italian names for the gourd when referring to zucchini. You will find an embarrassing song, "My Cucuzza" and a recipe for stuffed zucchini here.
"In the last episode of The Sopranos, Tony asks Carmela, "Where's googootz?" "Googootz" is an Italian term of endearment". A surprising number of people in the USA, even foodies, have never seen a cucuzzi squash. Wait. Gourd. Little kids get a kick out of holding them, and they may even enjoy baked cucuzzi "fries".
The long Italian-style gourds can be eaten raw when small, but I never tried that. When they are the diameter of a quarter, they can be cooked without peeling. It only takes 2 or 3 minutes to steam slices about the size of the typical carrot slice. They have a very mild flavor, and would probably be good with a flavored butter or other savory topping. I like them with plain old butter, salt and pepper.
My first plants grew from strange flask-shaped, buff-colored seeds into rampant vines with gourds resembling baseball bats. When they start to get to this size, they should be peeled. Peeling is easy with a carrot or potato peeler. When not too much bigger than the fingernail on my little finger, the seeds are white, crisp and tasty raw because the seed coats have not started to harden.
I peeled the larger gourds and split them in half lengthwise. Then I cut them into sections that would fit in the oven and scraped out the seeds and seed membranes (except at the ends of the "dugout canoes". I filled them with a filling for stuffed bell peppers and baked them. I like even better this cook's recipe for "Stuffed Tasmanian Bean", using a self-supporting stuffing for eggplant.
People eat round or flask-shaped Lagenarias when young in India and other countries. Baker Creek sells three types: a Punjab Round Bottle Gourd, Serpente di Sicilia (apt to look more like a snake if grown on the ground), and a cylindrical Tambuli Edible Gourd. Willhite sells both refined hybrid gourds and open-pollinated gourds from the Indian Subcontinent and elsewhere. These include both Lagenarias and yellow-flowered edible gourds. Unfortunately, since dropping their catalog, they do not place edible and ornamental gourds in separate categories. Their Cucuzzi and Dudhi MGH-1 hybrid round appear to be Lagenarias bred for eating.
Young Lagenarias grown from cultivars bred for bottles, flasks, musical instruments, etc. are also edible, but I would stick with the ones bred for edible use. The wiki notes that some people have died from drinking large quantities of juice from bitter gourds from this species. The compound that makes some gourds bitter is reportedly the same compound that makes some cucumbers bitter. Remember: the dosage makes the poison.
I have grown these gourds only on a fence. They had soft, grey-green felted leaves and attractive white flowers. They are pollinated by night-flying moths. Unfortunately, some of these moths are similar or identical to corn earworms and geranium budworms. Their caterpillars can kill infant fruits. I removed old blossoms if I could feel a worm inside.
I found these gourds to be easy to grow in our hot-summer climate. One year I grew them with Tromboncino summer squash. These two plants made a good pair on a fence. I imagined planting them together on an overhead arbor. Because the Tromboncino is related to butternut squash, it does not have prickles. It could be like an obstacle course walking under plants with baseball bats, snakes and trombones hanging from them, ready to pick for dinner.
UC Davis has published nice little profiles of several Asian gourds, including Lagenaria (Opo), which they believe are good crops for small farmers in California to try. I might be persuaded to try some of the yellow-flowered ones sometime.
Moonflower Vines
Moonflowers would be prettier in the moonlight on an overhead arbor than squashes and gourds, I think. I have tried growing moonflower vines two or three time, because I am intrigued by the prospect of watching them open in a minute or so on a warm evening.
I filed through the seed coats (away from where roots would emerge) and soaked the seeds. I was successful in germinating and growing plants, but not in getting them to bloom. Now I learn that they require warm temperatures and a day length shorter than summer day lengths in the North in order to bloom. So in the North, they may not bloom unless it stays warm into fall. I have not tried growing them in the South-Central San Joaquin out of deference to my Morning Glory-phobic in-laws. Moonflowers can be invasive in some climates, but they look lovely. Dave's Garden has lots of tips in the comments, plus photos. Has anyone grown them?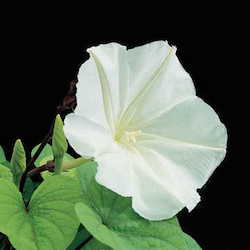 Moonflower Vine
Tomato of the Week - Jetsetter Hybrid VFFNTA
This red slicer is one of the sweeter tomatoes we have grown, so it is a good choice for fans of sweet tomatoes. It is recommended for our hot-summer valley and has multiple disease resistance, as indicated by the letters after its name. It is fairly early and peels easily when ripe.
Do not confuse this tomato with Jet Star VF Hybrid, one of the first hybrid garden tomatoes. It is not related genetically to Jetsetter. It has less heat tolerance and disease tolerance. It is famous for its flavor and texture. If you are in a favorable tomato climate, you might want to try it. It is reputed to be low in acid, but the science on tomato acidity may include some technical complications.
Hope you can have some fun in the garden during the coming week.
Weirddave:
Guess what this is: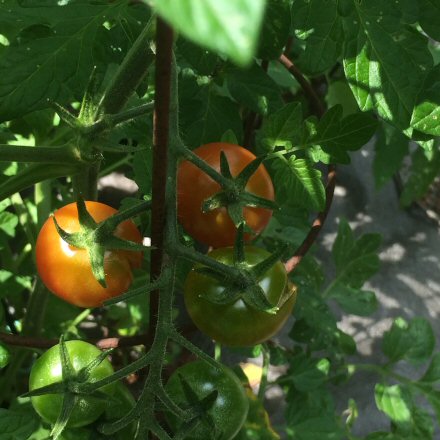 No clue? How about this?
Any idea? If you said the first ripening tomatoes of the season, then you would be 100%.......wrong. I actually ate the first ripe tomato before I remembered to take a picture of it. These would be the second ripe tomatoes of the season.
As far as I'm concerned, tomatoes are THE reason to grow a vegetable garden. Yes, everything else is nice, but tomatoes...man, standing next to the plant, hot sun on your head, juice from the fresh tomato you just picked running down your chin...does it get any better than that? Hard to see how.
Anyhow, here are some tomato growing tips, some of which I didn't know myself. I always pour a little Epsom salts in the hole when I'm planting my tomato seedlings. I dunno if it actually does anything, but an old guy with huge (I mean 8-9' tall) tomato plants bearing huge fruit told me that was his secret about 20 years ago and I've been doing it ever sense. It certainly hasn't hurt anything.
E.T.A.This video says that I'm right to do so:

Speaking of fruit, what the heck is a tomato? Is it a fruit, or a vegetable?
Not so fast says the SCOTUS:
Today tomatoes are on our highest perch, but in 1893 they had their day in the highest court of the land. Are tomatoes a fruit or a vegetable? Ponder that--and that's exactly what the Supreme Court did beginning on April 24, 1893 when tomatoes were elevated to the highest perch in the land, the United States Supreme Court. It's hard to imagine that tomatoes were the subject of a Supreme Court decision that officially labeled them a vegetable.
Really? Why on earth would they do that? Why, so that tomatoes could be taxed of course! For all we bitch about government overreaching into our wallets, it's really just the same as it ever was.
The court decision on May 10, 1893 in Nix vs. Hedden stated, "Botanically, tomatoes are considered a fruit of the vine, just as are cucumbers, squashes, beans, and peas. But in common language of people, whether sellers or consumers of provisions, all these are vegetables which are grown in kitchen gardens, and which, eaten cooked or raw, are, like potatoes, carrots, parsnips, turnips, beets, cauliflower, cabbage, celery, and lettuce, usually served at dinner in, with, or after the soup, fish, or meats which constitute the principal part of the repast, and not like fruits generally, as dessert."
In order for the tariff in question to apply, tomatoes need to be vegetables, so the court by God declared that they were.

Y-not: If you want to learn more about tomatoes, check out past installments of the Saturday Gardening Thread at this archive page.
Now, to close things up...
SQUEEEEE!

What's happening in your gardens this week?

posted by Open Blogger at
01:15 PM
|
Access Comments