« Denny Hastert Indicted For... Withdrawing Money From His Bank
|
Main
|
Morning Thread (5-29-2015) »
May 28, 2015
Overnight Open Thread (5-28-2015) - Slapdash But Legally an ONT Edition
Quote of the Day IV - Yesterday's Leftovers
Well with the help of commenters I was able to finally find it in Tuesday's Morning Jolt.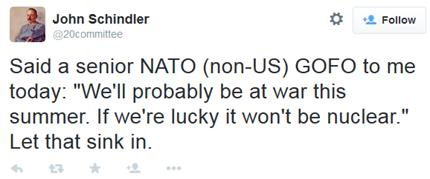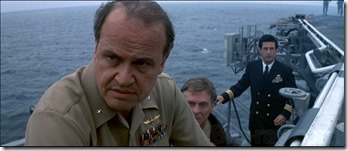 From an Interview with Gavin McInnes
TC: How do you find your obsession? Then, how do you turn it into a lucrative career?

GM: Just watch less TV, I don't know. It's hard to tell people how to live their lives, but just work hard. Find your compulsion and do it, become consumed by it. Charles Bukowski was all about this; he said he didn't even like writing, but he couldn't not write. It's like these kids with Asperger syndrome. They become obsessed with one thing at a certain age. They're looking at dryers and that's it. The only thing they care about for the rest of their life is dryers. They end up working at Maytag or whoever makes dryers because they know everything about them and they love their job. I don't think it matters what your obsession is and it doesn't have to be an Asperger's level of obsession, but if there's enthusiasm, it will work out. Look at Nick Weidenfeld; he took over Comedy Central's Adult Swim because he went to interview the head of it, Mike Lazzo, and Lazzo could sense his enthusiasm. Nick had no experience with television or the entertainment industry, but he got the job because he was obsessed with it and he did well at it, too. Opportunities just come when you blindly tumble through life with your eyes open.

TC: So recklessly and passionately pursue your gut instincts and impulses.

GM: Yeah, and don't complain. I don't have any sympathy for complainers in the Western world in 2012. All this shit about the middle class. "they have no jobs," "they can't pay their bills." I have been creating my own jobs out of thin air for twenty years and I was providing shit to people for free. When I couldn't do that I was planting trees, or teaching English, or traveling the world and staying in squats.

TC: The appetite grows while eating.

GM: Exactly, "If you want something done, ask a busy person." If I email Jimmy Kimmel and ask him a question, there's an answer a few minutes later. Then you ask someone who is unemployed and five days later they say "Oh, sorry for the delay, man, I was very sick."
And here is Gavin in rare form live trolling/dropping truth bombs on Tamara Holder on Hannity:
Hillary Clinton: The Real Alinsky Candidate
As for domestic politics, Saul Alinsky, leftist agitator and author of Rules for Radicals, was Hillary Rodham's mentor. As her faculty adviser recalls, she "read all of Alinsky, and she was able to go and see him."

It was the beginning of a beautiful friendship. Hillary was involved in bringing Alinsky to Wellesley to speak. She also interviewed him for her senior thesis, an analysis of Lyndon Johnson's Community Action Program. Known as CAP, this was an anti-poverty program based on the idea of the federal government circumventing local politicians to some extent, and empowering radical community activists (or community organizers, if you prefer).

Alinsky's thinking had inspired CAP. However, he was highly critical of the program because he thought it did not sufficiently empower the poor.

Hillary Rodham's thesis was under lock and key at Wellesley when Brock wrote his book and, to my knowledge, still is. However, in 1993, she told the Washington Post that "I basically argued that [Alinsky] was right. . . .You know, I've been on this kick for 25 years."

When Hillary Rodham graduated from college in 1969, Alinsky offered her a paid position as a trainee with a new institute he had founded to train activists. Alinsky died in 1972, but his institute would endure, helping to train generations of "community organizers."

Hillary turned down Alinsky's offer, opting instead for law school. In an interview with the Chicago Times, she said she agreed with Alinsky about the need to obtain political power with which to push for more radical change than the Great Society envisaged. However, she questioned whether fighting for such power from outside the system would work. As she put it, Alinsky's approach would not go over well with "the kind of people I grew up with in Park Ridge."
Bernie Sander's Dark Age Economics
Not to be confused with his Dark Age rape fantasies. But he knows why there are hungry children in America. And the reason is too many consumer choices.
Bernie Sanders, the Brooklyn socialist who represents Vermont in the Senate, generated a great deal of mirth on Tuesday when he wondered aloud how it is that a society with 23 kinds of deodorant and 18 kinds of sneakers has hungry children. Setting aside the fact that we must have hundreds of kinds of deodorant and thousands of choices of sneakers, Senator Sanders here communicates a double falsehood: The first falsehood is that the proliferation of choices in consumer goods is correlated with poverty, among children or anybody else, which is flatly at odds with practically all modern human experience. The reality is precisely the opposite: Poverty is worst where consumers have the fewest choices, e.g., in North Korea, the old Soviet Union, the socialist paradise that is modern Venezuela, etc. The second falsehood is that choice in consumer goods represents the loss of resources that might have gone to some other end - that if we had only one kind of sneaker, then there would be more food available for hungry children.
WFB: Mike Judge Isn't Here to Push Your Agenda
Jaime Weinman has a column up at MacLean's looking at the work of Mike Judge (Office Space, King of the Hill) with the headline "Does satire need to be progressive?" He was kind enough to ping me for my thoughts on Judge's political temperament;

...This idea that (some!) leftists hold-that only obviously, pedantically leftwing satire is of value-never ceases to amuse me. As if the only humor of worth is that which defends your worldview-that which never makes you question whether or not your preferred priorities are obviously correct. I remember having a hearty laugh at a 2014 essay on Judge's brilliant, reactionary movie Idiocracy. Its title? "Idiocracy is a cruel movie and you should be ashamed for liking it." The nut graf:

We're frustrated by the world, believing that encouraging smarter people to breed would somehow fix our problems. But it simply isn't so. It's a distraction from the institutional problems of our society. The problem isn't that stupid people (again, read: poor) are having too many children. The problem is that we aren't living up to the ideals and promises we've given to each generation of Americans that have come before us. A livable wage, paid maternity leave, proper funding of scientific research - these are the things a functional, civilized society are built upon; the ways that we can improve our world. We don't build a better society by getting more smart people to fuck each other.*

Hear hear! As we all know, the founders jettisoned the Brits and the Greatest Generation stormed Normandy so we could have government-mandated paid maternity leave. This comedian's failure to properly impart that lesson is a real disgrace.

Or, you know, maybe not. Simply put: Mike Judge isn't here to push your agenda. He's here to cast a skeptical eye on your dogma. And I think that's why conservatives love him, even when he's ribbing them.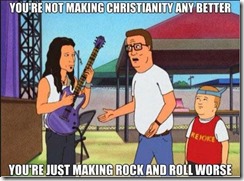 Citizens Exist Primarily as a Host For Government - Municipal Style
Drive through this working-class suburb filled with 1950s cottages and you will see many edged and weeded lawns. You'll also notice orange sticky notes on the doors - at least one or two per street in many parts of town.

They are warnings the city gives to residents who violate local ordinances. And in this community of 3,304 residents, the list of what earns a ticket and fine is long.

Among the things that will be "closely monitored" through the spring and summer, according to a newsletter that recently went out to residents:

Pants worn too low or grass grown too high. Children riding bikes without helmets. Barbecue pits or toys in front yards. Basketball hoops in the streets.

There's no loitering - described in city code as "the concept of spending time idly" or "the colloquial expression 'hanging around.'" And, despite a citywide 20 mph speed limit, there's no playing or walking in the street.

Faye Millet, one of the aldermen who wrote the newsletter, said the ordinances are aimed at safety and quality of life. Pagedale is in the midst of a massive redevelopment effort, aimed at drawing businesses to its main corridors and restoring a population that has fallen off since the 1960s.

"Even I have a letter from the city saying I have to do certain things to my property," she said, pointing out that nobody wants to be surrounded by derelict homes.

But there's more to the story.

Pagedale handed out 2,255 citations for these types of offenses last year - or nearly two per household. That's a nearly 500 percent increase from five years ago, according to an analysis of state court data by the Post-Dispatch.

And yet none of the fines and fees from these offenses count under the Macks Creek Law. The law is the state's one tool for keeping cash-hungry municipalities from relying too much on court fines for revenue.
David French: Put Not Your Faith in Duggars, or Any Other Christian
Josh Duggar's sexual offenses weren't quite the incest they've been made out to be but they were still quite serious and disturbing - and not dealt with properly at all either then or now. By not disclosing them Josh smanaged to screw over both the TV network and the Family Research Council. Not exactly a shining example for anyone else to live by.
If the past 30 years of very public Christian scandals should teach us anything, it's that no one should put their trust in famous Christians. They often can't even get the basics right, much less serve as shining examples of faith lived the right way. In the case of the Duggar family, they hid sexual abuse from everyone but those they most trusted, delayed notifying the authorities for months (and then afterward telling only a close family friend), escaped prosecution only through the expiration of the statute of limitations, and then had the audacity - knowing full well that these events had occurred - to put themselves out to the public as a role-model family. The abuser himself decided to become a leader in the Christian pro-family movement, as the executive director of the Family Research Council.
NYPD Starts Cracking Down on Manspreading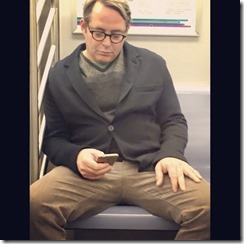 Paper: Awe May Promote Altruistic Behavior
The researchers said they believe that awe induces a feeling of being diminished in the presence of something greater than oneself. It is this diminished sense of self that shifts focus away from an individual's need and toward the greater good, they wrote.

"When experiencing awe, you may not, egocentrically speaking, feel like you're at the center of the world anymore," Piff said. "By shifting attention toward larger entities and diminishing the emphasis on the individual self, we reasoned that awe would trigger tendencies to engage in pro-social behaviors that may be costly for you but that benefit and help others."

While the findings supported the researchers' initial hypothesis, the scientists were surprised at how consistently different types of awe and different elicitors of awe were able to promote cooperative behavior.
What It's Like To Fly In The V-22 Osprey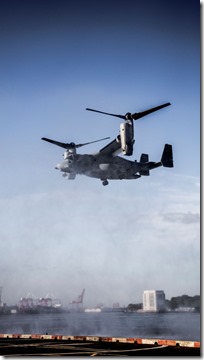 Clown survival tip no. 36. Never turn your back on a circus tent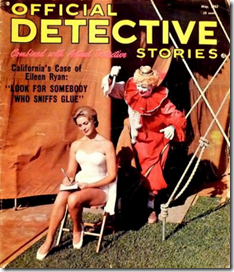 Cops: Woman Offers Man Massage, Sets Him on Fire
Not the happy hot ending as promised. It's like you can't trust anyone these days.
Yahoo group. That is all.
Come on be a smartie and join the yahoo group party! For the children. Why do you hate the children?
And my lo-fi Twitter spew.
Tonight's post brought to you by it's a uniform not a costume: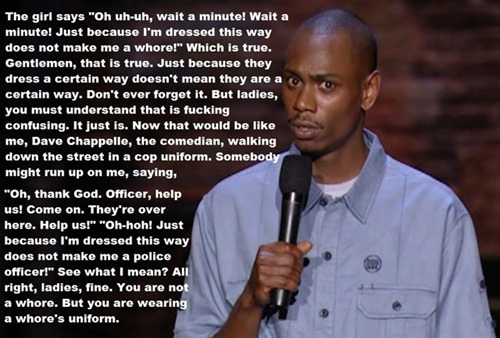 Notice: Posted by permission of AceCorp LLC. Down happy-fun ball down! Heel! Klaatu barada nikto goddammit!

posted by Maetenloch at
11:18 PM
|
Access Comments